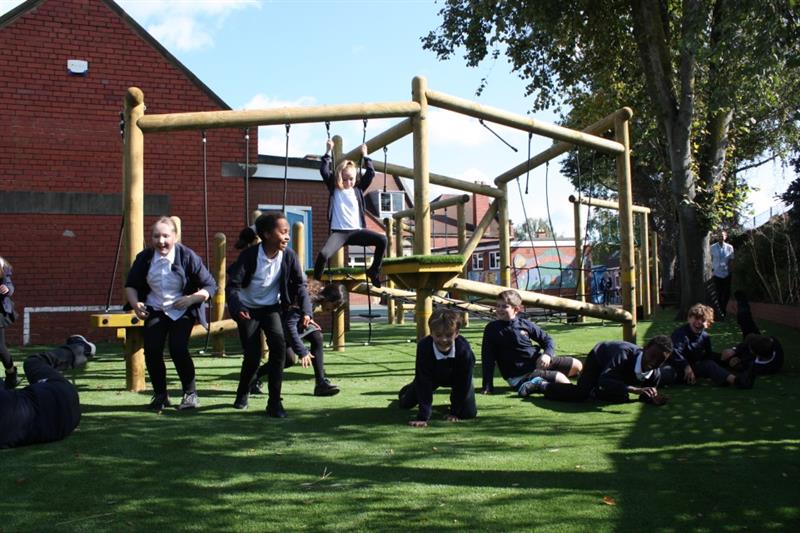 An Adventure Playground Takes Playtimes to a New Level
Designed to deliver action-packed playtimes, Victoria Park's new addition to their playground ensures the KS2 children can swing, climb, balance and traverse to their hearts content. The Delamere Forest Circuit and Trim Trail Equipment at Victoria Park Primary School in Bristol is well loved!
The school council chose a multitude of motivating mental and physical challenges to provide their companions with adrenaline-fuelled playtimes, and of course, plenty of physical development opportunities.
Becky Hazell, our outdoor learning consultant, really enjoyed designing this breath-taking new space by determining exactly what the aims of the project were and what equipment the children found most exciting.
Before Adventures Could Begin…
Speaking with the children themselves, they recognised that the previous area did not support many areas of physical development and wasn't very exciting.
The children were adamant that their new play space needed to have aspects that were tricky and risky for the dare devils amongst them and easier obstacles for the upcoming adventurers who are just finding their forest feet: enabling all age groups and abilities to access the equipment.
After some discussion, the children unanimously voted for our Delamere Forest Circuit and a wide selection of trim trail equipment.
Climb, Swing and Traverse Through the Forest (Circuit)
Inspired by the popular, and adrenaline fuelled, tree top adventures, our Delamere Forest Circuit stands tall in the playground!
The whole circuit is one huge, open-ended challenge made up of numerous obstacles that naturally raise children's enthusiasm and excitement levels.
Whether they're weaving between the logs, scrambling over the net or carefully balancing on the stepping stones, there are plenty of challenges for little adventurous to conquer on this frame.
Each of the obstacles have been designed to test and improve the children's fine and gross motor skills, balance, proprioception, strength and core stability as they climb, jump and traverse through the trees.
Adding Extra Challenges with Various Trim Trail Items
To allow even more children to use the area at once, the school council chose to add Trim Trail Equipment into the active space.
A trapeze swing traverse with step up logs, a set of pull up bars, a rocking log traverse and a swinging log traverse provides even more physical play opportunities outdoors: improving their balance, working as a team and evaluating and managing risks.
There is now a challenge for everyone to conquer on the playground!
All-Weather Treetop Climbing!
Impact-absorbing, vibrant and natural-looking, our Artificial Grass Playground Surfacing is well-suited to the new area.
The surface enables the children to climb, swing, balance, traverse and hang in all-weathers as it is free-draining and doesn't become messy and muddy from little feet – the weather doesn't have to prevent action-packed climbing fun!
The children have given feedback that they really love the new area (especially the Delamere) as they can all play together due to the sheer size of the frame.
The school council are very proud at how well the new area has been received by the other children, completely changing the way in which the space is used at playtimes.
Are you looking at improving your children's physical play opportunities? If you are looking for further inspiration, you can view more Active Play Projects Here.
We have developed new ways to conduct playground consultations safely in these difficult times. Contact Us Here to begin your journey with Pentagon Play.
If you would like to view more examples of our playground projects in Bristol, Visit Our Bristol Page Here.