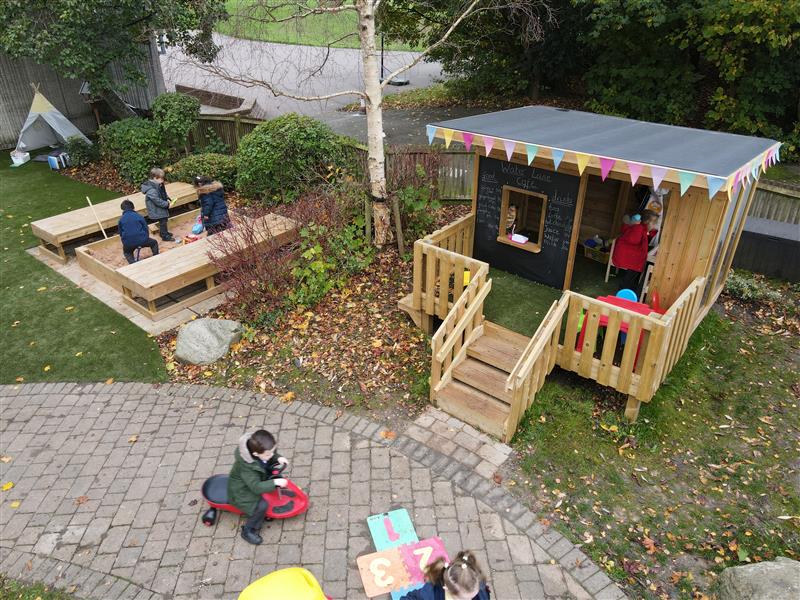 An All-inclusive Play Space for Water Lane Primary Academy
We recently worked alongside Water Lane Primary School, to bring an EYFS development vision to life!
The school needed our help, commenting they felt as though their "outdoor space had become tired, even though the space available was good, it was not organised or used as well as it could have been".
One of our most experienced Outdoor Learning Consultants, Luke Banner, helped to create engaging learning and physical spaces to promote exercise and physical development, whilst including all types of play.
Physical Development for Children's Growth
Physical development is key for EYFS children's growth, as from this age children undergo quick and wide-ranging psychological and physical development that will have a huge impact on their future health and well-being.
This was an influencing factor for why Water Lane Primary School wanted to create an area where all aspects of play were included, from physical development to imaginative and creative play.
We installed our Harterfell Climber with Platform and Climbing Net, underneath the sheltered area that was already within this space; creating excitement and usability all year round for the little explorers to venture out and put their climbing skills to the test!
The addition of artificial grass not only provides an impact absorbing floor if any children take any trips or tumbles, but it also neatens the area up and creates a more welcoming space for the pupils.
Water Play for Water Lane Primary
Pupils now have an amazing area for some sensory water play fun!
We installed our Water Wall with Damming Package for the pupils to take part in a fun and inclusive messy play!
Water play brings a therapeutic benefit for children, enhancing their gross motor skills, coordination, and physical fitness through the actions of pouring, carrying and scooping.
Messy play has a huge impact on children's learning which is why we didn't just stop at water play.
Make Sure to Wear Overalls for Messy Play!
A Large Covered Sand Box was also installed to create a messy play haven!
The children dive straight in to create sandcastles, find buried treasure, and make new friends in the Sand Box.
Our Sand Box is supplied with a lid which means the children can not only build their dream sandcastle, but they can also use it as a dance or performance stage.
Being a Builder is Fun!
It was important to create a space where children would naturally be engaged to learn about the world around them, whilst working on their physical development.
Our team installed a creative construction area where the pupils can scoop, weigh and transport materials, making them feel as though they are at a real-life builders site.
The Rope and Pulley Materials Mover that has been installed allows children to progress their physical development by using strength to pull the rope, load up their mud/materials and transport it from one area to another.
This area is surrounded by sleepers creating an enclosed space so no messy materials will be spilt.
A Giant Playhouse for little people!
The project also included our Giant Playhouse with Chalkboards, creating a sheltered space for children to construct their buildings or use it as a designing space by drawing on the giant chalkboard.
Look Out… Cabin
We've provided pupils with an exciting den making and playhouse asset to the playground to enhance imaginative play.
The children have already made this feel like home…creating a kitchen and comfy area for the friends amongst the class to chill out in the Look Out Cabin.
The chalkboard and hatch on the side create a sensational café area where pupils can act out scenes of being at a café, reading the menus off the board in Infront.
Children can now utilise this area in their lessons and break times, creating a stimulating time to develop physically and mentally.
James Kenyon, headteacher commented, "Thank you so much for a wonderful project from start to finish. We look forward to a long relationship working together".
An exciting playground unveiling event happened whilst we were visiting Water Lane Primary School to carry out this fantastic case study, organised by Deputy Chief Executive of Reach2Academy Trust, Cathie Paine and the chair of Harlow Council, Cllr Clive Souter. Take a look at the press release featured on Your Harlow here - Your Harlow.
We asked why did you choose to work with Pentagon?
"Luke Banner took a considerable amount of time to survey the plot and talk to us. I was astounded by the care and thought he put into creating a stunning Early Years' World for us. The proposal came in the form of a stunning 3D video." - James Kenyon
If you would like to develop your outdoor area, please don't hesitate to get in contact with Pentagon Play today by Contacting Us Here!