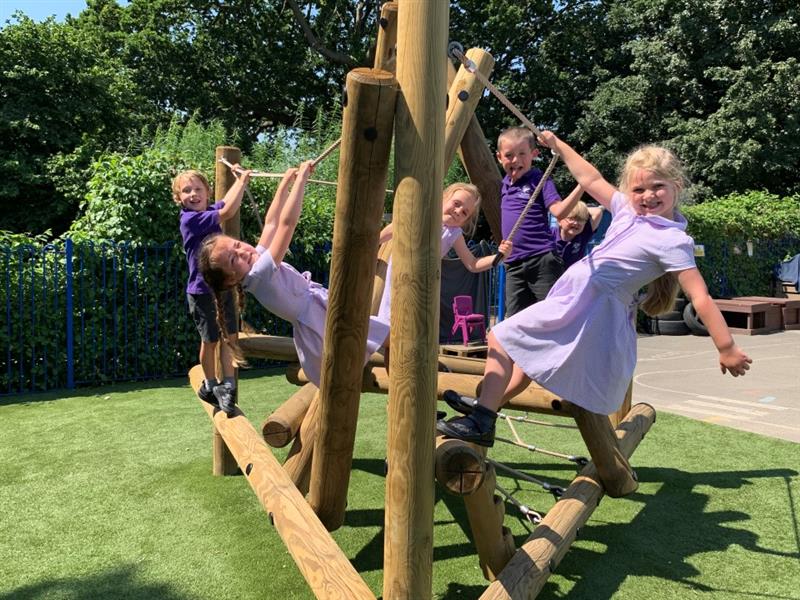 An Exciting EYFS Play Expansion
Visible to all that approach the school, the EYFS Outdoor Area of Wickham C of E Primary School needed a complete makeover to appeal to both the kids and the parents!
Newly appointed headteacher, Graham Cutter, worked with top playground consultant, Donella Felton, to craft a bright, fun, and creative area for his pupils to enjoy.
Climbing

their way to the top
Great for exploring and investigating, the Harter Fell Climber gives little learners the opportunity to explore risks and boundaries as they navigate their way across the logs!
Perfect for developing co-ordination and communication skills, the Harter Fell Climber helps children build both their teamwork skills and their solo adventurer skills as they clamber across using the ropes for support.
Built with solid wood and sturdy ropes, our climbing frame is easy for all to use and will stand the test of time adorning your school with an aesthetically pleasing play area!
Green as can be and truly authentic looking, our artificial grass is perfectly prepared to catch your little one should they take a small tumble from the climber!
Playtime is the best time to let off a little steam and get your hands dirty and there's no where better to do it than in our Mud Kitchen!
Whether their crafting mud pies or planning a gourmet meal for their dinner party guests, your children are free to employ their imaginations and create fitting stories for their muddy play.
Not only does our Mud Kitchen benefit those future cooks and chemists, but it is also great for sensory play, allowing children to explore the textures of different materials as they experiment with a variety of ingredients.
In addition to all these excellent benefits, Mud Kitchens are also a great enticement to get your children out into the fresh air for a break from the indoors; something which they can be reluctant to do themselves!
Splish

, Splash, It's time for a laugh
Playing with water is a universal experience that all children love, however, it can sometimes be just a tad messy!
With our Water Table and Lid, children can play around in clean water that can then be covered at the end of break time, preserving it to be played with later.
For young children, playing with water explores the boundaries and limitations of liquids versus solids and create a plentiful of sounds and adventures!
In addition to this, Wickham Primary also added even more fun for their pupils with the addition of the Water Channel Stands!
Children can play around with the water, tipping the tubes, navigating paths for the water to take, and watching it glide along the passages!
Team work will even be encouraged with the Rope and Pulley Mover that the pupils can experiment with!
Kid's play can involve mess, damage, and a lot of clumsiness- that's why our Tuff Spot Table is an essential for younger children.
The hard-wearing mixing tray makes this table perfect for all sorts of crafting and D-I-Y projects for children to enjoy for years to come!
Built with standing sides to prevent spillage, this table is perfect for all sorts of play including sand, paint and mud and water.
Leaving a school having given them a much safer and exciting playground is always a pleasure for Pentagon Play!
Children thrive in academic environments where they can have fun also and that is exactly what the pupils of Wickham C of E Primary School can do now!
If you are interested in more of our Hampshire Projects then take a look at our Project Page Here.
Or, Contact Us Here today if you're interested in re-modeling your play area!