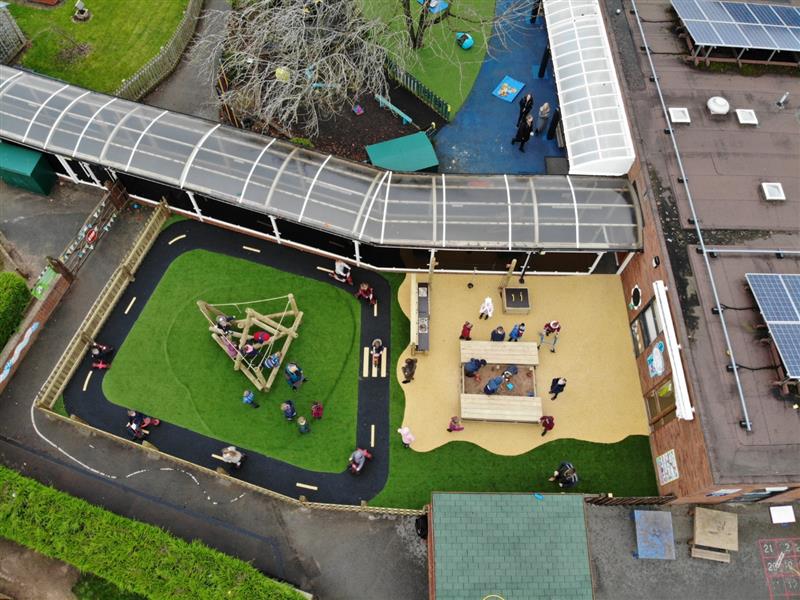 An EYFS Playground Development That Target's The Curriculum Outdoors
Wistaston Church Lane Academy, based in Cheshire and a part of The Learning For Life Partnership, contacted us as they wanted to revitalise their EYFS Playground. The previous outdoor space was a concrete jungle with little fixed play equipment to provide exciting outdoor learning opportunities.
The passionate principle of Wistaston, James Bancroft, was determined to provide an educational outdoor play and learning environment where the children could participate in stimulating, engaging outdoor play activities no matter what the weather may bring.
Consequently, our excellent playground consultant, Ian Wood, worked closely with James to design and install a fabulous play space which would meet every target set out for the project.
Communication and Language Space
All amazing curriculum focused outdoor learning environments need ample opportunities for mark making and literacy!
Underneath an exciting shelter, we have created a fantastic communication and language space to promote reading, writing and other important communication skills in the playground.
Featured within this zone is our excellent Communication and Language Zone, which is made up of moveable artificial grass-topped seats, a giant storytelling chair, a giant whiteboard and a giant chalkboard!
Since the space wasn't wide enough for the mark making panels, we turned them around to ensure they both fit into the space and the children could make full use of the gigantic canvases. We're always happy to adapt our products to suit a space or meet the settings targets.
Sitting in the giant, magical chair is a favourite pass time of the children as they read aloud to others sat on the comfortable, artificial grass surfacing. The seat is big enough for a teacher to take story time outdoors into a mystical environment or two children to sit and help one another read the story and pronounce sounds and words.
While listening to the enchanting story being told, others love writing, scribbling and drawing on the mark making panels as the children read – they can truly visualise the story coming to life as their imaginations run free and they improve their fine motor skills.
Away from the fabulous play and learning zone, we installed a wonderful Mini Performance Stage with Chalkboard to further promote role play activities.
As the children climb up onto the stage to sing their songs or perform their imagined plays to one another, they are building on their self-confidence, communication, language and social skills through play.
Teaching staff at the school have been providing the children with a box of loose play resources: they love to dig out the musical instruments as they form their own bands and play a version of their favourite songs with one another!
Messy Play Zone
Children love to get messy - and that's a fact! Messy play brings so many fantastic benefits when children are presented with wonderful play zones and stimulating equipment, which is why we have created a fantastic messy play space made up of wonderful Mud, Sand and Water Play Equipment.
Within the zone, we wanted to truly target fine motor skills development, co-operation and imaginative play games. We installed our market-leading Mud Kitchen, that has been attached to a never-ending supply of mud in the Mud Box by our Rope and Pulley Materials Mover.
The rope and pulley help the young chefs transport their ingredients to their fancy space before cooking up their marvellous concoctions. Working together to get the food ready on time, they love to serve their delicious dishes to their hungry customers stood around!
Adjacent to the Mud Kitchen, we have provided the little pirates of Wistaston with a golden beach to explore as they sail the seven seas and look for treasure. Our Large Sand Box allows children to get into the sand as they transport themselves to a beautiful seaside and dig, scoop and explore the space, looking for the fascinating treasure.
Provided with spades, buckets and other loose play resources, children can practise their construction and problem-solving skills as they attempt to build magnificent sand fortresses together.
Building, scooping, stirring, pouring and manipulating a range of textures is great for fine motor development and sensory development as the children bake their delicious creations and dig for the sparkly treasure hidden below.
As children work together to transport their materials across to the kitchen, they are using big actions to pull on the rope, thus improving their upper body and gross motor skills.
Underneath the new Water, Mud and Sand Play Equipment, we used an earth blend and yellow mixed wet pour to create a dedicated space for the messy ingredients to stay.
Physical Play Opportunities
Physical development is a key area of the curriculum, which is why we set out to dedicate an area of the play and learning space to exciting active play activities.
Opposite the messy play zone, we installed one of our energising Log Climbing Frames: the Harter Fell Climber, which is perfect for the young children in EYFS!
The low-level climber is an active, imaginative play outdoor resource that offers the children with many flexible routes and multiple ways for the children to climb and traverse.
Since these little monkeys are still improving their climbing confidence and learning about safe risk taking, the Harter Fell is perfect! It allows the children to climb at their own pace and get on and off the climber wherever they like.
Children climb to the top and take a leap of faith or climb up a couple of logs each playtime, building up their confidence, before reaching the top of the tree!
The young spider monkeys love hanging from the branches before swinging and traversing through the forest to reach their friends, searching for bananas and hiding from predators: a perfect cross over between active and imaginative play.
Subsequently, the school wanted the children to be able to use the space throughout all-weathers, while ensuring that the children were safe. We therefore installed our bright green Artificial Grass For Schools, featuring shock pads underneath to ensure a comfortable landing if they slip, trip or fall.
Around the climbing frame, we decided to install a realistic looking roadway to further extend the physical play opportunities presented to the children and enhance their understanding of the world.
With a focused space for children to race their bikes, scooters and trikes around the playground, others learning won't be interrupted by a vehicle flying past them.
Additionally, the simple playground surfacing, realistic black wet pour, broken white lines and a zebra crossing can truly enhance children's understanding of the world.
To access the energising climbing frame, children must stop, look and listen to ensure that there are no race cars speeding along the track before they cross the road: valuable skills that can be transferred outside of school, too!
Playground Fencing
Before our development, the play area was zoned from the rest of the school by a brick wall with a large hedge towering above, which caused a lot of maintenance and prevented the children from seeing out into the rest of the school grounds.
Consequently, we installed our natural-looking Playground Fencing to zone the space and enable more natural light into the playground as well as allow the children to see out into the school grounds.
Featuring a gate that can be opened to provide access to the greater outdoor play space when necessary, the new fencing is perfect for the class - without the need for maintenance or prickly branches getting in the way of play!
The children at Wistaston Church Lane Academy are delighted with their new outdoor learning and play environment and can't wait to go outside and play each and every day!
If you would like to revitalise your playground, please Contact Us as we would love to work with you to design and install an excellent, educational outdoor environment. Alternatively, you can view our fantastic range of School Playground Equipment for EYFS.