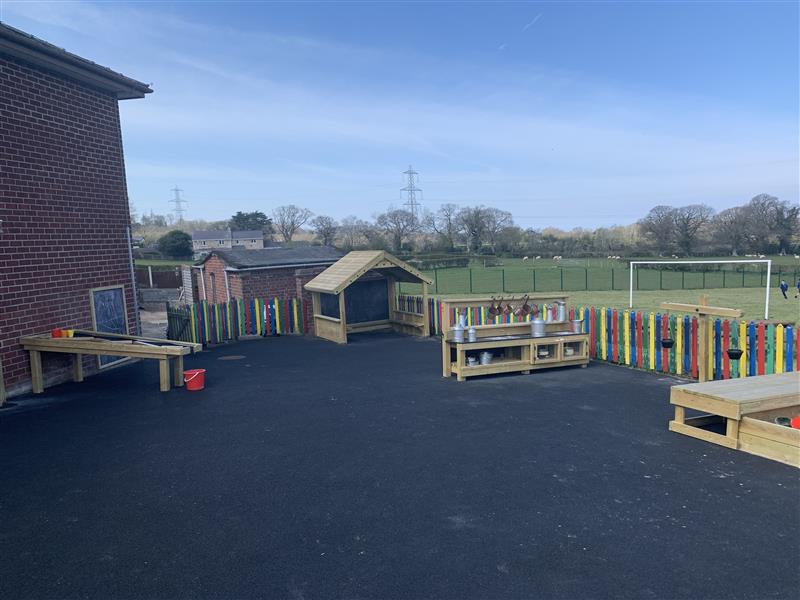 A Stimulating Outdoor Learning Environment for the pupils of Ysgol Cefn Meiriadog
We were very excited to work with the team at Ysgol Cefn Meiriadog in Abergele after being contacted by Headteacher, Laura Martin.
The school had secured a National Lottery grant and were keen to develop their outdoor area to support learning in the foundation phase and beyond.
Laura wanted a space that would further enhance children's knowledge, skills and experiences outside of the classroom and would appeal to all learners.
To enable lessons to be taught outside in all weathers, we installed our large gazebo with a decked base. The lucky children at Ysgol Cefn Meiriadog certainly have beautiful, rural views to enjoy whilst playing and learning.
What's cooking in the mud kitchen?
Already a firm favourite with the pupils is our Mud Kitchen.
Many a pie, soup and potion have been made whilst children learn about capacity, weight and sharing. Our Mud Box ensures that the children's favourite material is always close by and encourages digging, scooping and transferring.
Opportunities for STEM learning
The playground now offers many opportunities for STEM learning.
Our Rope and Pulley Mover is the perfect introduction to mechanisms. Children can engage with 'hands-on' learning on a daily basis and develop their knowledge of forces.
Our Weighing Scales allow children to work together to develop their understanding of the world by comparing and using mathematical vocabulary.
Learning together with sand and water
We've certainly brought the beach to Ysgol Cefn Meiriadog by installing our huge Sand Box. Many children can dig, build and play together. Will they create a castle with a moat, a road for a truck or even bury themselves?
Sand play is great for developing fine motor and language skills.
If the children need to cool down, they are just a short walk away from one of their water stations. Our water table aids imaginative play as children create their own games with boats and sea creature toys.
Our Damming Station and Water Channel Stands allow children to experiment with water flow and create their own course. They are the perfect resources when studying rivers and waterfalls.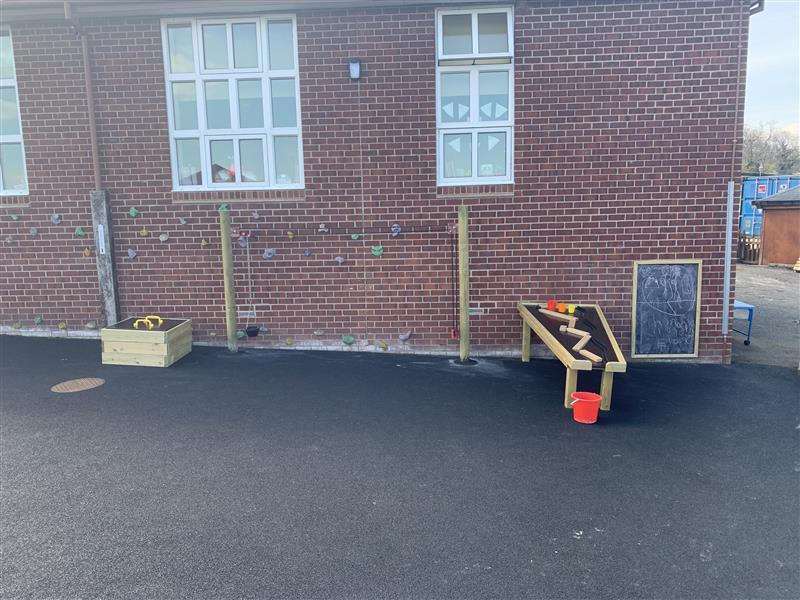 Record thoughts and ideas
If the children want to record results from one of their experiments, they have a wall-mounted chalkboard to proudly display them on. The new Giant Playhouse provides further opportunities for mark making.
Perhaps they will compose a song which they can perform from their new space. Painting in the outdoor environment opens up possibilities for children. The use of our Giant Paint Panels strengthens shoulders and elbows and develops core strength.
Feedback from staff
Staff at Ysgol Cefn Meiriadog have noted that children now have many opportunities to develop their personal and social skills. Pupils are collaborating, problem solving, linking their learning to different subject areas and having so much fun!
We were so pleased to receive such positive feedback from Headteacher, Laura Martin.
"Pentagon Play were a dream to work with from beginning to end. They listened to our ideas, shared their expertise and together we were able to design an area that we were all happy with. Every member of the team that we worked with was professional and accommodating and I cannot thank them enough, especially Tom Hollingworth who has been brilliant throughout. I would highly recommend Pentagon Play to other schools; we are absolutely delighted with the results."
It was wonderful to see the children bursting through the gate to go and explore their new outdoor playground. The children independently chose which area to go to and they showed care and team work when playing collaboratively.
We hope to have created a wonderful addition to the education of pupils at Ysgol Cefn Meiriadog which supports their school ethos,
'Happy Together Learning Forever'
If you would like to create an outdoor learning environment for the children at your school, Contact Us Here to begin your journey with Pentagon Play today!
View all of our amazing playground developments that we have completed across North Wales area on our dedicated North Wales Playground Projects Page Here.