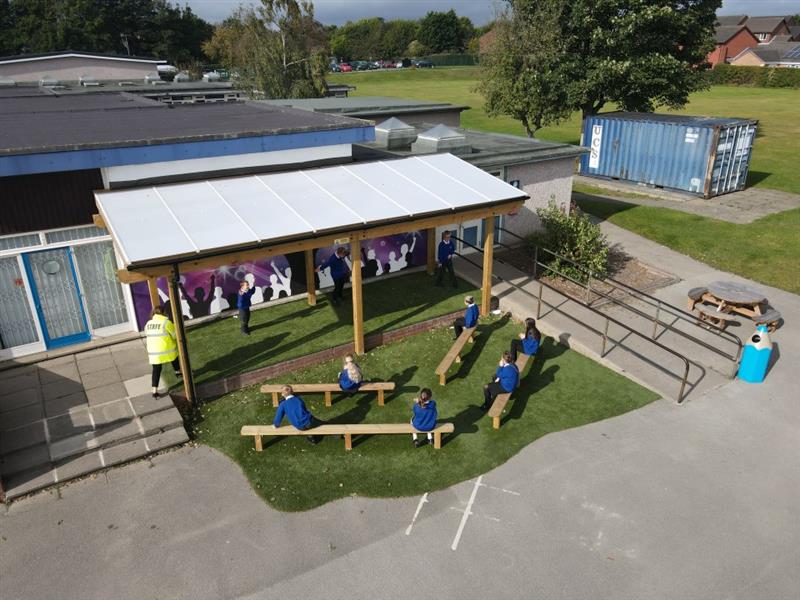 Playground Re-vamp for Inkersall Primary
Zoning in on fun, physical play, cheering up the concrete and boosting brilliant behaviour! We've transformed the once empty and uninspiring KS2 playground at Inkersall Primary School in Chesterfield, into a landscape packed with intrigue, imagination and adventure.
Our Playground Consultant Daniel Young met with the headteacher of this Derbyshire primary school, Sarah Allison, to establish exactly what the school wanted to achieve from their outdoor environment.
Sarah explained they were experiencing some low-level behaviour problems at lunchtimes and break times because the children weren't able to get actively involved in physical play other than running around and kicking a ball.
They simply didn't have the resources and the playground was essentially just a large expanse of concrete. She was also concerned that because the children were running up and down the playground playing football and bumping into each other, this ran the risk of injuries which they needed to address.
The Brief...
Sarah gave us a brief to completely redesign the playground space to create zones for different activities.
She wanted to see a real enhancement to their active play and Physical Education provision. The space was not just for the children to play ball games, but for them to be able to climb, develop their motor skills, strength, balance and coordination. It was important for the children to be supported and encouraged to think creatively and use their imaginations as they play.
Sarah also wanted to see some calmer, quieter areas for the children to sit, rest and socialise with their friends at times when they didn't necessarily want to be running around playing - something that they really needed and didn't have in the playground as it was.
With a clear vision and what was essentially a blank canvas, Daniel was straight off to the drawing board with some exciting ideas for a playground transformation!
Room to Grow...
Opportunities for the children to climb, explore, and use their bodies in different ways for essential physical development were really lacking in Inkersall Primary's KS2 playground. We turned this on its head with the creation of a fabulous new physical activity zone, featuring as a centrepiece the incredible Grizedale Forest Circuit.
The Grizedale comprises a whole host of log, rope, climbing wall and platform-based climbing challenges to test children's agility.
They will strengthen fine motor skills as they grip and pull themselves around, improving gross motor control, strength, balance and core stability as they play. It's a creative, open-ended structure that allows for endless imaginative play, and encourages the children at Inkersall Primary to test their own limits to the max!
Alongside the Grizedale Forest Circuit, we installed our pyramid-shaped Bowfell Climber and two additional Roll Over Bars for developing upper body strength, motor skills, and proprioception. The children are relishing new opportunities for getting active during playtimes, and discovering what they are capable of as they achieve all kinds of different learning objectives during PE lessons.
Softly Does It…
Time to address the concrete mass! Using different types of Playground Surfacing not only breathes new energy into a playground, but it's a great way to visually break up larger playground spaces and to clearly mark out different activity zones for the children.
Our Playturf Deluxe Artificial Grass with a shock pad underlay was the ideal choice for providing a softer, safer, all-weather floor under all the new equipment at Inkersall Primary. It's beautifully soft and tactile for little limbs to play on - clean and comfortable enough to stretch out and relax on, and durable enough to withstand all the daily running, rolling and jumping around on!
We brightened up the remaining concrete surfacing with a selection of our playfully interactive Playground Markings to capture the children's attention and engage them in purposeful play.
Best Behaviour...
Setting up the playground surface itself as a play and learning resource, with contrasting textures, splashes of cheery colour, and the additional safety measures around the play equipment, has made a huge difference to the school. It has reduced the number of injuries during playtimes, and of course, keeps the children happily engaged and active!
Putting on a Show...
Mural Artist Jo Bell painted the perfect backdrop for Inkersall Primary's all-star new Performance Area. This is the place to go for expressive, imaginative play, singing, dancing, drama, role-play, and games. There is enough room to sit and chat or just enjoy the show!
We set the stage with an Artificial Grass platform decorated with Saferturf Stars for Inkersall's star performers. We placed a series of Perch Benches in front to create a theatre-style environment for the children to gather together.
To make this outdoor theatre a venue for year-round enjoyment, we built a bespoke Timber Canopy overhead to cover the area and provide shelter from the elements. It doubles up as a useful additional 'classroom' space where the children can enjoy improving their reading, vocabulary and language skills and develop confidence in speaking and reading aloud in a relaxed outdoor environment.
Forming Firm Friendships...
A comfortable place to sit and relax at break times was something that the KS2 students at Inkersall Primary really needed from their playground.
We designed a comfy-cosy Friendship Area in a quiet corner, gently shielded from the busier open spaces with two Trellis Screens that we made from smooth, sanded timber. With no risk of splinters from these playground-friendly Trellises, the children can use them as a base for training potted plants or for artistic design, weaving patterns with ribbons and other resources to make the space their own.
This space is now home to two Picnic Tables for enjoying tasty snacks and sit-and-chats! We surfaced the area with Playturf Artificial Grass so the children have plenty of space to stretch out comfortably on the floor too.
A Social Hub...
In the centre of the playground, we broke up the concrete stretch with a gorgeous timber Hexagonal Gazebo structure, sitting on a wave of deep green Artificial Grass.
It has bench seating all the way around the inside enough to accommodate a whole class - and with a handy Giant Chalkboard, it makes an excellent space for taking lessons outdoors as much as a welcoming and inclusive social hang-out.
Yes to Ball Games Here Please!
Not forgetting the children's favourite ball games, we jazzed up the existing sports court at Inkersall Primary with a set of Goal Shoots, so they really can aim high!
Everyone at Inkersall Primary School is delighted with their new Pentagon playground.
"The brief was met perfectly", Sarah said. "We've noticed a decline, massively, in the amount of behaviour problems that we're having during lunchtimes and playtimes, because the children are all active. It's great. Those first aid incidents have declined too because it has all been zoned so the children are no longer zooming from one end of a concrete playground to another!"
Is your school or nursery playground in need of a revamp too? As the UK's Number 1 Playground Provider, we have been designing and installing playgrounds across the UK for over 20 years. Our expert playground consultants are here to work with you from concept to completion. Please Contact Us for a free, no-obligation consultation.