Outdoor Learning and Play
The Benefits of Outdoor Play in Early Years
"The truth is that play seems to be one of the most advanced methods nature has invented to allow a complex brain to create itself." - Stuart Brown.
The natural world is a rich learning environment that allows the complex brain to create itself. Play provides a safe space in which a child can explore new concepts and develop a range of skills needed for adult life.
The early years curriculum, for children aged 3-5, emphasises the importance of play and hands-on learning experiences to enhance students' understanding.

Outdoor Play and the Early Years Curriculum
The Early Years Foundation Stage (EYFS) curriculum emphasises three crucial areas of child development:

Physical Development
Personal, Social and Emotional Development (PSED)
Communication and Language
Additionally, the curriculum specifies the importance of learning skills associated with:
Maths
Literacy
Expressive Arts and Design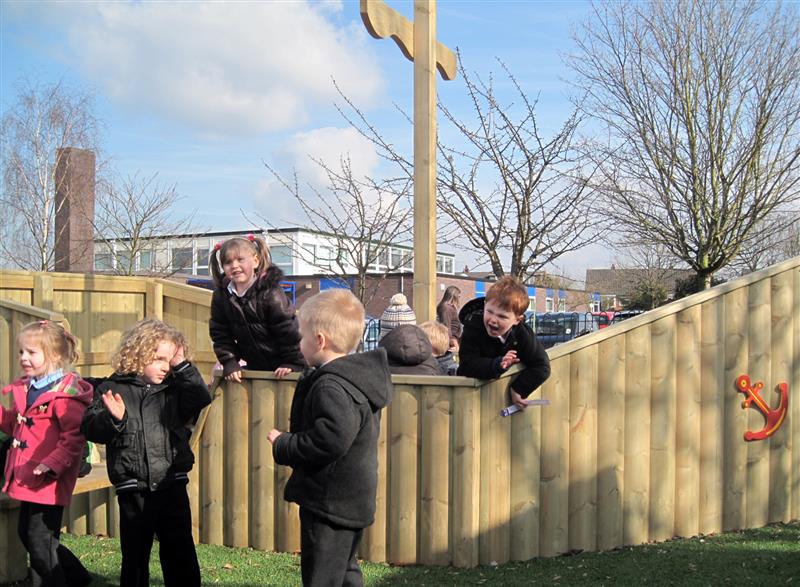 Maths
By providing engaging, hands-on activities, the outdoors can facilitate effective learning of numbers and counting for early years children. There are plenty of objects to count and collect from leaves to conkers. Once children have collected some natural materials try creating a number pyramid with 1 stone, 2 sticks, 3 leaves and so on.
Another great activity is to count your steps. For younger children, walk alongside them to measure the number of steps between the house and the oak tree. As children improve their counting skills, create a treasure hunt in the garden that challenges them to count their steps in order to find hidden secrets!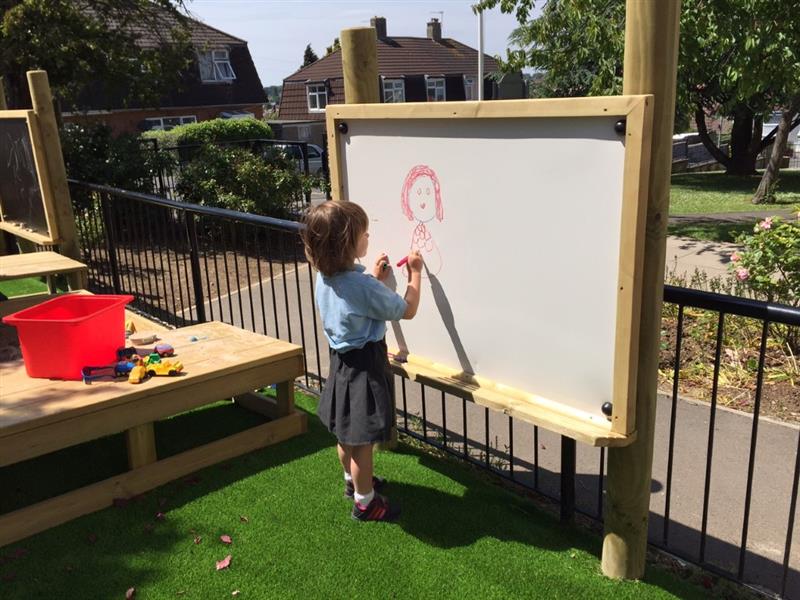 Literacy
Children love story time, but why not move it outdoors? The outdoors provides a learning environment that is much less formal than the classroom, which can encourage even shy learners to speak aloud and start joining in.
Outside storytelling stimulates the imagination too. Re-create fictional worlds from stories by staging simple role plays. For instance, if you're reading Snow White and the Seven Dwarves, make a line and go for a short walk and sing amongst the trees. This is a fun way to bring literacy to life for little ones!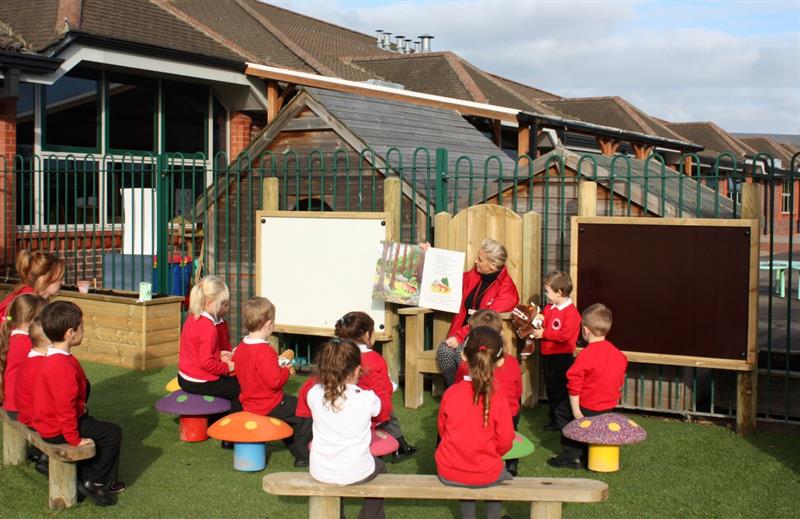 Expressive Arts and Design
The natural world has endless resources when it comes to creative and exploratory play. A tree stump can become an island for pirates, a table for a garden tea party or even a king's throne. The EYFS outlines the importance of children forming their own ideas and the outside world is a great place to find inspiration.
Another great activity focusing on expressive arts and design is painting rock animals. Gather large, smooth rocks with your child and then get ready to paint! Paint animals such as ladybirds, turtles, and snails onto the rocks.
It doesn't matter how messy they are, it's all about developing creative thinking, taking part in a fun activity and practising fine motor skills.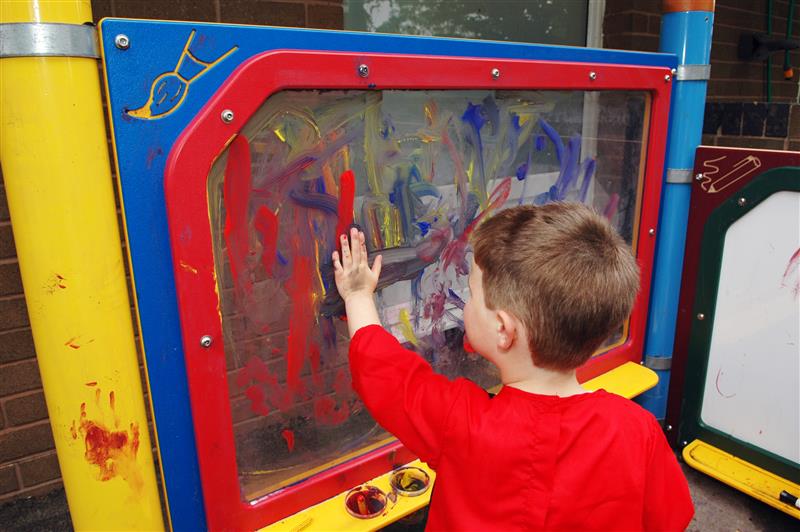 How Much Outdoor Play do Early Years Learners Need?
Children under the age of five who are able to walk on their own need around 3 hours of physical activity per day, according to NHS guidelines. From running around the garden to digging in the sand pit, these activities support all types of child development, whether that's strengthening the muscles or learning to negotiate with friends.
Make sure to provide little ones with a variety of play activities and outdoor environments as this will get their creative juices flowing and support different aspects of their development.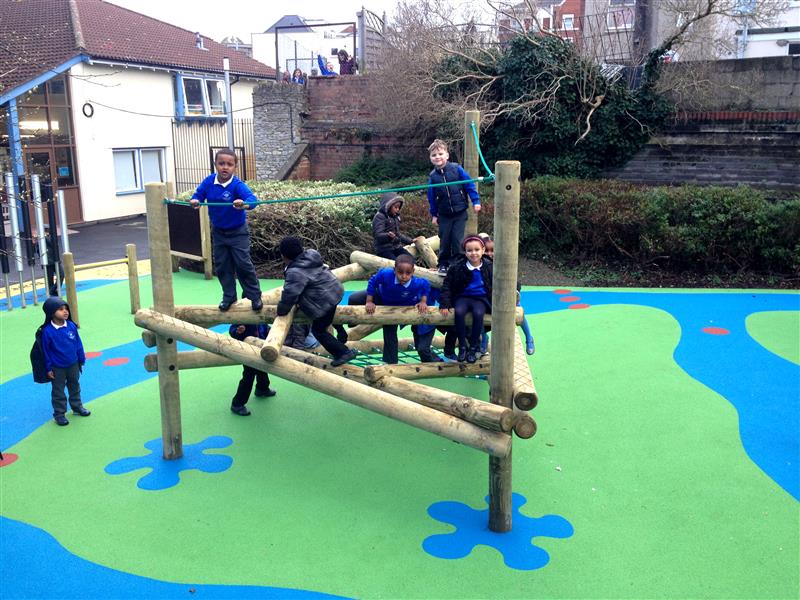 Are you interested in learning more about how outdoor learning environments can support the Early Years Curriculum? Our Team of educational consultants here at Pentagon would be delighted to speak with you. Simply contact us through the website or browse through our dedicated EYFS page.
You May Also Like:
Playground Markings are Essential for Schools
Improve Your Playground and Boost positive Behaviour