Pentagon Play's Playground Equipment in Derbyshire
As a nationwide company, who has worked with over 3,000 settings to date, Pentagon Play are the trusted provider amongst schools and nurseries across the UK. Since we have worked with so many primary schools and nursery settings, we thought we'd summarise some of our most recent and biggest projects around Derbyshire.
Across Derbyshire, we've worked with over 50 fantastic schools and nurseries to enhance their outdoor play and learning area and improve their children's educational play experience while learning through play in their outdoor learning environment.
Our playground consultants based across the UK, and our Derbyshire dedicated and outdoor learning enthusiast is Dan Young. Dan loves seeing all the wonderful possibilities of a playground unfold before his eyes as he supports his schools and nurseries through from initial consultation to aftercare.
Here are three of our excellent Playground Projects in Derbyshire:
An Exciting Play and Learning Space For Nursery Children at Stonehill Nursery School, Derby
The nursery managers at Stonehill Nursery School, situated in Derby, had exciting plans for an area in their nursery garden, so they contacted us for help transforming their playground dreams into a reality.
We transformed a previous natural grass space into an area where communication and language skills can be targeted through child-led and adult-led outdoor play activities.
Through the addition of a stimulating messy play area, featuring our marketing leading Water Wall and Damming Play Package, the young learners are encouraged to explore and investigate a wide range of materials and textures as they create dams, problem solve and explore simplified scientific concepts. The children love pretending to be little engineers as they construct the strongest possible dam they can create!
Since the investigative play area promotes exploratory play, co-operation and imaginative play, the children are learning through play: both in line with the EY curriculum and improving their school readiness.
The nurseries EYFS Lead, Claire Thompson, had this to say about the development:
"The children love their new outdoor space and the project has given the children an exciting and language rich area of provision. Working with Pentagon Play has been fantastic! From start to finish, it has been great service. Dan was able to map out the new area and come up with some great suggestions of what we could to with such a small space. We highly recommend them…"
If you'd like to read more about this excellent nursery garden development, please click Here to read the full case study.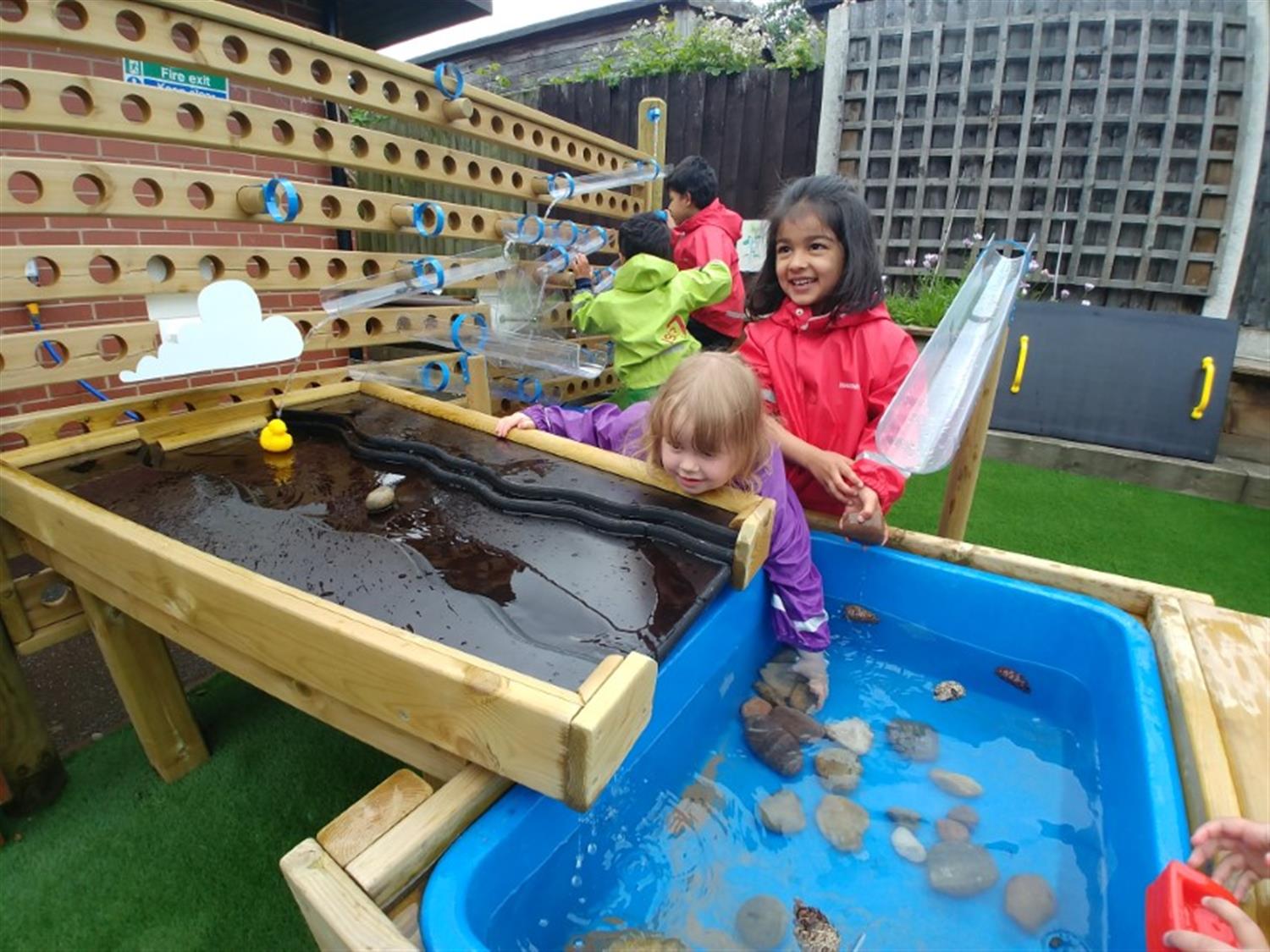 A Challenging Trim Trail For Kegworth Primary School, Kegworth
We dismantled and disposed of an unchallenging trim trail at Kegworth Primary School, situated in Kegworth, before replacing it with an energetic, challenging adventure play space with numerous obstacles.
Brimming with physical challenges for both Key Stage 1 and Key Stage 2 children, the fresh Trim Trail includes 14 challenges, which all vary in difficulty and full test and improve the children's key physical skills.
As children step, jump, climb and swing from one challenge to another, they are developing their balance, co-ordination, core stability, upper and lower body strength, grip and grasp and gross motor skills.
Alongside the physical benefits, the children have been using the trail as a focal point for their cooperative imaginative play games - the floor is lava is a classic favourite between classes!
If you'd like to read more about this amazing active play project at Kegworth Primary School, please click Here to read the full article.
Taking The EY Curriculum Outdoors At Hayfield Primary School, High Peak
Working in partnership with Hayfield Primary School, located in the High Peak area of Derby, we designed and installed a stimulating outdoor play and learning environment with plenty of apparatus to challenge the children and target the seven areas of learning.
Creating three zones in the playground resulted in dedicated spaces for messy and investigative play space where problem solving and sensory development can take place, creative and imaginative play to support children inner artistic sides through role play and a literacy area to inspire reading, writing and turn taking outdoors.
Arguably, the focal feature of the outdoor play space is a stunning Performance Stage where the little superstars in EYFS can perform in front of their peers, singing and dancing.
As the children get up on another level and express themselves and their imaginative plays in front of one another, they're not only contributing toward the expressive arts and design area of the curriculum, but also building their self-confidence, communication, language and social skills.
With a wide range of engaging outdoor play equipment installed to create each zone, while meeting the schools specifications, the young children have plenty to explore and do as they find new, imaginative ways of playing each and every day.
Read more about this excellent EYFS playground project by clicking Here.
Working with many primary schools and nursery settings across Derbyshire and the UK, we are experts in outdoor play and learning and we'd love to help transform your playground, too. Please Contact Us if you have any exciting playground ideas in mind.