Lesson Ideas and Activities
We're going on a Maths Hunt, time to explore the great outdoors!
As with so many things, the moment you take a lesson outdoors, it comes to life. This couldn't be more true when it comes to learning mathematics, and if you look around you with the right hat on, you may be surprised to find that maths is in some way involved in everything you see.
The National Centre for Excellence in the Teaching of Mathematics actively promotes the learning of mathematics outside the classroom. Their manifesto entitled "Learning Outside the Classroom" begins with the statement:
"We believe that every young person should experience the world beyond the classroom as an essential part of learning and personal development, whatever their age, ability or circumstances."

"Such experiences help us to make sense of the world around us by making links between feelings and learning. They stay with us into adulthood and affect our behaviour, lifestyle and work. They influence our values and the decisions we make. They allow us to transfer learning experienced outside to the classroom and vice versa".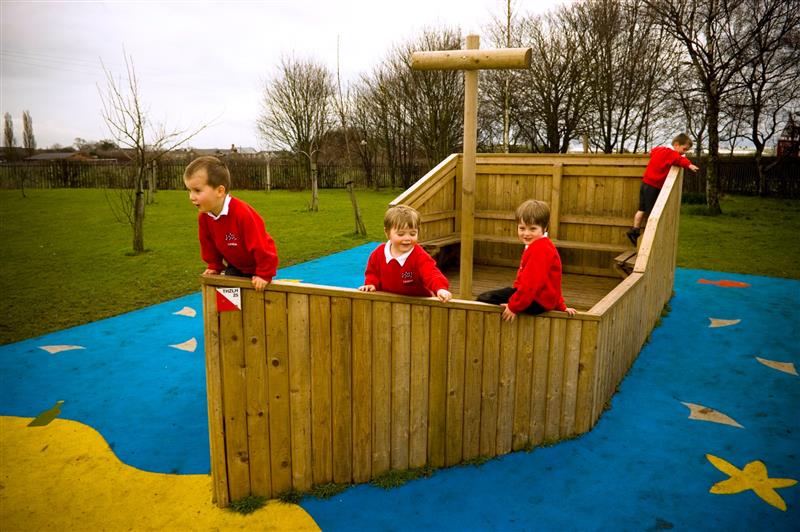 As for teaching mathematics to EYFS, KS1 and KS2 children, the great outdoors offers a wealth of natural resources to engage children and to make maths lessons inspiring and relevant to everyday life. And if this leads to greater enjoyment and achievement, it can only be a good thing!
Well planned and well equipped school grounds provide the perfect setting as children are more intrigued by their environment and curious to explore.
A maths lesson outdoors allows children to engage with the world as they actually experience it, with open access to visual, auditory and kinaesthetic learning. It can form a bridge between theory and reality and offer both children and teachers an opportunity to see and experience maths as cross-curricular.
For these reasons, it is important not to treat outdoor mathematics lessons as an enrichment or enhancement to standard classroom lessons, but rather as a core method of teaching the subject.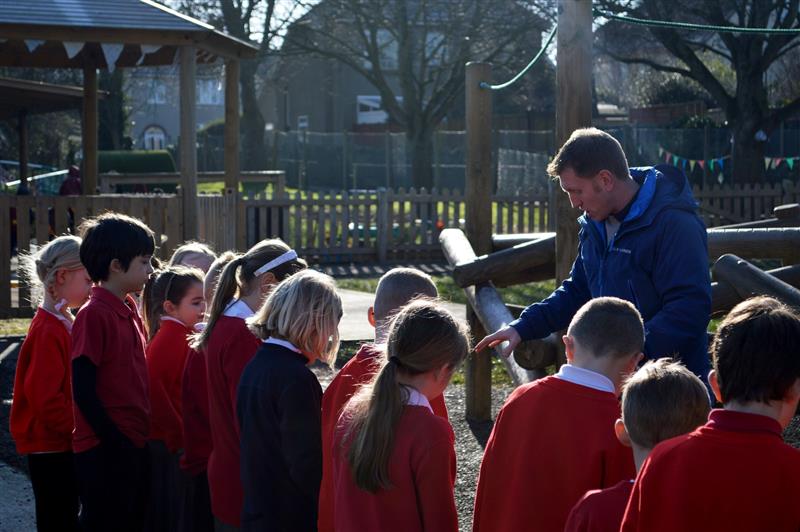 CHILDREN LOVE A TREASURE HUNT
Our favourite outdoor maths lesson has to be a treasure hunt. Children love a treasure hunt, and let's be honest, a good treasure hunt feels much more like going on an adventure and having some fun rather than actually doing any work!
A treasure hunt can offer huge potential for learning experiences right across the curriculum and from EYFS through KS1 and KS2. Focusing on mathematics alone, the scope is almost endless and a maths-based treasure hunt can be tailored to fit specific topics or to include a whole range of maths subjects.
Take advantage of every stage of the hunt to teach a broad range of maths subjects, from initial preparation with the children before the hunt begins, to actually going on the hunt and then during follow up work to gather and discuss the results.
BEFORE YOU GO HUNTING, SET A HUNT PLAN...
Before everyone goes rushing out of the door keen to get started, challenge your class to set a Hunt Plan themselves.
What would they like to hunt for? Are they going to look for small natural resources that they can gather and bring back to the group for exploration and presentation? Will it be a certain type of plant, leaf or flower, conkers, acorns or pebbles, or would they like to look for bugs, worms and insects? They will need to have a discussion about the time of year and what they might be likely to find outside at this time.
How will they transport the items carefully? Or will they be looking for more visual items such as shapes, angles or architectural features occurring around the school grounds, which they may need to record at source by taking pictures or making notes and drawings?
All of these resources can be used for a good maths hunt so why not look for them all over the course of the week!
Predictions and Probability
Once you have a Hunt Plan, challenge the children to predict what they are going to find, whether they are going to have success in their hunt and the quantity of the items that they might find.
What factors will influence their predictions? Will the weather have an impact, or the light or time of day, or the area and type of school grounds that they have access to? These discussions will help children to understand quantities and time, and help them learn to make reliable estimates.
They can put their theories to the test if they go for the same hunt at different times of the year!
Practical Hunting Methods
Depending on your class size, children can be divided into groups to go out hunting.
Ask them to group themselves in twos, threes, fours, fives and so on. How many children are in the class? How can they best be divided without leaving anyone out and so that the groups are all of equal sizes? How many groups do you need and how many children should be in each group to carry out the hunt and all its component parts successfully? Do group members need different roles, such as finders, recorders and carriers? What equipment do you have and how can this be shared out among the groups? It's all about numbers!
Recording the Results
Ask the children how they think they should record their findings.
Encourage them to make tally charts or grids so that they can do all of the recording themselves. This is a big part of the maths challenge so it is good for them to be creative and then to follow a process.
Discussions as to how their recording methods will work will help to develop their mathematical reasoning.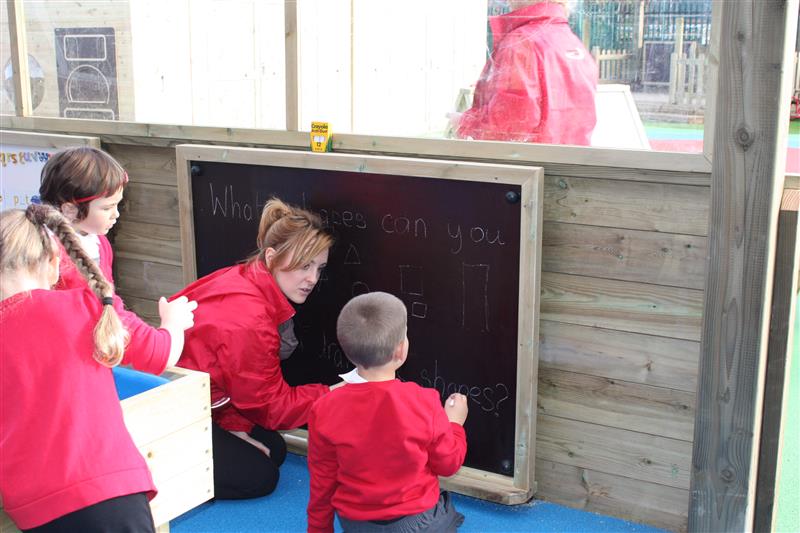 TIME TO HUNT - THERE'S STRENGTH IN NUMBERS!
Once the hunt is underway, it's time to be spontaneous and take up opportunities to discuss mathematics as they arise. Keep a checklist of all the mathematical subjects that you wish to cover with the children and you will find that there are plenty of situations in which they can be studied. Here are some ideas as a starting point:
Counting
How many of the hunt item(s) have the children found so far? Count them in bundles of two, five and ten. Count in bundles to practice counting in multiple numbers. Count features such as legs, eyes, markings, prickles, petals etc. How many legs do insects have?
Shapes
Look at shapes. If the hunt is specifically for different shapes around the school grounds this is even easier.
Otherwise what shape is the bug/leaf etc, and does it have any patterns or markings of note that form different shapes. How many sides/points/corners/angles does the item or shape have? How many curved or straight lines? You can increase the depth and level of conversation according to the appropriate level for your class.
Symmetry
Look at symmetry and repeating patterns on the items the children are hunting for.
Size and Measurement
Discuss size and measurement. How big or small are the items that you have found? Rank them in order of size and make comparisons such as bigger and smaller. Can you measure them with a ruler or tape measure? Make a log pile "bonfire" with the biggest logs at the bottom and the smallest twigs on the top.
Mass and Weight
Consider weight. Can you weigh the items on a set of scales? Is one heavier than the other? Can you tell the difference if you hold one in each hand? How many pebbles do we need to collect to make a 1kg pile?
Chance and Probability
Think about chance and probability. What is the likelihood of finding a particular, plant, insect or shape in your school grounds? What factors will influence this? If you are looking at insects, take note of their position and movement. Are they going left, right, forwards or backwards? Is it random or does there appear to be some logic in where they are going?
Recording Data
Ask the children to pay attention to how they are recording their findings. What recordable features have they included on their tally charts and grids (special features such as colours, shapes and locations as well as actual quantities of the item they are hunting for) and is there anything else that they may not have thought of which they find they can or should include now that the hunt is underway? Consider best methods of recording data and how they may need to adapt their charts if at all.
BACK TO BASE
Once the children have completed the hunt, it is time to get together to think about, discuss and record their findings. Was the hunt successful? What did they find and did their findings match their predictions? What did they learn that was new and interesting? Reflect upon how the use of maths helped them with their investigations.
When it comes to recording the results of the hunt, you can introduce them to the use of percentages, fractions, graphs and pie charts to display their findings. Why not create a pie chart collage with sections to represent different areas of the school grounds and what the children found in each area? Or a graph to illustrate the varying sizes or types of bugs that they came across.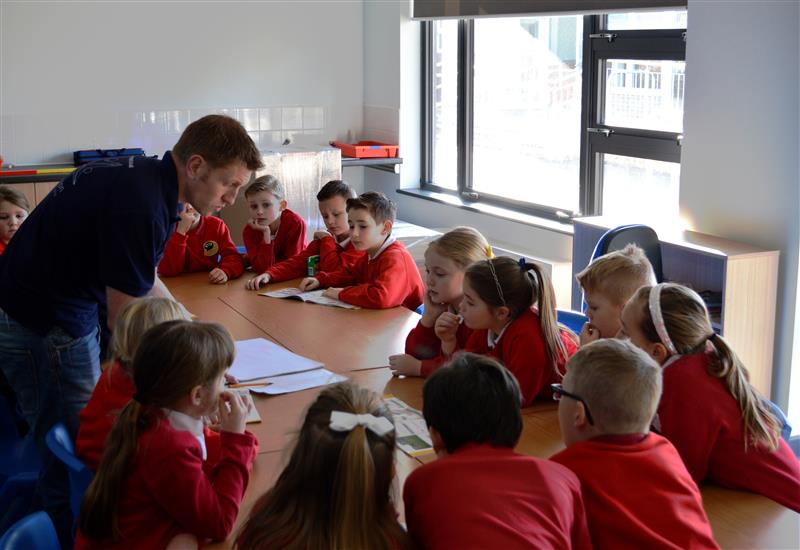 You could ask the children to make a scale map of the school grounds and mark on it where they found their treasures. Have fun measuring out the hunt area with metre lengths of rope (or with children lying down around the area if they don't mind getting a bit mucky!) before converting the measurements to a scale map. Make use of key symbols and codes to represent the treasures.
If you are thinking of improving your playground to create an inspiring and exciting treasure filled environment, please have a look at our website or give us a call to see how we can help you. We have some fantastic products such as Planters, Bug Hotels and a specialist Wildlife Area to encourage growth of plants and wildlife which can be used in maths and other lessons across the curriculum.
Our outdoor Mark Making Panels and Chalkboards are brilliant resources for children to record their findings and offer them freedom to be creative in displaying their work. Our School Playground Markings are full of brightly coloured and engaging shapes, patterns, angles and numbers to add new and interesting dimensions to outdoor maths lessons. We would love to hear from you with your ideas for bringing maths to life outdoors!