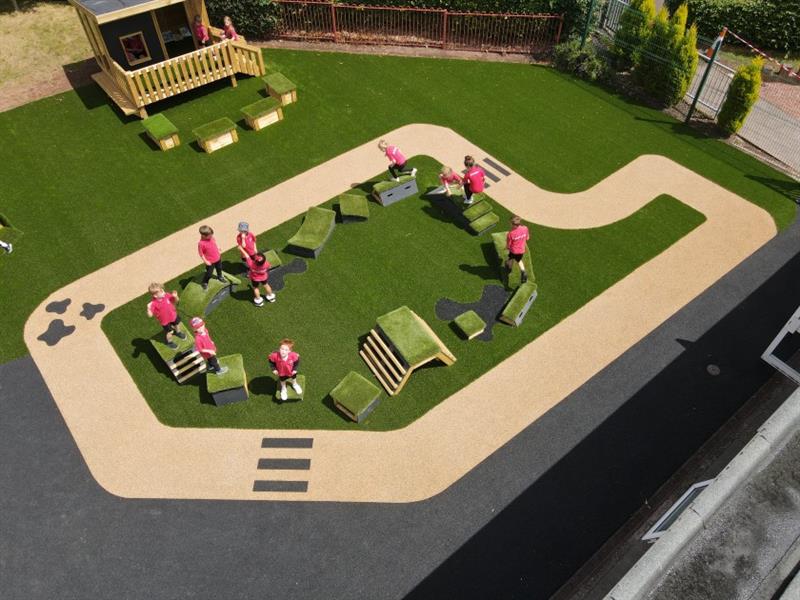 Bringing the best to Barnfields Primary School!
Introducing our Case Study of the Month for September, Barnfields Primary School!
This beautiful space was transformed from a plain concrete area into an interactive and engaging play zone, designed to support pupils as they learn through play.
Outdoor Learning Consultant and Manager, Greg Rossiter, worked closely with the Staffordshire School to target their pupils' educational needs and create a space that supported the primary curriculum.
This EYFS provision is bright, colorful and full of fun for the pupils of Barnfield Primary and we're thrilled to share this with you as our Case Study of the Month!
Creating a quiet zone…
Providing a space for pupils to retreat from the busy and exciting environment can be essential for a child's well-being.
This zone includes a Freestanding Story-Telling Chair with a built- in storage space for story books, where pupils can pop themselves down and flip through a book of their choice. This time can be great for mindfulness, enabling children to practice self-regulation as they learn to identify when they are becoming overwhelmed.
The space also includes an Interactive Chalkboard Panel on Wheels and an Interactive Whiteboard Panel on Wheels. Children can practice their literacy skills as they build their fine motor skills also whilst gripping and grasping the chalk and pens. Doodling freely can also be great for expression as children draw things they can relate to.
Small Moveable Grass Topped Seats create a great communal seating space for the children to gather together and build key communication skills. This is also a great space for PSED, as pupils build confidence with their peers and develop long-lasting relationships.
A Creative Arts Space…
Designing a space where pupils can be themselves, have fun and experiment with different sounds, rhythms and beats is a great idea for encouraging creativity and imagination in children.
The Drum Seats can be arranged into any formation desired, to be used as a collective musical space for group performances. Pupils can test how the way they hit the seat creates different sounds. This will then help pupils understand impacts, effects, soundwaves and more!
The Musical Triad consists of three usable and interactive sides for pupils: chimes, marimba and xylophone panels. Pupils can gather around this instrument as a group and enthusiastically work together to create a unique tune every day!
The Stage Star with Backdrop Boards is a child's dream performance space, giving extrovert pupils a place to dance, sing and act for their peers during breaktime. This is great for boosting confidence and will be instrumental in helping children to explore their creative skills.
Making a marvelous mess
Barnfields Primary also has access now to a new Messy Play Zone.
Complete with a Mud Box, Sand Table and Water Wall with Water Play Package, the children have a wide choice of sensory and messy play activities.
Playing with different materials and substances is excellent for children with additional sensory needs, giving them a chance to explore with their hands and engage all of their senses.
Messy Play is also great for supporting pupils' understanding of the world as by interacting with different resources and facilities, they can learn vital skills and knowledge that they can carry with them as they grow.
The Mini Damming Station with Mini Tuff Spot Table is a fabulous play resource for incorporating science lessons into play, teaching children all about real life dams and how they work in nature.
Confidence in climbing….
Children tend to climb wherever and whenever they get the opportunity so giving them a safe space to do so is essential.
The Pinnacle Hill Climber is the perfect starter climber for younger pupils, giving them a space to build their confidence and explore their gross motor skills!
The Get Set, Go! Blocks that we offer also provide amazing opportunities for pupils who are still becoming comfortable with their physical development, learning how to navigate different challenges and support themselves.
Barnfields Primary School had an amazing development full of different opportunities. As well as the items mentioned, Barnfields also had a den-making space, with a Lookout Cabin and a Hill Den.
Scroll through the photos and watch this amazing case study video to see more of this incredible project and all the different zones available to the pupils of Barnfields Primary School!
If you think that we could help you with your project, Contact Us Today and chat through your design with one of our In-House Learning and Play Advisors who will be happy to help!