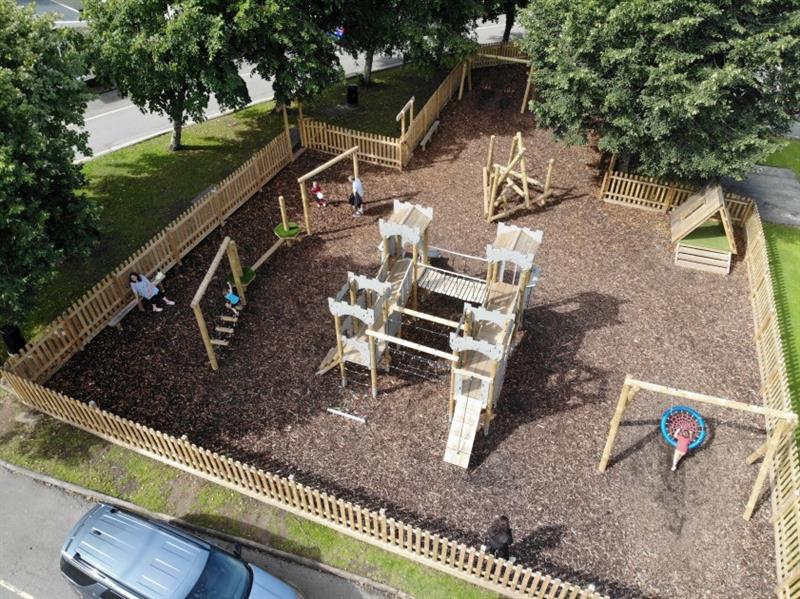 The Customer
Brynteg Holiday Park sits in the foothills of Mount Snowdon overlooking its own private lake and offering a sanctuary from the real world in the comfort of beautiful static caravans and lodges.
With a range of entertainment options across the site for visitors of all ages, such as tennis courts, gym and swimming pool, Brynteg Holiday Park was lacking in just one area- a play space for younger visitors.
The team at Brynteg contacted Pentagon Play for support in designing and creating a brand-new play space for their younger visitors, to make this site the perfect holiday destination for families.
Their Objectives
In their first meeting with Pentagon Play, Brynteg outlined some of their key priorities for their development:
The removal of their old, wooden equipment
Suitable for toddlers upwards, making this an easily accessible playground for all
A total revamp of the whole area to give the space a new life and purpose
We took all of these priorities into consideration when mapping out their brand-new development, which has now been installed.
Our Approach
After performing an initial site visit, our Outdoor Play Consultant, Ian Wood, was able to develop a quote and design that met the exact needs and expectations of Brynteg.
Looking at the current equipment, Ian arranged the removal of the existing items, and to keep the cost of the project down, advised on the replenishment of the existing bark, rather than the installation of brand-new surfacing.
Ian also advised on the installation of brand-new 1.2m High Timber Bowtop Fencing with Gates, marking the play space as a secure and noticeable environment for families across the campsite. This fenced-off zone offers a safe and spacious environment for play and socialisation.
Ian also implemented into the design a range of different climbing equipment for children to explore, with creative aspects for role playing and storytelling with their friends.
Installed earlier this year, Brynteg is now the home to a fantastically engaging play space for children to explore freely and adventurously.
The Results
This space is now home to a Brynteg Castle Tower Unit, designed specifically for Brynteg Holiday Park. This will help the park stand out from others in the area and give children the once in a lifetime opportunity for adventure and play!
With the Harter Fell Climber, children will love climbing to the top and shouting 'I'm the King/Queen of the Castle' and reigning over the rest of the playground.
The space also includes our Forest Foor Learning Den with seating and windows where children can enjoy all the cosiness of a little den, and engage their storytelling and role play skills as they use the environment as whatever they imagine it to be!
Children will love engaging their imagination on the Trojan Rocking horses too, galloping along an environment of their own creation, into battle or off to the beach, wherever they choose.
This space also features 2 Timber Swings, Perch Benches, Pinnacle Hill Climber, and Swinging Log Crossing, as well as a range of other Trim Trail Items.
If you're interested in redeveloping the play space at your holiday park, Contact Us Today to find out more and begin the process of developing your own space.