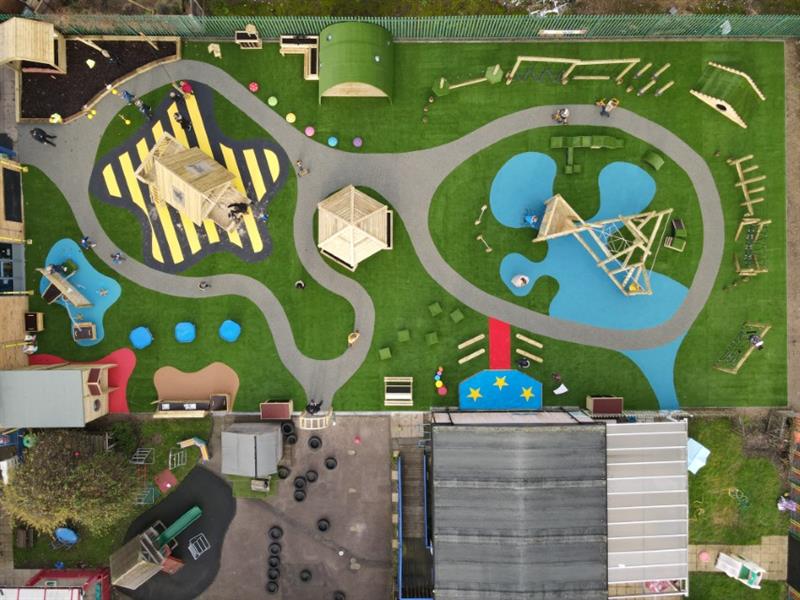 A Fully Immersive Outdoor Learning Environment for EYFS Children
We have completed a stunning installation at Waltham Holy Cross Primary Academy in Essex. Their new 'Early Years World' is resemblant of an enticing educational funfair, offering endless opportunities for physical activity, exploratory and investigative learning through play and some wonderful social interactions.
The design itself is a sensory feast of texture and colour, with deep grass green, sea blue and sunshine yellow surfacing combinations, interspersed with beautifully formed, natural timber interactive structures.
1,100sq ft of high-quality outdoor learning environment to give the Waltham Holy Cross community the best possible start to learning!
Our outdoor learning consultant Luke Banner had previously worked with Martina Conway, premises manager, and James Hollinsley, executive headteacher at the NET Academy Trust, on outdoor learning projects at some of their other schools within the trust.
He was delighted to be invited back - this time to work with the Early Years team at Waltham Holy Cross Primary to help them design a new Early Years World for their youngest pupils.
James was newly appointed to Waltham Holy Cross Primary as headteacher in the summer of 2020 and one of his first priorities was to improve provision within the Early Years, and importantly to develop the outdoor learning environments for both the Nursery and Reception classes.
The existing Early Years playground was a vast area of tarmac and grass, housing a limited amount of play equipment and some storage sheds. Essentially a blank canvas, it had so much potential to become something special; Luke knew just what was needed to create an outdoor learning environment full of opportunity and excitement for their little learners.
From presenting the final design and phased plan in October 2020, we were able to work quickly to get everything agreed - the installation began in mid-November and was complete before the Christmas break!
Here's what we did….
Resplendent New Surfacing
The first thing to be done was to get rid of the old surfacing. It's amazing just how much of a difference the right type of Surfacing can make to a playground, both for practical use and visual appeal - and there is so much that we can do with surfacing to make it function as a playful and educational resource itself!
After clearing out the old surfacing and equipment, we excavated and prepared the groundworks for the new installations with our dynamic play baseworks.
The new, bespoke, all-weather surfacing design is composed of a series of Wetpour pathways for the children to follow between different zones of the playground, both on foot and riding around on their wheeled vehicles.
Between the pathways, we laid a combination of Playturf Artificial Grass to provide a soft, tactile surface for floor-based activities and Saferturf or Wetpour Safety Surfacing to provide a smooth, supportive, safe and impact-absorbing surface - all to suit the particular activity type in each zone.
The combination of colours and textures complement each other beautifully and provide contrast to help the children differentiate between the learning zones.
This is for safety as much as supporting independent play as they learn to recognise for themselves which are the calmer spaces and where they might need to be aware of more high-energy movement.
The playground at Waltham Holy Cross is a huge rectangular space, offering a great platform for structured zoning of activity types.
We set some of the more creative, investigative learning activities closer to the school building, with the more active, physical play equipment out towards the end of the playground overlooking the field.
Industrious Construction Zone
We used double-height timber sleeper edging to surround and enclose a full-scale 'Construction Zone' in one corner of the new playground. The sleeper edging has a flat top all the way around, which acts as a seating ledge and platform for construction activities.
Within the Construction Zone, we installed a Giant Playhouse with a giant whiteboard inside it. It's the perfect builder's hut, offering a great, sheltered base for children to formulate and draw up their ideas, build their structures and make plenty of tea and biscuits!
A set of working Weighing Scales and a fully operative mechanical Rope and Pulley Materials Mover allow the children to wholeheartedly engage with the space, developing their physical and numerical skills as they calculate quantities and operate the machinery.
We filled the area with soft, loose Play Bark to provide a great textured base for the children to play safely.
The little ones at Waltham Holy Cross were so excited by the developments as we were working on their playground, that they couldn't wait to start building their own structures, fully kitted out in their building helmets and hi-vis jackets!
What a super creative space this has turned out to be.
Marvellous Messy and Investigative Play
We could not wait to unveil our brand new Investigative Raised Playhouse. Waltham Holy Cross Primary Academy is the first school in the country to have this installed and it's absolutely wonderful to see it in action!
The new Investigative Raised Playhouse brings sand play like no other to the school playground. It's a hive of sensory, explorative STEAM learning activities!
Children access the raised deck via a ladder with supportive handrails and once at the top, they need to interact with their friends in the sand pit below, to work the rope and pulley and sand chute system.
Teamwork at its best, and there's so much to explore and investigate!
We have used transparent structures in this design, so that children can observe the inner workings of the machinery as the sand travels between each level.
There's an inbuilt construction table for further investigations and two large windows to let the light in - these also encourage the children to role play and give them a clear view out over their fabulous playground.
Alongside this, we installed our STEAM learning favourite, the Water Wall Water with Damming Play Environment.
The children can plot courses for the water to travel and experiment with gravity and kinetic energy, observing for themselves how they can influence speed and direction and how different materials interact with water.
There's a Mud Kitchen, a Mud Box and a series of Tuff Spot Tables, providing a full complement of sensory messy play activities.
Our magnificent Play Cabin brings another central hub to this space - it's a huge timber playhouse with quirky, playful porthole windows, that the staff and children can transform into anything they choose - perhaps a restaurant for selling their delicious mud pies!
We added a Self-Selecting Store to this zone to keep resources close to hand and easily accessible, encouraging child-led play.
Nature at its Best
A Butterfly Tower and an interactive Bug Hotel with Individual Pods that the children can fill with natural resources to create insect habitats, bring nature to the playground at Waltham Holy Cross.
It's a lovely zone for children to learn more about the natural world around them, lifecycles and other related topics. There's a Corner Planter Bench, where the children can learn hands-on, growing and caring for their plants - making an attractive feature through the spring and summer.
We thought that this was the perfect spot for a Hobbit House - 'The Burrow' is a magical playhouse with an intriguing round door and an artificial grass roof that looks just as though you might find Gandalf waiting inside to help you conjure up some spells!
We surrounded it with 6 colourful Mushroom Seats to complete the fairytale.
Inspired Reading
An attractive timber 3.5m Hexagonal Gazebo with seating and Planter Benches, centred in the middle of the playground, provides a sheltered forum for the children to gather in and enjoy outdoor reading and group discussions.
Our favourite Storytelling Chair will encourage even the most reluctant of readers to sit up and take their turn!
Magical Music and Performing Arts
Expressive arts and role play games are a crucial part of Early Years learning, supporting children with their language development and creativity, helping them to experiment with social interactions and build relationships and building their confidence and self-esteem.
We created an authentic performing arts area with an all-star Performance Stage, facing Perch Benches and Small Moveable Artificial Grass-Topped Seats for the 'audience.'
A set of African Drums and a Small Tuned Xylophone allow the children to experiment with musical sound and create their own special effects and of course, there's an Easel Table for creating artistic masterpieces or advertising the latest show!
Fun Fitness and Physical Development
The children at Waltham Holy Cross are developing exemplary climbing skills with their awesome Bowfell Climber with Platform and Climbing Net.
This log and rope climber, featuring a full climbing wall and raised platform, is a great piece for stretching children's imaginations as they move around it.
It's completely open-ended and flexible: swinging through the forest, sailing a pirate's ship or scaling a giant's castle - it can be whatever they want it to be!
A set of Get Set, Go! Blocks allow teaching staff to easily set up obstacle courses for the children to navigate, which they can switch around to alter direction and level of challenge, or even just to provide new interest.
A Brand New, Never Seen Before Forest Trim Trail
Our brand new Forest Trail is inspired by popular treetop adventures, bringing their motivating mental and physical challenges directly to the school playground.
With 45 individual challenge pieces to choose from, we were able to build a bespoke, age-appropriate Forest Trail for Waltham Holy Cross, that now sweeps invitingly around the edge of their new playground.
They chose:
Stepping Logs
A Platform to Platform Beam Crossing
A Paired ZigZag Log Bridge Crossing and Wobbly Beam
Disc Poles
A Log Balance Weaver
A Forest Rope Bridge
A Grip and Grasp Traverse
A Roll Over Bars Traverse
A Climb Through Tunnel Hill
A Timber Archway
With all this wonderful climbing equipment, offering different levels of challenge to suit different abilities, it's an inclusive activity space with plenty of room for everyone to join in. PE lessons at Waltham Holy Cross will never be the same again!
"Wow!" was the response from Waltham Holy Cross Primary as the installation neared completion - "[it] offers everything that our children need to have a fantastic start to their time at Waltham Holy Cross. Reception learning is certainly supported with the best of facilities!"
Does your playground need a rethink? We're here to help! As the UK's number 1 playground provider for schools and nurseries, we've been designing and installing outstanding outdoor learning environments since 1998. You can see our full range of products and find out more about what we do on our website. Please do Contact Us to arrange a free consultation. Alternatively, you can view all of our spectacular playground designs installed in Essex.