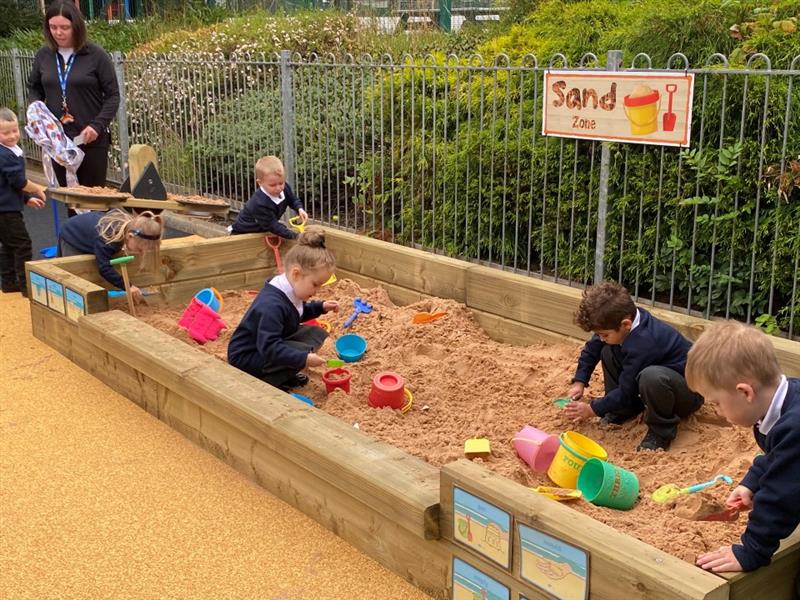 A brand new EYFS play area to bring out the best in Milton Primary's Pupils in Stoke!
Headteacher, Rebecca Bailey, of Milton Primary School in Stoke sat down with us to discuss the recent Early Years Development that Pentagon Play worked alongside her to create.
"The vision for the early years playground was very much in line with the early years framework, so we looked at the areas of learning and tried to match them as closely as possible."
Playground Consultant, Tom Hollingworth worked closely with the staff of Milton Primary to craft an Early Years Playground that truly fit the vision that Mrs. Bailey wished for; she even noted that of all the companies that she spoke with, Tom understood exactly what she wanted!
Road Racing Superstars
With our wide range of Wetpour designs, Milton Primary gave their pupils the opportunity to race around the track and compete with one another during their breaktime!
Choosing a Black Wetpour Roadway with White Markings, a distinct looking pathway was created for the children to race their bikes and scooters around, stopping for pedestrians and observing the road signs as they navigate their way along.
Using their imagination, children can envision themselves as Formula One Race Car Drivers or mimic their parents doing the school run as they glide along the smooth and safe-for-landing surface beneath them!
Run, Jump and Leap on the Wistman's Forest Trail
A highly valued piece of playground equipment, the queues for a go on the Wistman's Forest Trim Trail was already beginning to develop on opening day at Milton Primary as the pupils lined up for their turn on the timber!
Complete with a Rope Bridge, a Log Balance Weaver, artificial grass-topped platforms and a Step Rope Traverse, the pupils have a multitude of activities to complete before they jump down from the trail feeling like champion.
Building their co-ordination, muscular growth and teamwork skills, the Wistman's Forest Trail is perfect for EYFS learners as it promotes growth and development whilst having fun at the same time!
A Performance Zone fit for the thespians!
Boosting confidence, encouraging musical abilities, and providing a facility for pupils to share their talents, our Performance Stage and Giant Chalkboard Combination is the perfect addition to any EYFS Area.
Children can sing, dance and act in front of their peers and explore their performance abilities which may spark a future interest in the arts!
Fun for all, this area can be used during lesson time or playtime and encourages those amazing abilities that we love to encourage in our little learners.
Hip, Hip, Hooray! It's Time for Messy Play!
Offering a range of activities for their pupils to participate in, Milton Primary School invested in both a Bespoke Sand Pit and a Water Wall with Water Damming Package to provide their children with plenty of playtime choice.
Customising their sand play zone even further, Milton also asked Pentagon to install a set of Weighing Scales for their children to balance and measure sand within.
Perfect for aiding basic science and maths education as well as adding another element to the messy play area, pupils can get their hands covered with sand as they attempt to balance the scales!
When they've had enough fun with the sand, pupils can splish and splash around with the Water Wall and learning about damming as they channel their inner beaver and navigate the damming station.
Find Your Inner Gardener
A Sleeper Planter fit for all those who want to practise their gardening skills, children can work together to grow their own items!
Wide enough to house a lot of children gathered around it, pupils can work as a team and watch the progress of their planting through all the seasons.
A wonderful team-building exercise for all, this is a wonderful addition to this EYFS Area.
Specifically crafted to fit the needs of the pupils, Tom and Rebecca worked closely together to redesign this ideal EYFS outdoor area that the pupils are bound to enjoy!
If your playground could do with a revamp just like Milton Primary, then feel free to Contact Us Here through our website
Or, if you would like to see more transformations like this one then take a look at our Staffordshire Case Studies!