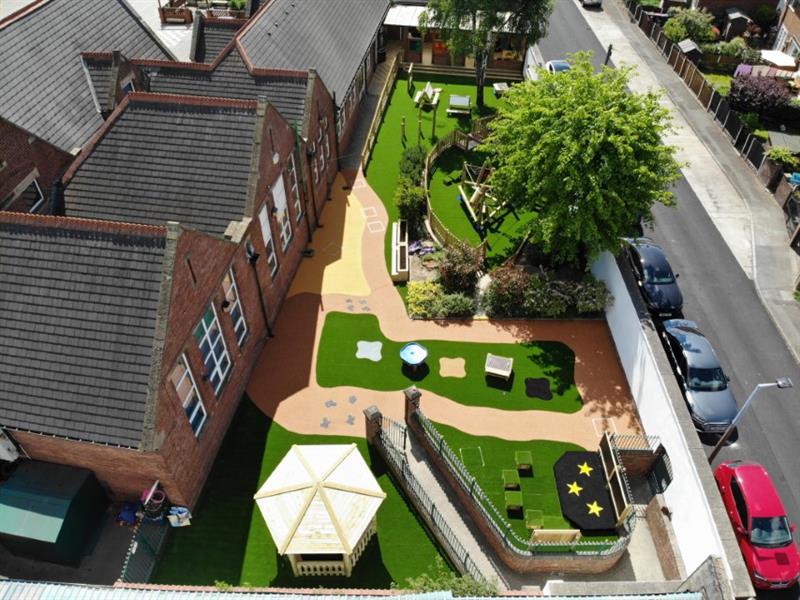 Explore a Captivating EYFS Playground at Rawmarsh Ashwood Primary
"Throughout lockdown and during the summer holidays, something magical appeared in our Foundation Stage outdoor areas across our primary schools. Our children returned to brand new Outdoor Provision, featuring climbing frames, driving tracks, water walls, stages, and so much more! Our Foundation Stage children have thoroughly enjoyed the opportunity to learn, play and explore using their brand new equipment, and couldn't be happier. We hope that these areas will help the children's development, enabling them to become the best they can be. We would like to thank Pentagon Play for an amazing service from start to finish."
We are thrilled to have been given the opportunity to work with the Wickersley Partnership Trust, as part of their commitment to improving outdoor provisions across their primary schools.
The new Early Years outdoor provision at Rawmarsh Ashwood Primary School was one such exciting project, where we created an incredible, brand new outdoor play and learning area for their youngest pupils.
We began by removing and disposing of all the old surfacing and equipment for the school, as it was no longer fit for purpose. We then prepared the groundworks ready for the transformation… And what a transformation it is!
Arriving through the school gate, which sits within the walls that surround the playground and hide it from public view (as with all good Secret Gardens!) is a truly magical experience for the children.
Emerging on the other side, they follow the pathway to be greeted by their brand new playground - a beautiful, bright, open space to explore with something new to discover in every corner.
The first thing to notice is the Surfacing. No more hard tarmac in sight! We used a combination of different Playground Surfaces to cleverly split the playground into different zones, leading children through from one area to the next.
Our lovely soft, Playturf Artificial Grass covers most of the area - perfect for younger children and it helps to avoid slips and injuries as they run around. It's an all-weather surface that allows the school to use the space year-round. We install it with the best baseworks to make sure that our playgrounds are self-draining and very easy to maintain.
We created a series of Wetpour pathways, interspersed with stepping stones and playful splashes in natural hues, to lead the children on through their playground. It's a safe and impact-absorbing, all weather surface - ideal for racing around on wheels!
A Space For Imaginative Play, Exploration and Quiet Reflection
As the children at Rawmarsh Ashwood enter their new playground, following the walled pathway, they are greeted by a big and beautiful Outdoor Gazebo. This is their space for quiet time and a break from the bustle of the more active parts of the playground, as much as a venue for outdoor lessons and group discussions.
On the other side of the walled pathway is an all-singing and dancing Performance Stage area with moveable seating. The children are really looking forward to drama and role-play activities here, with space to express themselves, develop their language and communication skills, and build self-confidence.
There's a giant chalkboard for mark-making and designing their own set, and even a giant mirror for checking out their costumes!
Moving on through the playground, there's an exploration area with an essential sand table and a tuff spot table for displaying and storing resources.
This leads onto a beautifully landscaped horticultural area. We used planter benches and bespoke sleeper edging to create natural borders around the existing trees. Each of these can be used as low-level seating while retaining soil and plants for the children to work with.
We tucked in our popular Bug Hotel for the children to fill with leaves and twigs to create a home for visiting insects. It's a visually stunning space for the children to get hands-on and discover more about biological science and the natural world around them.
An Exciting and Challenging Climbing Area
Behind the trees, we used our Bow Top Timber Fencing to create a low-level arc, breaking up the space for an active climbing area.
The children at Rawmarsh Ashwood love running around freely here, stretching out their limbs and refining their gross motor movements, developing balance, strength and core stability on their Harter Fell log and rope climber and Get Set, Go! Blocks.
It's a fun, energetic space with plenty of open-ended opportunities for creativity as they play and exercise.
Further through the playground we used our innovative landscaping techniques to create some fun playground mounds for the children to explore movement through different levels.
We installed a set of our Den Making Posts, with threading holes and grooves at different heights for children to build dens and shelters in their own, imaginative designs.
Stimulating STEAM Learning Zone
And then, at the far end of the playground, a whole new area for STEAM Learning!
Our Water Wall with Water Play Package takes centre stage, and the children love it. They can build their own courses for the water to travel, and experiment with scientific concepts such as gravity and kinetic energy. A timber and chalkboard Self-Selecting Store, which allows children to safely choose their own items to play with and tidy up afterwards.
Next to the Water Wall, a Giant Paint Panel and a set of Easel Tables complete this fabulous space, where the children at Rawmarsh Ashwood can enjoy tactile, sensory play, and endless creative learning.
Would you like a new outdoor learning area at your school? Whether you are looking to completely redevelop your outdoor space, or just make a few adjustments to your current offering, we can help you. You can visit our dedicated EYFS Page for inspiration and suitable products to add to your wish list. You can also see more examples of our EYFS Projects here.
We have developed new ways to conduct playground consultations safely in these difficult times. Please do Contact Us here for more information.
If you would like to view more examples of our work in Rotherham and across Yorkshire, visit our Yorkshire page here.