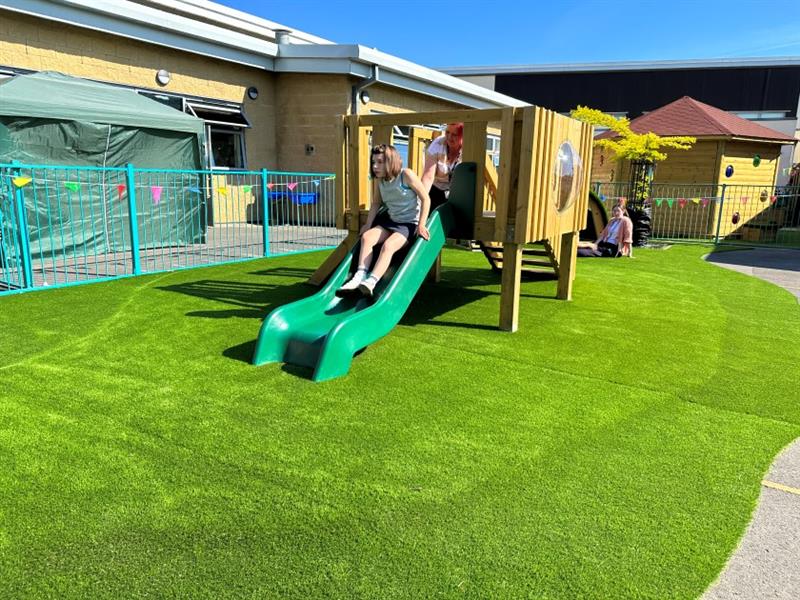 The Customer
Fairfield School in West Yorkshire offers a space for children with Special Educational Needs and Disabilities (SEND) to thrive in their uniqueness, enjoying a safe space to learn and play with continual support and care.
Therefore, creating a playground where pupils can enjoy play and continue learning valuable skills was essential.
If, like Fairfield, you're looking for support with your own inclusive play space, then Contact Us Today to get started...
---
Their Objectives
Fairfield School came to Pentagon Play with a large, open, concrete space, that they wanted to revitalise and fill with learning and play opportunities for their pupils to explore.
It was important to them that it be split into 3 zones, allowing pupils to move easily between zones and different types of play.
Their top priorities were:
A 'bike zone' with a race track and bike storage area
An 'Active Zone'
A 'Sensory relaxation Zone' with seating area
---
Our Approach
Our team worked closely with Fairfield to get their design exactly how they wanted it.
Outdoor Learning Consultant, Sam Shaw, suggested the addition of an Outdoor Gymnasium Equipment for the children to use, giving them a dedicated space to work on their physical development.
For the Sensory Area, Sam kept the focus on brightly coloured, sheltered spaces, adding a Sensory Gazebo, 3 Sensory Arbours and a Sensory Spinner. He also suggested the addition of some seating, providing a space for pupils to sit, relax and enjoy.
For the Bike Zone, instead of just taking a simple approach, Sam chose to add a range of features such as Speed Limit Signs and Zebra Crossings to create a realistic play space for the pupils, as well as somewhere they can ride their bikes, trikes, and scooters.
Sam also consulted on an additional Active Play Space with a variety of climbing opportunities for pupils, selecting accessible resources such as our Climb Through Tunnel Hill, Clatter Bridge, and Modular Play Tower so that pupils of all abilities could have a go.
---
The Results
The pupils at Fairfield love their new play space and are thriving in the new learning environment.
The Gym Space now provides an environment where physical education classes can be held, challenging pupils' physical abilities and giving them a safe space to really build their confidence and their skills.
The same can be said for the active play space which offers a more imaginative solution to active play. The pupils can work on their balance and coordination through play, whilst also building role play stories and creating characters!
This environment also includes an Inclusive Wheelchair Swing and In-Ground Trampoline which are also a popular choice with pupils!
The Sensory Area provides a calming space for sensory and emotional regulation, giving pupils an environment separate from the main playground. This space is often invaluable to pupils and can make the busy school day much more manageable.
Finally, the bike track is a hit with pupils, especially with the addition of Get Set, Go! Blocks in the centre as a cool active play centrepiece.
This area gives pupils an enjoyable space to work on the muscular strength in their legs, contributing to their running and walking abilities, whilst also offering an engaging space for races and play.
We loved working on this project at Fairfield and we hope the pupils love their new space too!
To revitalise your own SEN space, Contact Us Today and talk through your ideas!