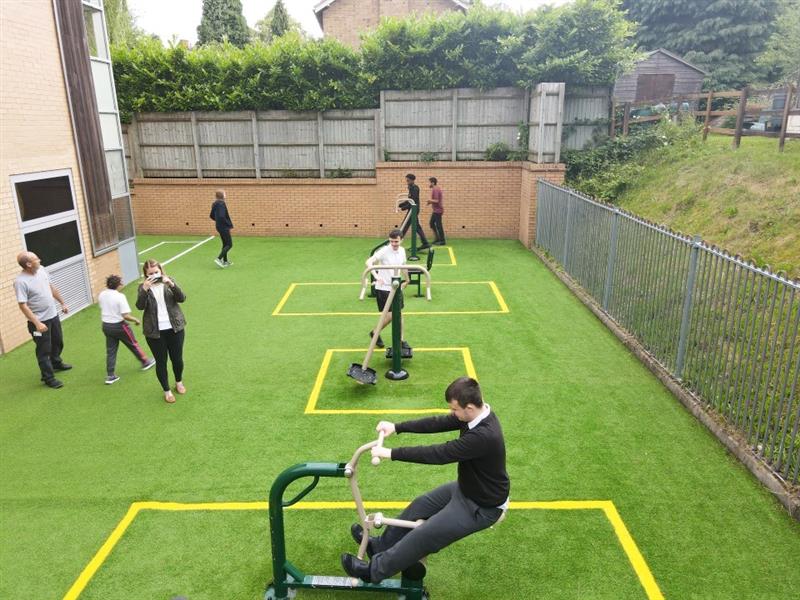 An exciting outdoor transformation for the whole school community at Fox Hollies
Pupils at Fox Hollies school in Birmingham have been eager to explore their fantastic, new outdoor spaces for learning, play and relaxation. Students now have their own sensory garden, sports zone and large open air play space.
Greg Rossiter, one of our playground consultants, had the pleasure of meeting with staff from Fox Hollies School which caters for students with severe learning difficulties and/or autism aged 11 to 19 years.
The team wanted to fully utilise the available outdoor space by creating three areas for students to learn, socialise and be physically active.
A Canopy for all Classrooms!
One of the main focal points of the new design is the Bespoke Timber Canopy with cladded sides which provides a large, sheltered zone and can be used by all classes.
Students now have an all-weather space directly outside their classrooms that can be used for a variety of purposes including group work, one to one teaching and messy and sensory play activities.
Even on the rainiest of days, pupils can enjoy being outside.
As they gaze up at the roof, the colourful polycarbonate panels provide a wonderful, bright sensory experience.
Our extremely popular deluxe Artificial Grass surfacing softens the space and gives a natural feel.
Directly under the canopy we installed our Beige Wetpour which we also used to create a roadway space for pupils to practise riding bikes.
This surfacing is made from impact absorbing rubber material, allowing pupils to feel safe and protected.
Head to the Outdoor Gym!
Physical development was a top priority for staff at Fox Hollies as current equipment was not being utilised by the pupils. Greg had big plans for the space including the introduction of a 4-piece gym equipment package which included:
Pupils have been active and healthy during playtimes as they exercise alongside each other.
Students can enjoy a full cardiovascular workout whilst developing strength and flexibility. We were able to outline each piece of equipment using yellow lines to create 'safe zones' within the designated gym area.
Greg spotted the potential of an area of land at the corner of the building which is now home to a pitch for ball games.
White lines help to create the outline of the pitch and the goals. Plenty of matches have already taken place as pupils develop communication and social skills.
Welcome to the Sensory Garden
The third area of the playground is now a beautiful, sheltered sensory garden.
As the existing surfacing was no longer fit for purpose, we covered the entire area with a raised deck.
We fitted deluxe artificial grass over the decking to keep the natural appearance of the whole space.
Ramps provided easy access and the new canopy, with green coloured panels, is a lovely spot for friends to gather.
When we visited the school pupils had already begun to use their planters and planter benches to grow a variety of plants.
The garden will soon be filled with flowers and herbs, awakening all the senses and equipping pupils with skills for life. Fox Hollies school has a passion for creative arts, our timber weaving panels can be used with a variety of different materials as a collaborative, calming activity.
Grass topped seats allow groups of students to read together under the canopy and allow for quality, outdoor learning experiences.
It was a privilege to work with Fox Hollies school and we hope that their outdoor transformation enriches the lives of students and encourages a love of learning.
If you're interested in building your own sensory garden or outdoor gym for your own fitness fun, please contact us here for a quotation.
Or, if you haven't yet been impressed enough, feel free to check out our Birmingham Case Studies Here.