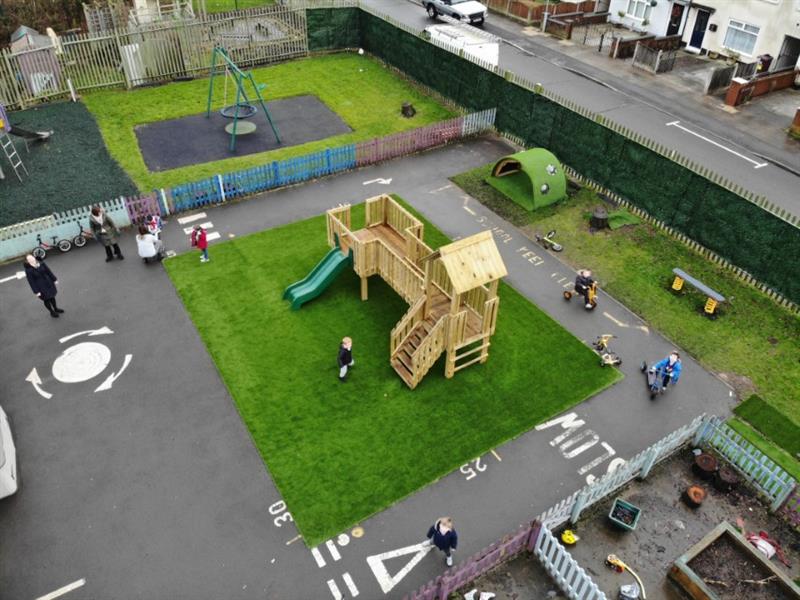 Promoting Regulatory, Physical and Imaginative Play Outdoors Through Exciting SEN Playground Equipment
Knowsley Central School is an excellent school, based in Liverpool, which aims to provide a learning community that promotes social inclusion while helping children succeed and develop to their maximum potential through supporting their health, personal and emotional well-being.
Daryl McConnell, the headteacher at Knowsley Central School, contacted our expert, Cheshire playground consultant, Ian Wood, as he wanted to improve their outdoor learning area: promoting regulatory, physical and imaginative play activities outdoors.
As we know how important it is to provide stimulation for all 7 senses, whilst enabling children to learn through experience, participate in physical and heavy work activities alongside a calming, breakout space for children to self-regulate themselves, we designed two fantastic spaces that would truly benefit the children.
Regulatory, Repetitive and Physical Play Tower
At first, the space was a patch of natural grass surrounded by tarmac, which didn't provide many stimulating activities for the children to participate in and prevented learning through play during periods of poor weather.
We therefore transformed the area into an excellent space for regulatory, repetitive and physical play activities with an energising bespoke playground tower. As our towers are modular, the obstacles can be swapped and changed to meet requirements.
We installed a Kenilworth Play Tower, featuring a slide, climbing net, ladder and a vertical climbing ramp. We concluded that the vertical climbing ramp wouldn't be suitable for all children attending the school, so we replaced it with a set of steps with handrails to ensure children could confidently and comfortably climb to the top of the decks.
As children climb the steps before whooshing down the slide, they are able to self-regulate themselves through these repetitive actions, along with developing their upper and lower body strength, fine and gross motor skills, balance and co-ordination, too.
Since natural grass wouldn't allow the children to make full use of their new play tower majority of the year, we replaced it with our fantastic Artificial Grass Playground Surfacing.
This tactile, impact absorbing and vibrant surface enables children to play safely on their new tower without the risk of serious injury from slips, trips and falls. Alongside this, the new surface enables water to penetrate through the pores surface, which means there's no more muddy, slippery mess preventing children from accessing the space.
Alongside the practical uses, the children enjoy the sensory experience of laying, sitting or standing on the grass as they feel the fibres through their fingers.
Break Out Spaces
Within both areas, we had to include break out spaces to ensure the children had a comfortable, calm area they could access if they felt the need to move away from the hustle and bustle of the playground - self-regulating themselves.
Within one area, we installed our excellent Hill Den, which is a smaller, cosier version of our huge Hobbit House. If children become over stimulated or simply want an area to calm down within, they can move to the Hill Den.
Featuring Clear Polycarbonate Bubble Windows and Den Making holes, the space can also easily be transformed into a sensory play space by draping materials over the windows and threading loose play resources through the holes.
In addition, the inside of the den is lined with a comfortable, tactile, vibrant artificial grass surfacing to create an inviting space for children to relax and self-regulate themselves.
In the other area, we installed two other fantastic playground dens to create wonderful break out spaces that also enable self-regulation. The two taller, more enclosed playground Wigwams provide children with a break-out area that feels safe and away from the noise of the playground.
As the children crawl into the quiet, darkened space, they can relax away from play and simply calm down and get themselves ready for more play or lesson time back in the classroom.
The break out spaces on the playground have been designed to be low stimulation areas where children can learn how and when they need to manage their own behaviours, for example when stress levels rise or they become over stimulated by other activities going on in the outdoor environment.
Stimulating Playground Equipment
Throughout the outdoor learning environment, we have placed a wide range of our excellent SEN Playground Equipment to create a playground that truly benefits the children attending Knowsley Central School.
Our Mezzie rocker offers the young learners attending the school both visual stimulation and engagement as they interact with the highly tactile unit's textured surface, ridged edges and contrasting colours.
As they gaze at the clear panel, watching and listening to the balls moving around, the children love pushing and pulling the unit to create different sounds, exploring cause and effect and improving their gross motor skills.
Extending the children's sensory play opportunities outdoors, our specially designed Rainbow and Hear and Touch Sensory Spinners have installed to provide visual, auditory and tactile stimulation, as well as self-regulatory activities.
The children love spinning the hexagonal shapes as they listen to the calming sounds of the ball bearings rattling or become enchanted by the magical colours of the rainbow spinner, repeating the action over and over again - combining the sensory elements of sound and colour with physical stimulation
Active Play Activities
Underneath an existing canopy, the school wanted a space where children can participate in active play and heavy work activities in the fresh air, so we installed an excellent selection of active playground equipment.
Our brilliant Climb Through Tunnel Hill is a favourite of the children as they run up and slide down the tunnel, weaving in and out, rolling down again and again.
The higher level trim trail item enables children to view the playground from another level as they participate in repetitive activities to self soothe or simply participate in imaginative play games, using the tunnel as a focal point for their games.
Next to the fantastic climb through tunnel, we have also installed a Spring Plank to provide the children with an area where they can concentrate on their balancing and co-ordination, comforting themselves as they prepare for learning back in the classroom.
The children attending Knowlsley Central have also been exploring the many different ways they can move their bodies across the plank by crawling and even tip toeing through the unstable challenge – improving their spacial awareness, co-ordination and balance.
Within the outdoor space, we wanted to provide the children with an alternative activity, so we installed our group sensory rocker. The wonderful challenge allows children to play together as they rock the colourful orb while improving their balance, posture and participating in a repetitive, self-soothing activity.
Children can go on a sensory journey as they travel along the sensory pathway, winding and twisting around the trees. Made from black saferturf, the pathway can be used throughout all weathers as children move along the area.
All of the equipment installed at Knowsley Central has been designed and placed specifically to truly enhance and improve the young learners overall behavioural traits, emotional feelings, memory, sensory processing, communication, imagination, social interaction and sustained concentration in and out of the classroom.
Our playground consultants work with you and the children to learn what their dream outdoor area looks like, as well as the problems you may be facing in your playground, before visualising it and then transforming the space into your ideal playground. We're also SEN Playground experts and can help create break out spaces, therapeutic areas and heavy work play spaces to truly benefit your children. Please Contact Us, we'd love to help create your ideal play space, too