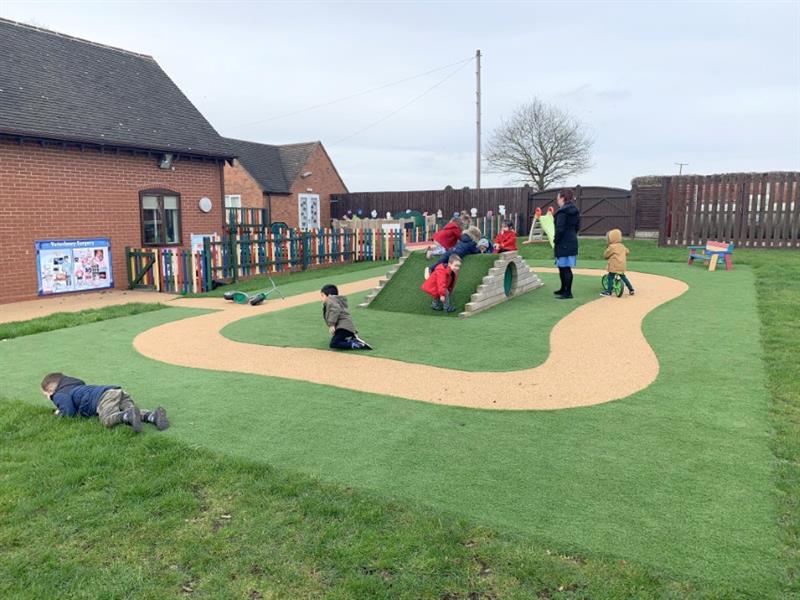 A re-imagined nursery garden at Little Ripley's Withy Hall location
We're thrilled to have the privilege of working with the Little Ripley Day Nurseries group on some exciting new outdoor play and learning projects, which they have been rolling out across their nurseries over the past few months.
This group of outstanding nurseries places real value on the importance of outdoor play for all babies and young children in their care.
Pentagon's Founder, Andy Snell, and our experienced playground consultant, Greg Rossiter, met with Little Ripley's Company Director, Tom Oakey, to discuss their plans for an exciting new climbing project at their Withy Hill nursery.
Withy Hill is set in a rural area with stunning surroundings and extensive, established gardens. Tom felt, however, that the children were lacking in climbing and investigative play opportunities and a suitable surface to ride their trikes and scooters around.
The existing grass surface wasn't suitable for this and it was very difficult for the children to propel their wheels along - especially when the ground was wet!
With plenty of space for new additions to the garden, and great ideas for something new, together they decided on a design for a new all-weather roadway, surrounding a central climbing feature.
Take a learning journey on our roadway
We used our super durable, impact-absorbing Wetpour Safety Surfacing to create a clear, wide pathway, leading straight from the classroom doors out into the garden. It continues to form a large, looped circuit for the children to travel all the way around and have a really good run, without having to take their vehicles onto the grass.
We set the roadway circuit into a large area of our beautiful Playturf Artificial Grass, which in turn blends seamlessly with the natural grass, so that the children can enjoy the different textures experienced through the combination of surfaces.
We laid our Shockpad Tiles under the artificial grass to provide protection from falls as young children learn to find their feet. Both the Wetpour and the Artificial Grass are porous and free-draining, so the new play area won't become muddy and waterlogged and can be enjoyed in all weathers, all year round.
Bringing a nursery garden to life
In the centre of the roadway circuit, emerging from the artificial grass, we installed our ever-popular Climb Through Tunnel Hill. It's an open-ended resource for children to climb, scramble, run and roll up, over, down and through, exploring positional language and concepts as they play and exercise.
It's great for den-building and imaginary games, too!
A short hop across the garden and the children are now discovering their fantastic new Covered Sandbox - it's huge!
Full of soft sand, it's a superb spot for sensory development, investigative and imaginative play - and some wonderful social interaction as the children explore new textures together, digging and building and making up stories along the way.
It's fascinating to us to see the different dimension that a few carefully-chosen resources can bring to a school or nursery garden. At Withy Hill, the children were so excited to run straight out to their new play space! Now, they have something for everyone to enjoy, with plenty to choose from in all areas of their learning.
Are you looking for a new addition to your nursery garden? At Pentagon Play, we have been creating outstanding playgrounds for schools and nurseries for over 20 years. You can view our full range of innovative nursery outdoor play equipment here. Please don't hesitate to Contact Us to arrange a free consultation with one of our education experts.