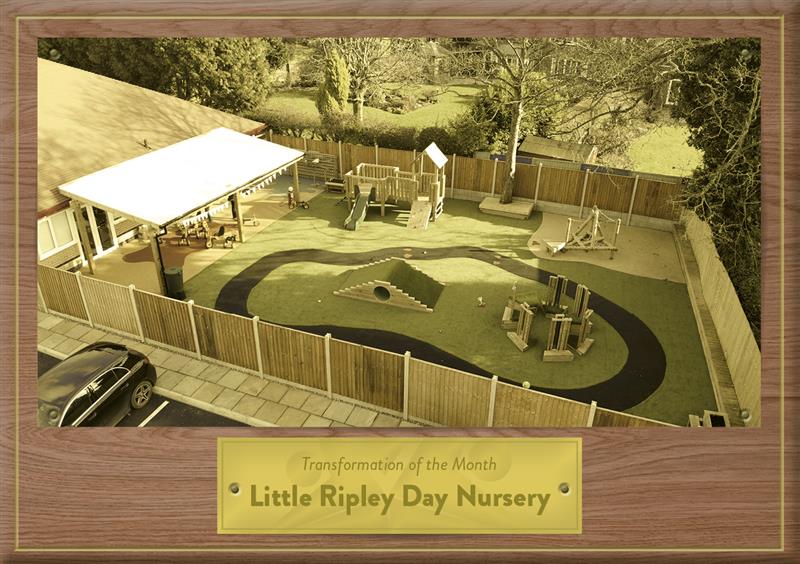 Outstanding Outdoor Learning And Play Environments For Nursery
We are delighted to be a part of Little Ripley Day Nurseries' first ever purpose-built day nursery at 335 Birmingham Road in Sutton Coldfield!
This outstanding group of nurseries value the importance of outdoor play for all babies and young children in their care. With the blank canvas of a new-build to create the perfect environment to gradually prepare children for school life, we were able to help them hit the ground running with a first-class outdoor play and learning facility.
Pentagon Play's Founder, Andy Snell and our experienced playground consultant, Greg Rossiter, met with Little Ripley's Company Director, Tom Oakey, to discuss their plans for this exciting new prospect at Birmingham Road.
The planned layout of the new build meant that we had two clearly designated areas to create outdoor play and learning environments - one to suit each of the nursery's two different age groups (0-2s and 3-5s) - so that they would be able to play freely, safely, and with appropriate challenges and resources to explore to suit their different stages of development.
We went back to visit the nursery once the gardens were open. It was wonderful to see the designs working so well and the children absolutely loving their time outdoors!
Outdoor Play Equipment In The Nursery (0-2s) Garden
We created a large, multi-use play area with our beautiful, green Playturf Artificial Grass Surfacing. We sculpted our popular playground mounds for motor skills into the artificial grass area to create fun little hills for the children to climb up, roll down and play imaginary games around.
We used our impact-absorbing Wetpour Safety Surfacing for a contrasting surface texture to create a sand-and-sea themed surface that marks out different play zones.
We installed an all-weather, freestanding Timber Canopy, which we surrounded with our brightly-coloured bow-top fencing and gate. This has created a sheltered outdoor play space, allowing the little ones to enjoy some fresh air every day, no matter what the weather brings.
This new play space now has clearly designated zones for the children to enjoy exploring, whether they're taking their first steps and pulling themselves to have a good look at what's on offer, or they're starting to discover the joys of messy play, mark making, den building and storytelling in the garden.
Highlights include:
A storytelling area featuring a storytelling chair behind two trellis weaving panels. The panels are designed for developing fine motor skills, but the children have all sorts of plans in mind for them. When we went to visit, we were immediately imprisoned in their jail as a wicked queen sat on the throne and decided our fate - we weren't sure if we would ever be allowed out!
A Climb Through Tunnel Hill, which is as tall as the children at its peak, brings a brilliant up-and-over climbing challenge to the area. They love running up to the top and rolling down the other side. It's great for motor development, balance, aerobic exercise and confidence building.
A super Hill Den with round peep-hole windows. Two little friends challenged us to a game of hide and seek in the garden and the Hill Den was their perfect hiding place!
A set of our popular Get Set, Go! Blocks for the children to step and climb up, over and down. They were using positional language as they played and one child was using a watering can to water the artificial grass tops of the blocks, turning the ramp into a water slide to whizz down - he had no fear and he was clearly enjoying himself! The children also instigated a game of "catch" and we had to chase them around the blocks, weaving and twisting around the course. It's fair to say we were more worn out than they were!
A covered sand table and a water table on wheels for essential messy play. The tables are very sturdy but can easily be wheeled around by the staff, so that they can enjoy their investigative play in different parts of the garden if they want to move it into the sunshine or a shaded spot at different times of the day.
Outdoor Play Equipment For The Preschoolers (3-5s)
We continued the design theme into the Preschool garden, creating areas that mirror, yet show noticeable progression from, the Nursery garden. A Timber Canopy provides a covered outdoor learning area that leads children straight from their room and out into the garden, allowing a free-flow transition between the two.
Highlights in this garden include:
A fantastic, interactive roadway surface design, which we sculpted out of our porous, free-draining and impact absorbing wetpour safety surfacing. It features fun stepping stones and little ramps to ride over with their trikes. Safety surfacing and artificial grass continue throughout the garden - providing protection from falls in an all-weather environment.
Our entry-level climbing frame, the Pinnacle Hill Climber with Platform. It's a fabulous, flexible log and rope climber for developing motor skills and building climbing confidence. We watched one little girl stand and assess it for a while, just thinking about it, but a little unsure. Then she plucked up the courage and gave it a go. She moved around very cautiously at first, gripping the ropes for balance. It was wonderful to see her gradually becoming more confident and moving around more easily - there were big smiles by the end and she didn't want to come off it!
The Kenilworth Modular Play Tower for fun, imaginative games and physical play. One little boy was riding around on his trike and purposefully crashing into the tower - clearly enjoying the sensation and the sensory feedback it was giving him! Thankfully our structures are super sturdy so they can take a beating and the wheels of the trike bounced off the wood nicely so no harm was done to Tower or child! He was having a great time, telling himself an imaginative story as he played and burning off lots of energy too!
A Water Wall with Water Play Package under the canopy, for some super sensory messy play and STEAM learning experiences.
A selection of planter benches for the children to enjoy gardening activities and learn about nature and wildlife.
A Walk and Talk Seating Circle. It's laid out so that children are continuously stepping up and down each level as they walk around the circle - onto platforms that are wide and spacious - so there's plenty of room to practice their balance on steps and learn how to move more freely. The children can hold onto the tall backs of each step/seat for support. Each one has fun transparent, colourful panels, open gaps and peep-holes to peep through and chat with their friends. These can also be used for threading, weaving and innovative den-making activities.
Does your nursery garden need an overhaul? At Pentagon, we have been creating incredible playgrounds for schools and nurseries for over 20 years. You can view our full range of products and find out more about what we do Here. Please don't hesitate to Contact Us to arrange a free consultation with one of our education experts.