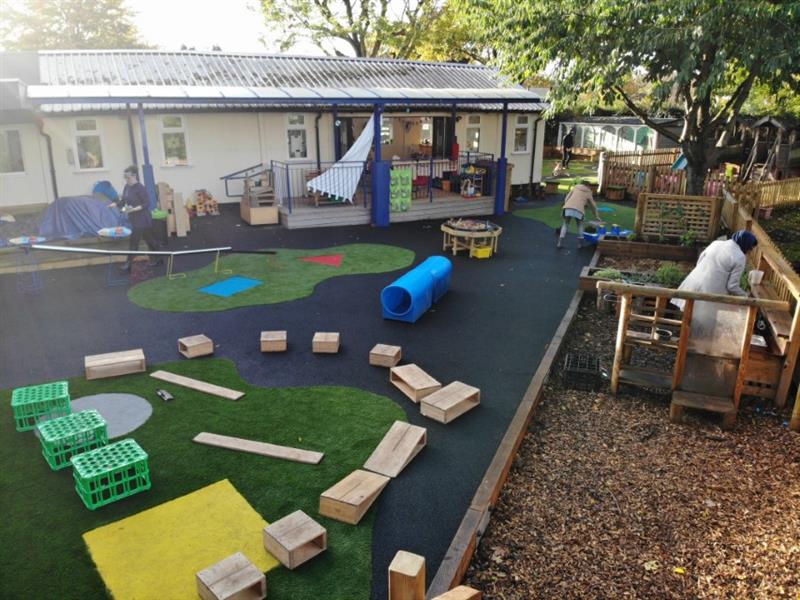 An Exceptional Nursery Garden for Cross-Curricular Activities and School Readiness
A haven of fun, adventure and exploration has been created for the lucky children attending Marsh Hill Nursery School in Birmingham!
This wonderful nursery school truly value the importance of outdoor play for all of the young children in their care and our playground consultant, Greg Rossiter, was delighted to be able to design the perfect environment.
One that would gradually prepare the children for school life and this first-class outdoor play and learning facility has done just that!
Before the design could come to life…
Before the new areas could come to life, we began by removing some of the older equipment that was no longer fit for purpose.
Lisa Taylor-Hawkins, the assistant headteacher, was keen to create different zones for different types of play, that would also target all seven areas of the early years curriculum but also engage children from the age of 2 all the way up to 4 years old.
Targeting school readiness was a key priority however they wanted to ensure the new spaces would still be suitable for their younger children. Greg and Lisa worked together to create a space that would suit all of their needs.
After the previous equipment had been removed, we used our natural-looking Bow Top Timber Fencing to zone the vast amount of space available.
In turn, creating five exciting new areas that would achieve all of the outcomes listed.
A Haven of Fun, Investigation and Messy Play
A messy play and investigation zone that encourages the children to join in, explore and get their hands dirty has proved extremely popular with staff and children alike!
The new zone has been split into three sections using sleeper edges to ensure all of the bark, mud and sand stays in one place:
A natural planting area where children can watch things grow, taste and try vegetables and admire the beauty of the plant life cycle and the wonders of nature.
A muddy play space that enables children to get their hands dirty and investigate different materials.
A sand play zone to dig, bury and build in.
The muddy play space is a firm favourite with the children! Our excellent Mud Kitchen encourages the children to stir, mix, pour and measure as they bake delicious mud muffins, cakes and pies for others to sample.
A mud box placed next to the kitchen provides an endless source of ingredients for the little chefs to use. The children have to work together to measure their ingredients out on the weighing scales before using their muscles to work the pulley and transport their materials across the zone.
A floor level sand pit provides a smooth transition into the area. Armed with their toy diggers, dump trunks, cement mixer and bucket and spade, Marsh Hill's very own quarry comes to life!
Access to Nature All Year Round
The nursery were keen to provide the children with access to nature all year round and with a big and beautiful grass section in their grounds, there couldn't be a better area to set up a forest school style area.
Surrounded by large, green hedges, we strategically placed a Bug Hotel along the hedge row. Little learners can pull out their very own bug pod, investigating what's moved in after filling it with the perfect materials needed to create a habitat for all those creepy crawlies.
We also placed one of our nursery-specific Look Out Cabins and a set of Den Making Posts to provide the children with an area where they can participate in imaginative play games in the wilderness. Children can stand on the balcony of the cabin staring out into the playground as they listen to the birds sing!
As this space is made up of natural grass and soil, we included an access gate into the area, so staff can choose each day if they'd like the children to explore the natural grounds.
Role Play and Drama Based Activities
Our innovative Performance Stage with Chalkboard provides a model platform for outdoor learning across the EYFS prime areas, particularly PSED. Dressing up, getting out all of the props and stepping up onto the stage is sure to inspire some really creative performances!
The mark making panels are fantastic for encouraging children of all ages as they take their first steps in writing and drawing. They can use big arm movements to set the scene for their game as they learn to hone their skills for fine motor control - they love discovering what they can do for themselves!
Outdoor Musical Instruments featured either side of the stage enables children to make as much noise as they wish as they begin to develop their confidence and skills in self-expression.
A selection of artificial grass topped steps provides comfortable seating for those sat around listening to their friends sing and dance.
Within this creative space, we've surfaced the space with our soft artificial grass topped surfacing, ensuring musical performances can take place come rain or shine.
Take a Learning Journey on The Roadway
A realistic roadway has provided the perfect space for little ones to burn off some excess energy, get some exercise and get all of those little muscles working!
The Black Wet Pour Roadway has been designed to offer the children a dedicated space to race their scooter and trikes around, whilst helping teach them about road safety and the world around us as they play.
Arrows to show the direction of travel, a roundabout and numbered parking bays transform this space into the huge Radiator Springs Grand Prix as they compete against one another to complete the circuit the fastest.
A Seamless Transition from Indoors to the Great Outdoors
To create a seamless transition from the indoor space to the great outdoors, we installed a Timber Canopy right outside the door. This not only provides the children with a dry, shaded area to stand and play, but also creates a sensory experience for the little learners.
As sunlight shines through the clear panels, a huge array of colour dances underneath thanks to the coloured roof panels. Moreover, during periods of rainfall, little ones can listen to the raindrops pitter patter on the plastic.
With this wonderful new garden, the staff and children at Marsh Hill Nursery can't wait to open the doors and step outside each day. What will the children discover, explore or learn today?
Are you looking at improving your Nursey garden? View our huge range of outdoor play equipment for nurseries here and create your wish list, or if you're ready to begin, Contact Us Here to embark on your journey with Pentagon Play.
If you would like to view more examples of our playground projects in Birmingham, visit our Birmingham page here.