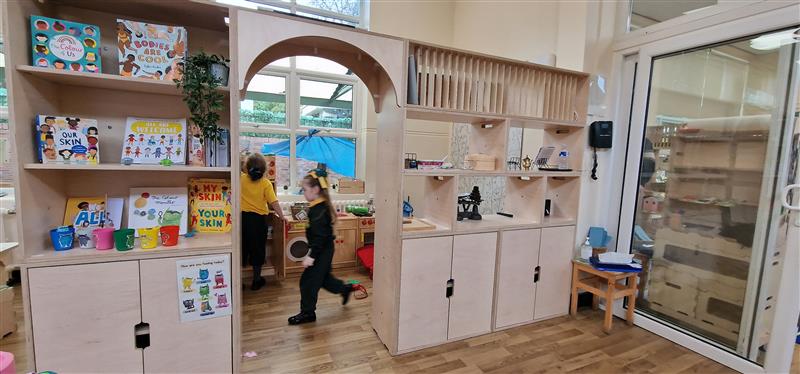 The Customer
After 25 years of fantastic outdoor playground transformations, we knew it was time to take Pentagon design and craftmanship indoors to make dream classroom spaces a reality.
We were very excited to work with the outstanding Our Lady's Bishop Eton Catholic Primary School (OLBE) in Liverpool to re-design their EYFS classroom space. OLBE planned to provide their youngest pupils with the best possible start to their primary education.
School staff wanted to create different learning and interest zones where pupils could comfortably learn alongside each other, developing skills through first-hand experience.
---
Their Objectives
OLBE wanted to create different classroom furniture zones within their large classroom space where pupils could play, explore, experiment and investigate. The classroom environment also needed to help embed routines and allow learners to feel secure and happy.
We were delighted to visit the school for an initial design meeting where we looked at existing equipment and room layout and listened carefully to the EYFS teachers' vision for their space.
After this visit we tailored our products to suit the needs of the school and created a final design showing before and after images. With the design finalised, our bespoke early years furniture was built on-site ready to be installed during the summer holidays.
---
Our Approach
The first classroom furniture zone that we focussed on consisted of creating a cosy, enclosed reading zone and a large construction zone. Stack and Store Units offer plenty of space for learning resources. Items can be easily seen and accessed by pupils which ensures that all resources have a 'home.'
Tidy-up times have become much easier as children respect and care for their resources. A large slatted Stack and Store Unit provides handy storage for items such as Ipads to slot into.
A focal point of this space is the circular window with cushioned seats for children to gather with their latest read. Our new, fully moveable Double-Sided Angled Bookcases beautifully display texts face on allowing young pupils to inspect front covers and select reads with ease.
On the other side of the reading zone, there is plenty of floor space for children to construct their latest builds. We created a much-needed storage unit with shelves for the classroom's large collection of wooden blocks. Now the different sized and shaped blocks all have a set space ready to be used by eager groups of builders!
The second Breakout Space formed a large home corner and role-play area. Pupils enter through an inviting archway and from there, imagination begins to take over.
Inside the role play zone, there is a mixture of open shelves which pupils can readily select from and cabinets with doors where teacher resources can be stored. Open shelves provide interesting spaces and levels to aid children's play.
The circular window, slatted shelf and bench seating mirror the reading zone creating classroom continuity.
Throughout the classroom, Storage Units on Wheels help to create different areas. Shelves are decluttered, organised and labelled allowing children to easily select the items they need. The Creative Area contains tubs of different craft materials, The Fine Motor Area is home to peg boards and games and the Maths shelf holds puzzles and various manipulatives.
Storage Units have been used to create a 'self-serve' snack area. Pupils can independently select their chosen snack and drink before carrying it over to their new Square Activity Table.
Conversation is encouraged as children form peer relationships. The Activity Table comfortably seats 8 children and pupils can easily transport Stack and Sit Stools into their preferred location.
A key priority for OLBE was to have large tables for group work as they had previously struggled with the size and shape of their old furniture. A further 2 Square Activity Tables are the perfect height and size for teacher-led group activities.
A large number of our Stack and Sit stools were purchased by the school which offer children flexible seating options. The stools can be easily moved, and stacked when not in use or when seats need to be made bigger/smaller and cushions can even be used for children to lean on during floor play.
One of the best features of the Stack and Sit is that they can be used to store essential resources with a clear window making items visible.
A much-loved feature in the classroom is the Stack and Sit with Art Easel Package 3. The Art Easel is a fantastic resource for essential teacher modelling which can be altered using Stack and Sits to change the height. The school have also made a table from this package using the chalkboard on top of the stools to create a small table, perfect for fine motor activities.
---
The Results
The EYFS department at OLBE has certainly become the envy of the school. New parents have commented positively on the classroom which is now a bright, airy and calming space. Neutral tones and matching wood effect pieces create inviting spaces which pupils feel proud of.
The new September cohort has settled very quickly into school life and absolutely loves their new classroom. Teaching has been revolutionised for early years staff who now have the option to simply change the layout of the room themselves and easily clean underneath surfaces after messy play!
The classroom environment now plays a key role in supporting and extending children's development, helping to shape enquiring minds.
For the next 6 months, we are extending a special offer with reduced rates for Indoor classroom development. If you're intrigued by this opportunity, kindly fill out our Contact Form. As newcomers to the indoor market, we aim to expand our portfolio in the coming six months.