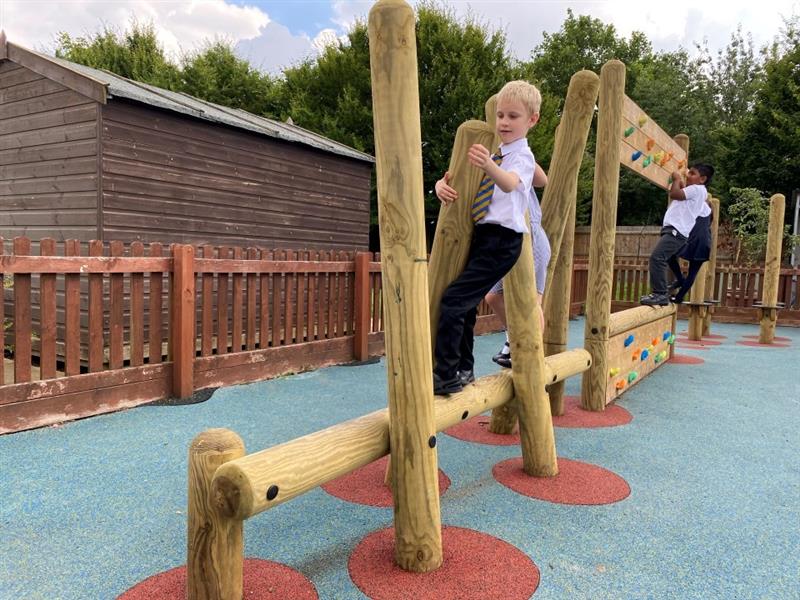 Trim Trail Tomfoolery at Boston St Mary's RC Primary School!
It was great to be back at Boston St Mary's RC Primary School in Lincolnshire again!
We installed one of our exciting Playground Towers for them a couple of years ago, so we were delighted to be invited back to the school by Head Teacher, Lisa Gleed-Thornley !
This time they wanted our help with the creation of two new and energising Trim Trail areas that would provide the perfect outlet for imaginative and active play for their KS1 and KS2 students.
Our Playground Consultant Marion Rolph returned to Boston St Mary's to visit Lisa, and discuss their plans and priorities for the playground areas to be redeveloped.
They wanted something open-ended and flexible to engage the children during play times as well as PE lessons, that would support their overall physical development. Marion knew just the thing!
Our innovative Trim Trail combinations are ideal for targeting core, upper and lower body physical development, improving balance and proprioception and enhancing gross and fine motor skills. Schools can choose from our pre-designed Trim Trail layouts that our experts have created to support specific skill sets.
Alternatively, they can select their favourite pieces from our huge range of individual Trim Trail challenges to create their own, bespoke Trim Trail.
At Boston St Mary's RC Primary School, they wanted to have two completely separate Trim Trail areas - one that would provide a fun and flexible challenge for younger KS1 children to introduce them to climbing and balancing, and one that would provide a bit more of a daredevil challenge for their older KS2 pupils.
Before the installation could begin, we removed the old pieces of climbing frame that were no longer fit for purpose and prepared the ground for the new equipment.
KS1 You're Having Fun!
For the Trim Trail in their KS1 playground, Boston St Mary's chose:
We laid bold and fun red Wetpour Splodges around all the new Trim Trail posts to create a lovely clean finish where the posts were fixed into the ground. It's an impact-absorbing, all-weather surface that provides a great safety option, helping to prevent injuries where children are running around and jumping on and off equipment.
This new Trim Trail area is ripe for adventure and the younger children at Boston St Mary's are having a wonderful time making up their own imaginary games as they play, and getting plenty of exercise too!
KS2 We Have A Challenge For You!
For the KS2 pupils we installed a longer Trim Trail, made from more challenging pieces designed to really test their balance, build their core strength and stability and get them thinking as they move! It curves beautifully around their existing Play Tower, transforming the area into a hive of high-energy action!
Boston St Mary's chose:
We installed a beautiful natural-looking deep green Playturf Artificial Grass overlay all around the new KS2 Trim Trail. This has transformed it into an all-weather space so that the children can enjoy keeping active outdoors all year round.
This new Trim Trail will be incredibly beneficial in helping the juniors at Boston St Mary's to build their confidence, both physically and mentally. They'll need to tackle and solve problems, working out how best to complete each section of the challenge.
They'll be assessing and managing risk as they move, and developing their resilience as they conquer some of the more difficult balance challenges over time. And of course they'll be improving their physical strength, balance, motor skills, agility and overall fitness - having fun as they achieve a huge range of learning outcomes for Physical Education!
Would you like to enhance imaginative play and extend your students' physical play opportunities in the playground?
We can help you to select the best challenge pieces with which to build your Trim Trail, so that it's tailored to meet your pupils' needs.
You can view our full range of Trim Trail products Here.
Please feel free to Contact Us for a free, no-obligation consultation with one of our expert playground consultants.