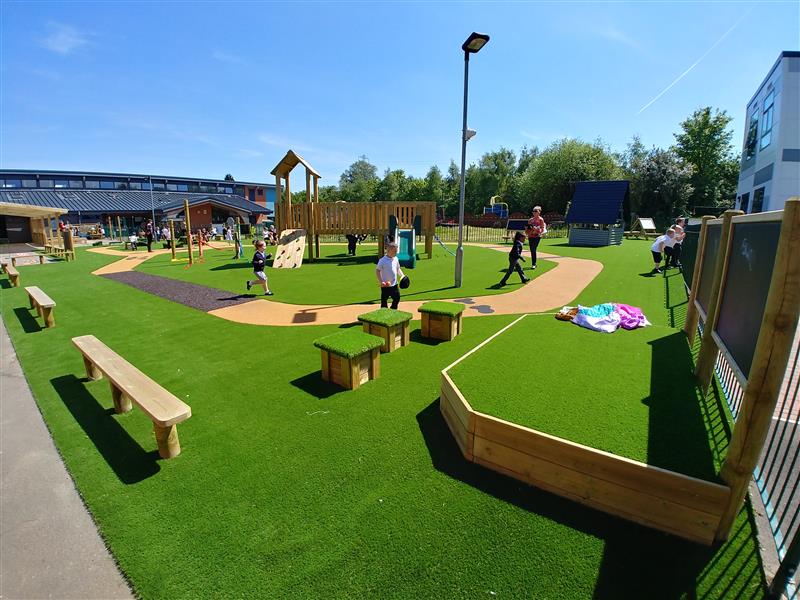 A Magnificent EYFS Playground For Learning Through Play and Cross Curricular Activities.
We created a stunning new playground design and put our excavators into action for this super, exciting project at The Priory Primary School in Wednesbury, West Midlands.
The school were looking for a complete overhaul of their outdoor space, and our playground consultant, Greg Rossiter, had the pleasure of working with the school's business manager, Elaine Dickenson, to make this happen.
The existing area was uneven, formed from undulating mounds of earth and grass that was inaccessible for much of the year. The school wanted to transform it into a playground that would inspire first-class investigative learning and support physical development for their pupils across the board.
They wanted it to be something that they could use every day and all throughout the year - making high-quality outdoor play and learning an integral part of school life.
We designed a brand new playground for The Priory, with a real-world roadway theme taking the children on a journey through a series of fabulous, new, explorative-play zones. With the final design complete, it was time to get the grounds ready for installation.
We began by excavating the area entirely and removing all of the old features. We then levelled the area in preparation for new playground surfacing that would, in itself, totally reinvent the area.
Installing our beautiful green Playturf Artificial Grass instantly brightened up the space. It's an all-weather surface, which allows children to run around and play at all times of the year without it becoming muddy and slippy.
We incorporated a 'Journey Zone' within the surfacing, which we created in a roadway design with our Wetpour Safety Surfacing - a resin-bonded, porous, rubber surface, which absorbs impact and has plenty of 'give' - providing great protection from falls.
It's perfect for racing around on with trikes and scooters!
Our bespoke design for The Priory Primary connects all of the different learning and play zones within the playground together. Its special features include:
Speed Bumps
Zebra Crossings
Stepping Stones
A Rumble Strip; and
10 Numbered Parking Bays
After a good race around the track, brushing up on their road safety skills, the children love being able to park their vehicles and stop off for a play at their favourite zone. And now they have so much to choose from.
Outdoor Classroom
A 15m Timber Cladded Canopy, placed alongside the school building for free-flow from the classroom to the outdoors, makes the switch to outdoor learning a really easy option for teachers.
It's a huge space, so there's room for all sorts of outdoor learning activities to take place in a sheltered spot - no need for the weather to cause any interruptions to the timetable.
We made a feature of the outdoor classroom by including glazing and colourful bubble windows to let the light in, creating sensory interest.
Friendship Zone
We loved the idea of a play zone aimed specifically at helping children to build positive friendships and to feel happy, welcome and part of something special in their outdoor space.
A row of easy Perch Benches provides a comfortable place to rest, chat and to watch friends play. A Fun Fitness Trail Playground Marking inspires children to make up their own imaginative games and is a great resource for setting mini challenges around learning topics.
We included a Giant Chalkboard for friends to leave each other messages and practice their mark making and literacy skills, too.
STEAM Learning Zone
An outdoor playground is the ultimate environment for hands-on, messy, explorative play. This is where children can really and truly immerse themselves in the wonders of science and explore all sorts of different materials and textures, using all of their senses to help them learn.
At The Priory Primary, a fantastic new interactive STEAM learning zone is allowing and encouraging children to investigate, experiment and problem-solve for themselves on a daily basis.
It's an approach that will become a way of thinking for their pupils - equipping them with critical thinking skills and a self confidence that they can draw from as they learn all subjects across the curriculum - and in other areas of their lives, too.
We designed the space with a beach theme to go along with the sand and water elements - blue splash and yellow curve playground markings surround the zone and the round, bubble windows on the adjacent canopy bring a nautical feel. We installed a selection of favourite Messy Play pieces which work really well together:
A Water Wall with Water Spout - connected to a hose, children build their own course for the water to travel, discovering cause and effect and exploring all the different factors at play that influence the speed and direction of travel. Grass-Topped Steps were included to make sure that children of all heights can reach the top of the Wall and take part.
A Mini Damming Station - therapeutic play demonstrating the effects of gravity and friction. The children are having a lot of fun using a range of materials and resources to try to stop the water flow.
A Water Table with Lid - an essential resource for water play and messy play. The children have been discovering what will float and what will sink. It's good for catching water from the Damming Station, too.
A large Covered Sand-Box - great for digging, building, and exploring sand textures and properties. There's room for plenty of children to play at once and the large lid makes it easy to tidy away and keep the sand clean for the next day.
A Rope and Pulley Materials Mover - a unique play peace allowing children to explore basic mechanisms. It's good for heavy physical work as the children transport their sand and water around their play zone.
Physical Development Zone
Our Kenilworth Modular Play Tower is a huge favourite with the children at the Priory School, inviting them into the centre of their Journey Zone for some high-energy, active play!
They've been scrambling over the net, up the climbing ramp, running across the bridge and flying down the slide; it's great cardio-vascular exercise and helps to build physical strength, fitness and good balance.
A choice of different grab and grasp option for children to climb and pull themselves up onto the frame helps to strengthen fine motor skills.
We installed a set of Den Making Posts next to the Play Tower. This is a wonderfully open-ended resource, which encourages children to problem-solve and to be creative with their den-building.
Communication is key to the success of a good den, so the children are constantly learning how to converse, to listen to others and to work together to achieve their goal. It requires a lot of physical input as they build and play with their dens, too.
At The Priory School, the children have tied a series of long, coloured ribbons to the posts to create a 3D maze - who can travel through it without touching the ribbons?!
To complete the Physical Development zone, we added a set of our popular Get Set, Go! Blocks for the children to enjoy building and navigating their way across their very own obstacle course.
Creative Arts and Language Zone
This zone was designed to allow and encourage children at The Priory Primary to express themselves in all sorts of different ways, developing great language and communication skills and helping them to explore social and emotional aspects of their learning through role play activities.
A Mini Performance Stage with Chalkboard was the perfect choice to provide a platform for drama, role play and dance. We included some Small Moveable Artificial Grass-Topped Seats to keep the audience comfortable!
Our Giant Mirror on Posts always raises a smile and brings a new dimension to dressing up and role play games.
A Giant Chalkboard and Whiteboard, along with 2 Easel Tables, create an enabling environment for mark making. Children can use full body movements as they develop the strength and motor skills they need for writing - and because they're fun to use, they really encourage children to have a go, to cooperate and to share ideas.
We offer a free, expert, no-obligation consultation service for any school or nursery wishing to develop their playground into a curriculum-focused outdoor learning environment. Please Contact Us Here to find out how we can help you. You can view our spectacular range of outdoor learning, play and sports products Here.