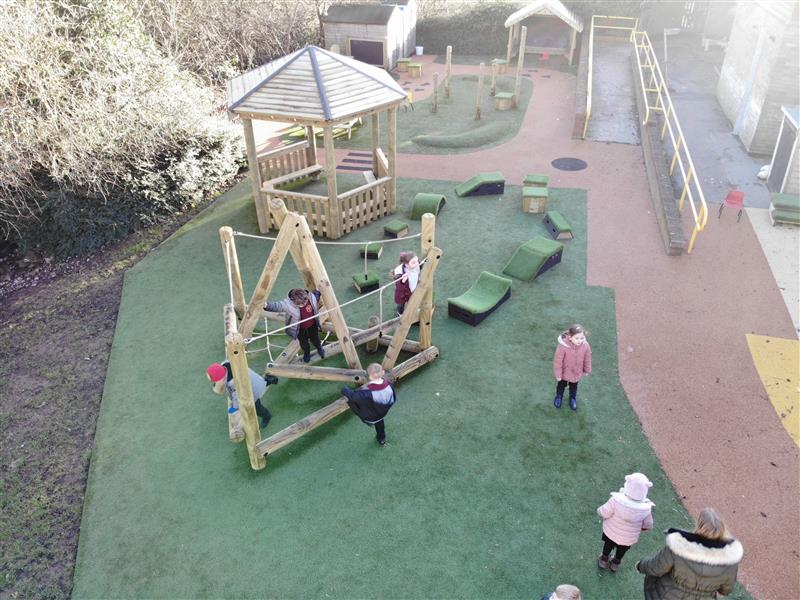 An Extraordinary Outdoor Learning Space for EYFS Children
It has been a real pleasure for us to work with the Wickersley Partnership Trust on a number of different playground projects across their group of schools.
The Trust are absolutely committed to improving their infant and junior outdoor learning provisions, and we're proud to have been able to help them fulfill their vision on each occasion.
The new Early Years outdoor environment at Rawmarsh Sandhill Primary School in Rotherham was no exception. We designed a captivating outdoor learning space for their youngest pupils to play and explore - and it's a space that will enhance their learning and development in all manner of ways.
Hannah Charles, Early Years Teacher at Rawmarsh Sandhill, told us
"It's a really great change. It was just a concrete square before! Now the children are lots more engaged and using their imagination in every aspect of play. We have seen a vast improvement in their gross and fine motor skills. They love it!"
One of the main priorities identified at Rawmarsh Sandhill, amongst others, was the need to help EYFS children coming into the school to develop and improve their range of gross and fine motor skills.
We were able to achieve this through a range of products that encourage children to climb, investigate and interact using all different parts of their body and a range of different movements.
All Weather Surfacing and an area for Wheeled Vehicles
The old concrete playground at Rawmarsh Sandhill was lacking in inspiration and wasn't a very friendly surface for the youngest learners to find their way around.
This was something that needed addressing as a priority. The children needed a safe, all-weather space where they would be able to run around at all times of the year and enjoy their outdoor learning without interruption.
We resurfaced the entire area with an engaging design combination of our impact-absorbing rubber Wetpour Safety Surfacing, and our ever-popular Playturf Deluxe Artificial Grass.
This immediately transformed the look and feel of the playground. With exciting roadways and pathways for the children to follow and discover new activities, and tactile artificial grass that's soft enough to sit on, it's opened up a whole host of new options for outdoor learning.
We added 'stepping stone' features, a roundabout and a pedestrian crossing to support 'real-life' role-play and inspire children in their imaginative play.
During the baseworks installation for the new surfacing, we sculpted a series of Playground Mounds before laying the Artificial Grass.
They're fantastic for play at different levels and the children love running up and rolling down them!
Exploring Climbing
Our Harter Fell Climber was a great choice for this space. A great confidence-builder for younger children, its non-prescriptive design allows children to climb around it from wherever and in any which way they choose.
The log frame supports their balance and the ropes allow for grab and grasp actions, strengthening fine as well as gross motor skills as they pull themselves up and around.
A set of versatile Get Set, Go! Blocks provides a fun, flexible obstacle course for young children finding their feet.
They're perfect for the EYFS children at Rawmarsh Sandhill as they're developing their gross motor movement, balance and coordination.
Imaginative and Creative Play Games
The more imaginative and creative play in the Early Years, the better!
Our Mini Performance Stage with Chalkboard is a social hub for the children as much as a place to enjoy singing, rhyming, dancing and putting on a show.
With a set of Drum Seats they can even make their own musical accompaniments!
A set of Den Making Posts and a Weaving Panel allow the children to get creative with den building - they're developing their fine motor skills through threading and weaving, manipulating ribbons and dressing materials to build their dens - and their gross motor skills as they lift and move heavier den-building materials.
All the while they're using their imaginations, enjoying imaginary games in their own wonderful creations.
We added an Easel Table for when it's time to get artistic!
Reading and Role Play Space
Outdoor literacy and numeracy at Rawmarsh Sandhill now have their own hub with one of our beautiful Hexagonal Gazebos.
It's a sheltered space for the children to sit and enjoy quiet time, and with threading holes all the way around the top, practitioners can hang visual displays or theme the Gazebo to suit learning topics.
We created a beautiful outdoor reading area in a cosy corner, featuring our favourite Freestanding Storytelling Chair, along with two Giant Chalkboards on Posts and a set of Moveable Artificial Grass-Topped Seats.
This is a great interactive zone that allows groups of children to enjoy reading out loud and listening together, with plenty of space for mark-making, exploring their own ideas and developing their own writing skills.
There's a Giant Playhouse with Walls, Chalkboard and Benches for inspiring child-led role play, mark-making opportunities and PSED.
Build, Construct, Investigate
Budding young engineers at Rawmarsh Sandhill have plenty to investigate, to challenge them and keep them engaged with a fantastic variety of explorative outdoor learning resources.
Their new interactive Water Wall Feature Zone is a huge hit! The children love experimenting with liquids, discovering how water behaves and how they can influence its behaviour with their own actions.
There's a Sand Table for digging and discovering, using their hands and a selection of different utensils to manipulate the sand, measuring and pouring and developing their maths skills as they play.
A sturdy Construction Table affords them lots of space and flat, accessible surfaces for block play and other creative and construction-based activities.
A new Tuff Spot Table with handy storage underneath for quick and easy access to resources, further enhances their sensory and messy play options.
We created a space for enhanced practical learning around scientific topics such as plant life cycles and healthy eating with two Straight Planter Benches.
This supports hugely positive social interactions, language development through conversations, and fine motor work as the children enjoy planting and caring for their own fruits, flowers and herbs.
"I'm extremely impressed with the service and quality of work..."
Lee Rushforth, the Head of Estates and Facilities at the Wickersley Partnership Trust, had this to say about working with Pentagon Play on this exciting EYFS playground transformation:
"I'm extremely impressed with the service and quality of work that we've received from Pentagon Play. They've been working with our trust on a large project over nine different sites and the planning process has been faultless. The team has even helped our school's adjust plans at short notice without any issues whatsoever. Again the installation has been faultless, we haven't had any issues whatsoever and the team have been so helpful throughout the whole process. The end product is amazing, it has transformed our schools outdoor provisions completely and we've had nothing but amazing feedback from parents, pupils, teachers and governors. Having them work on this project has been amazing from a project management point of view and it has massively improved the learning environment for our pupils."
You can see more of our exciting outdoor learning projects with the Wickersley Partnership Trust, and explore all of the wonderful playground projects we've completed in Rotherham, here.
If you're considering a playground redevelopment at your school or nursery, we'd love to help. Please Contact Us Here for more information, or to arrange a free playground consultation with one of our experts.