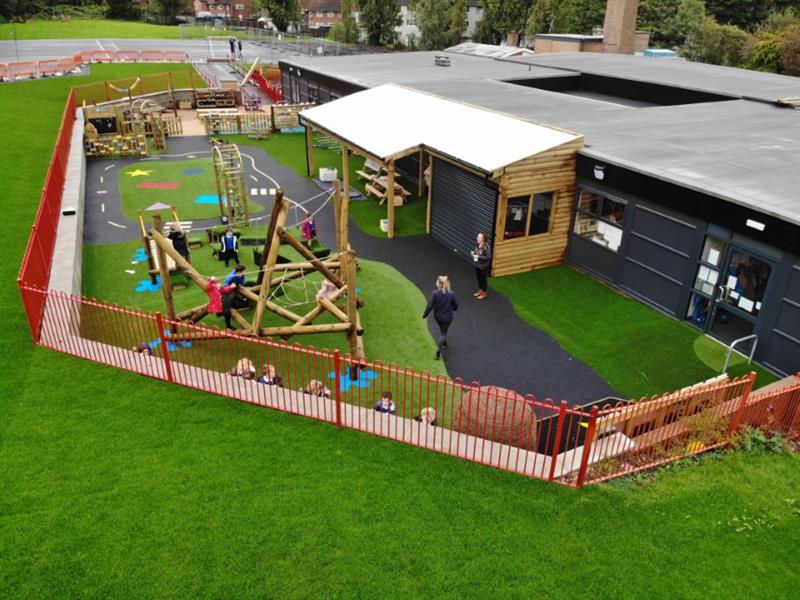 A Vibrant EYFS Playground To Maximise Learning Through Play
Outdoor learning is high on the agenda at Ryecroft Academy, located in Leeds. They wanted the best area possible for their Early Years children; maximising learning through play while targeting the curriculum outdoors.
Our passionate playground consultant, Meg Booth, worked closely with the primary academy, part of the GORSE Academy Trust, to create many zones to provide the children with a variety of outdoor learning activities.
Messy Play Area
An Early Years playground isn't complete without exciting messy play activities! Our Water Wall with Water Play Package has created an enchanting water play zone where children are developing their communication, language and social skills as they explore numerous scientific and mathematic concepts!
The children have been working together to guide water down the wall as they manipulate the channels to create the perfect water flow pathway, learning about gravity.
A Large Covered Sand Box supplies children with an endless sandy beach where they can manipulate the golden sand to build sandcastles and participate in simple experiments such as what happens if they add too much water to the sand box.
Along with Water and Sand play activities, we also installed a magnificent kitchen, which is just perfect for the young chefs. The children have been gathering their delicious ingredients from the mud box and transporting them to their kitchen using the rope and pulley materials mover.
Once they have all of their ingredients, the children work together to mix, stir and pour their mixtures into a cake pan before placing it in the oven and then serving them to their hungry customers.
Mud, Sand and Water Playground Equipment provides children with an imaginative, exciting sensory play experience!
Construction Play Area
Construction play is a wonderful way to promote problem-solving, literacy, mathematics and communication, language, teamwork and critical thinking skill development in the playground.
Since construction play has so many benefits to this young age group, we built Ryecroft a bespoke Timber Construction Wall and installed weighing scales, den making posts and a giant chalkboard to provide numerous, open-ended construction play activities for the children to participate in.
The little builders can construct magnificent structures after weighing their resources on the weighing scales and writing their instructions and measurements on the giant chalkboard then drawing what their final product should look like – promoting literacy, too!
Ryecroft Reception Architects love finding new instructions and resources in the zone every day! They spend their working hours determined to build their new building by following the instructions and resource list.
Timber Canopy
To enable free-flow play while providing a shaded, sheltered area for the children to play and learn in, we installed a 12m x 4m Timber Canopy against the school building.
Loose play resources can also be kept safe and secure with the fantastic storage solution built into the canopy – you can never have enough playground storage!
Underneath the canopy, we presented the children with further mark making opportunities as the children writers and artists sit on the comfortable artificial grass surfacing or at the Easel Table and create their masterpieces on the Mark Making Panels.
Roadway
Since the school highlighted that they wanted to enhance the children's understanding of the world and road safety, Meg designed an excellent playground roadway made up of a variety of Thermoplastic Playground Markings.
Realistic playground markings including a Lollipop Lady, Zebra Crossings and even interactive speed humps engages the children in following important road safety rules in the playground as they begin to transport their knowledge onto real roads outside of school, too.
An exciting space to race their trikes, bikes and scooters is not only improving children's understanding of the world it is also promoting physical development. The children have been having tons of fun competing to see who is the fastest of them all!
The roadway is a central feature in the school's playground and surrounds a small mathematics zone, which includes a number of shapes to enhance shape and colour recognition. To cross the roadway, the children stop, look both ways and listen before walking across the zebra crossing into the colourful zone.
Physical Development
Extending the physical play opportunities and presenting an energising, exciting atmosphere around active play in the early years playground is our amazing Bowfell Climber, Clatter Bridge and Get Set, Go! Blocks.
Climbing, swinging and stepping through the exciting log climbing frame enables the children to improve their climbing confidence and social skills as the little dare devils encourage more timid children to reach a higher point than on their last climb.
The movable trim trail equipment, our innovative Get Set, Go! Blocks, enable the young adventure designers to pick up and move the blocks together to create an exciting trail to complete. As they step, jump, balance and climb from block to block, their physical development is being targeted in an exciting, unique way.
We also provided the energetic children with a wonderful Clatter Bridge to add extra excitement to their healthy, active playground space. Grasping on the hand rails and carefully balancing across the timber beams, the children have been trying to cross the bridge without waking up the nasty troll hiding underneath; inspiring imaginative play games.
Through the installation of a variety of active playground equipment, the children are developing and improving their overall body strength, core stability, coordination, balance, gross and fine motor skills as they work together to tackle the challenges!
Outdoor Storytelling
Enabling Literacy to be taken outdoors while instilling a love of books and writing is our fantastic Communication and Language Zone!
Surrounded by planters, zoned with playground fencing with a Trellis Archway has created an exciting atmosphere around literacy. Stories are being brought to life as if the children are sat next to the characters.
Our wonderful Communication and Language Zone features an excellent story telling chair, moveable artificial grass topped seats and mark making panels.
Children are eager to sit in the giant storytelling chair as they share stories and imagine the fairy tale coming to life in the zone, enhancing communication, language, social skills and self-confidence!
Others can draw their own versions of the settings and characters in the story on the mark making panel as fine motor skills are developed and drawing and writing are promoted outdoors.
Performance Stage
To promote role play, expressive arts and imaginative play outdoors is an excellent Mini Performance Stage with Mirror! Creating their own plays or performing a nursery rhyme, the children love taking to the stage to present their creative performances to their enthusiastic audience.
When children perform, sing, dance or even act as a stand up comedian telling jokes and making others laugh, they are improving their self-confidence, communication, language and social skills through play.
The addition of mirrors to the rear of the stage provides the children with a space to act silly and pull funny faces at themselves!
Playground Surfacing
Of course, the best EYFS playground possible needs to be utilised throughout all-seasons and weathers to maximise learning through play.
So we surfaced the playground with a variety of playground surfacing, including Artificial Grass, Wet Pour and Saferturf, to ensure the space is free-draining and can be accessed all year round.
Not only do the new Playground Surfaces ensure the space can be accessed during periods of poor weather, it also provides a soft space for the children slip and trip on since it is impact absorbing. The young age group are still finding their feet and balance, which means the inventible fall will occur, but now in a safe environment.
Each and every zone promotes purposeful play while enhancing cross-curricular play activities, which has met the academies project objectives. The children absolutely love their vibrant, exciting outdoor play and learning area and it has truly benefited their educational play experience
If you'd like to redevelop and create an exciting EYFS outdoor play and learning environment for your young children, Contact Us! We'd love to help.