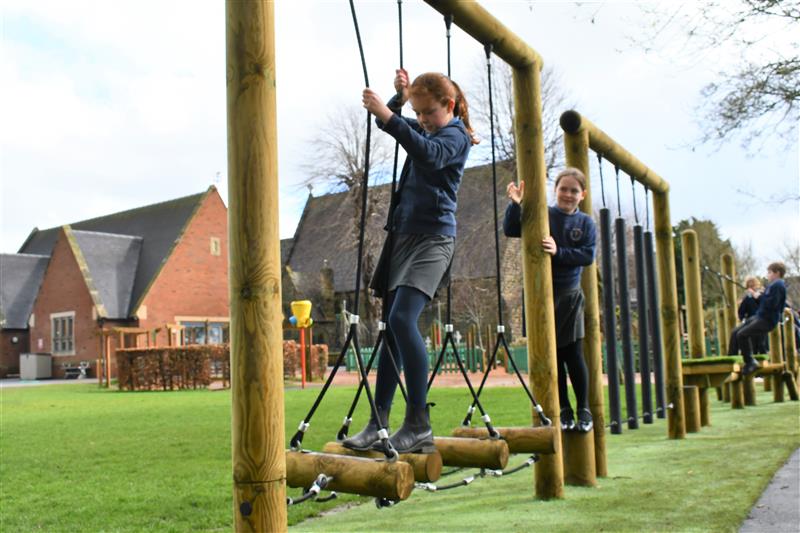 The Customer

Smallwood CE Primary Academy, located in Cheshire, were keen to improve their outdoor play facilities. Staff wanted to provide pupils with a stimulating, challenging environment, offering more opportunities for pupils to lead healthy, active lifestyles.
Their Objectives

Smallwood Primary Academy's PTA worked very hard to raise over £5,000 to create an area for outdoor exercise that would also benefit pupil well-being. The school envisioned a high-quality, low-level adventure trail that would offer children various physical challenges.
Playground Play guided staff throughout the planning process and together they opted for a range of individual timber items to create a bespoke forest trail.
The new trail would suit the available space and appeal to a wide student age range from 4 to 11 years. All learners needed to be able to access the different elements of the course, selecting their own starting points and choosing their own routes around the course.
Smallwood's Adventure Trail includes 6 different challenging obstacles:

• A Set of 5 Stepping Logs
• An Incline Balance Beam Crossing
• A Forest Rope Bridge
• A Platform-to-Platform Beam Crossing
• A Slalom Weave Traverse
• A Horizontal Swinging Log Crossing
Our Approach
Vicky suggested that the area directly underneath the trail should be fitted with our popular Deluxe Artificial Grass Playturf. Playturf provides a safe surface which can be accessed in all weathers. The natural colour and texture of the surfacing offer instant appeal to pupils and cushion landings. Our Playturf is extremely durable and comes with a 10-year guarantee, proving to be a worthwhile investment.
Smallwood Primary Academy had a term time installation and was very impressed with our professional team of installers who ensured that the area was safe and kept staff well informed of progress and timescales.
The Results
Pupils love their new Trim Trail; it is proving to be the most popular area of the playground! Confidence in balance and coordination has certainly improved with pupils developing strength and stability. The Horizontal Swinging Log Crossing is a favourite piece, pupils enjoy the challenge of crossing the logs whilst they move and sway. Children are developing motor control as they learn to step, swing and steady themselves.
Learners have been taking risks, mastering decision making and developing grip strength as they use ropes for support when choosing their route along the trail.
There is now more opportunity for social interaction between children from different year groups. Communication has improved as learners describe their movements and with support from their peers, pupils are more resilient.
Our Trim Trails are designed to offer children a tree trop adventure at a lower level! The trail has generated plenty of new ideas for imaginative play whilst at the same time promoting vigorous physical education.
The new trail has certainly enhanced daily physical activity at Smallwood CE Primary Academy. Interacting outdoors, in the natural environment has improved pupil wellbeing by boosting self-esteem and relieving tension.
Browse our range of Trim Trails here! Or get in contact with one of our friendly team members to start your journey with Pentagon Play!