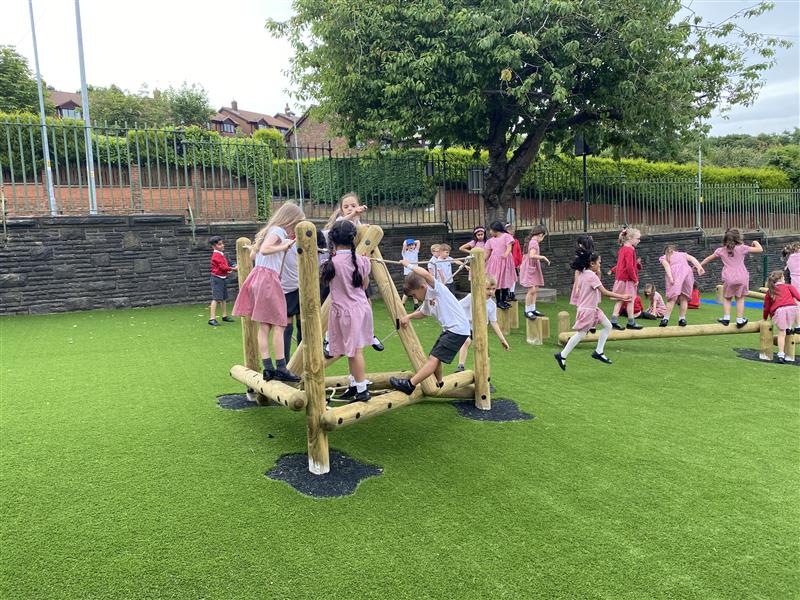 Amazing Spaces for Physical Activity at Springhead Infant and Nursery School
Springhead Infant and Nursery school, located in Oldham, wanted to provide all of their pupils with a new space where they could enjoy being physically active on a daily basis.
Playground Consultant Meg Ragdale met with Headteacher Gillian Kay to discuss Springhead's plans to create a stimulating environment, placing emphasis on pupils' physical health and mental wellbeing.
Eager to create an open-ended play space that could be used during break times and within lessons Meg proposed the perfect design!
Take on the Challenge of the new Trim Trail Course!
Springhead decided to create their own bespoke Trim Trail, selecting their favourite obstacles from our vast range. A trim trail helps pupils to develop upper and lower body strength as children climb, stretch and balance across the beams.
Fine and gross motor skills are supported when children grasp the Rope Traverse and find ways of travelling through the Log Weaver.
Excite Imaginations with a Pinnacle Hill Climber
A Pinnacle Hill Climber provides a further climbing challenge for EYFS and KS1 pupils as they push themselves to reach new heights, building their confidence with every step.
A climber provides an interesting new obstacle for imaginative games and open-ended play. Pupils could be acrobats in the circus, explorers trekking across jungle branches or dinosaur hunters climbing up a volcano. Play possibilities are endless as children interact with each other and engage in plenty of movement.
Deluxe Artificial Grass Playturf has made a huge difference to the once grey tarmac space. The children now have an appealing, natural feel surface where they are free to run and jump whilst staying safe.
Fancy a Game?
Springhead Infants are now the proud owners of their very own designated sporting space. Artificial grass surfacing and mesh fencing have been used to transform an underused area of the playground into a clean, safe space that can be used for many different sports.
Weather conditions won't halt play again, shoes will never be covered in mud and slips and trips will be cushioned thanks to our extremely durable, deluxe playturf surfacing.
The addition of a sports pitch allows children to choose to lead healthy, active lives, helping them to gain the recommended 60 minutes of moderate or vigorous physical activity each day.
A new sporting space may help schools to offer a wider range of sports which will appeal to different learners. Pupils may be offered more opportunities for extra- curricular activities outdoors which can greatly benefit children's mental health and wellbeing. Sportsmanship, fairness and respect can be taught on the pitch and pupils will take these qualities into their daily lives.
It was wonderful to see all of the pupils at Springhead Infants keen to put on their climbing shoes or their coloured vests and head out of class straight for the trim trail or the pitch. Pupils displayed confidence and respect for others, clearly enjoying being outside, moving and learning with their peers.
To create a sporty space for your own pupils, why not discuss your design with our Internal Learning Advisors? Contact Us Today and start the conversation!