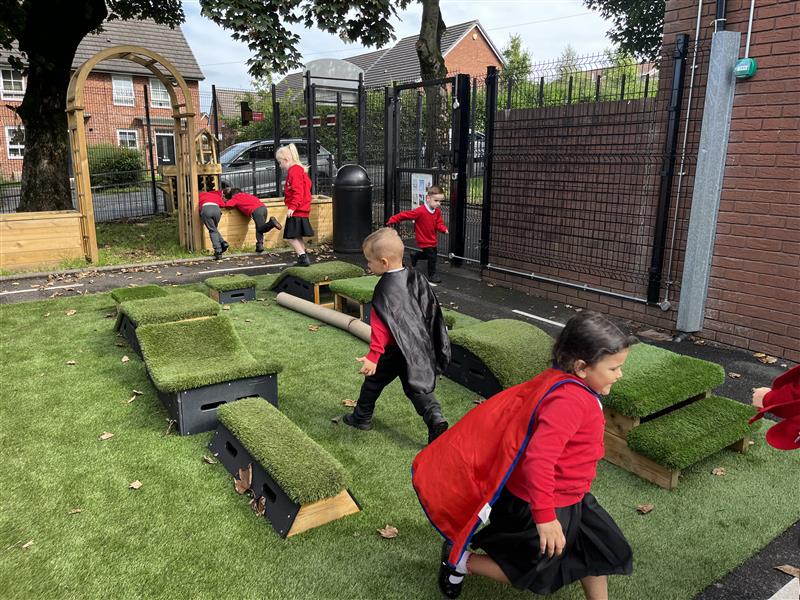 A Stimulating Outdoor Space for St John's Church of England Primary School
We were extremely excited to work with Headteacher, Liz Cook and the Early Years team at St Johns' Church of England Primary School in Manchester.

Playground Consultant, Tom Hollingworth, knew exactly how to make clever use of available space to maximise learning for the youngest pupils of St John's.
The new play space is cleverly split into various zones which target different areas of the EYFS learning goals.

Promoting Physical Development

Central to the design is the bespoke roadway which provides pupils with a safe space to use their vehicles and practise real-life skills. Artificial Grass Surfacing has enhanced the area, adding vivid pops of colour to the design and providing a super soft seating option.
The space in the middle of the track has been purpose built to aid physical development thanks to our Get Set, Go! Blocks – The Pennine Set. Pupils can create a new course each day, as they work together to move the nine pieces developing crucial gross motor and climbing skills.
Let's Get Messy!

A new feature of the 'Messy Play' zone is our fantastic Water Wall with Water Play Package. Pupils have been busy exploring the moveable channels whilst experimenting with different heights, forces and water flow.

New dishes have been invented in the Mud Kitchen, with pupils retrieving their ingredients from the Mud Box before transporting them using the Rope and Pulley Materials Mover. This is a brilliant mechanism which encourages children to work together to learn about cause and effect.

No messy play area would be complete without 'sand' to explore and the lucky pupils at St John's now have a Large Sand Table to aid their understanding of materials.

Time for a Story

A previously underused space has been made into a peaceful, cosy reading nook. A grand Storytelling Chair is a great spot for both children and practitioners to engage others in a wonderful tale. Moveable grass-topped seats provide a comfortable seating option for the audience and a Giant Chalkboard allows pupils to draw their favourite characters and speech bubbles!

A Giant Playhouse is now home to many imaginative games. Pupils have been making full use of the large chalkboard to practise their mark making skills, developing shoulder and elbow control in preparation for learning to write.

Step into the Garden

A large part of the area has been dedicated to gardening and discovering nature. The space has been beautifully framed with wooden trellis boards and planter benches, ready for vegetables and flowers to bloom. A Bug Hotel with removable tubes is essential when studying minibeasts. Pupils were very proud to announce their millipede discovery!

Next to the garden, we constructed a Timber Canopy to provide some shelter from the elements. This is a fantastic place for whole classes and small groups to learn outdoors, surrounded by nature. Colourful porthole windows and splashes of blue playturf create a space that children really want to play in. Pupils have already enjoyed manipulating large loose parts.

Fostering Creativity

The final area of the space allows children's creativity to shine! A Giant Mirror is now set for many spontaneous performances and a group of Den Making Posts can be transformed into various structures to suit many games and activities. Final pops of colour and interest have been added with different shapes drawn on to the playground surface, this will help pupils to recall colours, names and key features.

St John's Primary really is a 'World of Wonder.' Pupils are happy and confident using the many features of their new outdoor area. The stimulating environment promotes independence and challenges children to be the best they can be. They simply cant wait to step outside each day!
Start your journey with Pentagon Play today to turn your playground dreams into a reality, get in contact with us here!