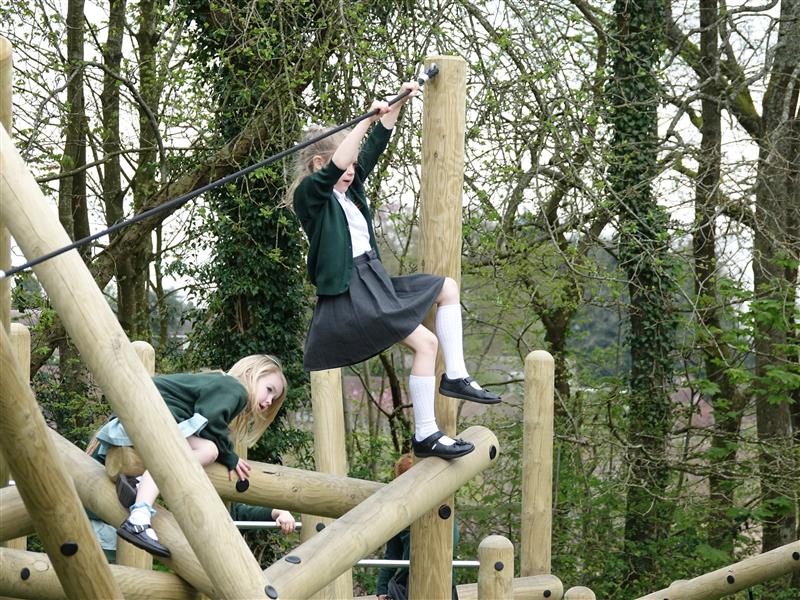 The Customer
Ashdown School located in East Sussex wanted to completely transform the beautiful outdoor space at their infant site.
Existing equipment needed to be removed and replaced ready to create a stimulating new environment to give pupils the best possible start to their school lives.
Their Objectives
A main priority for Ashdown School was to create a new, physically challenging area that would be suitable for Reception and KS1 classes.
The school wanted to encourage pupils to lead healthy, active lifestyles and develop peer collaboration. Ashdown wished for an outdoor classroom space that could be used throughout the year to support learning across all curriculum areas.
Our Approach
Expert Playground Consultant Rachel Westbury knew exactly how to create the perfect physical play zone for pupils.
A Bowfell Climber sits in the centre of the space which is the ideal pyramid-shaped climber to help young children to develop gross motor skills. Pupils can set their own goals on this climber, building upper and lower body strength as they reach for the top!
In the area surrounding the climber Ashdown School created their own exciting timber Trim Trail consisting of:
• A Swinging Log Bridge with Rope Handrails
• Forest Climbing Poles
• A Double-Sided Horizontal Climbing Wall
• A Platform-to-Platform Beam Crossing
• A Log Balance Weaver Incline Beam
• An Incline Twist Net
Stepping Logs were also placed at different levels to encourage pupils to balance carefully between obstacles. A set of Forest Roll Over bars was the final addition to the active zone. Pupils perform daring spinning exercises, pulling themselves up and demonstrating core strength.
Artificial Grass Playturf has been a key component to this playground development having been used in all zones. Playturf, with a safe impact shock layer, offers the perfect landing pad for pupils when using playground equipment. Playturf offers an attractive aesthetic with zero maintenance and maximum use in all weather conditions.
Moving away from the active zone pupils meet their impressive Outdoor Classroom space. We selected a 6M Octagonal Gazebo which offers a sheltered learning environment with bench seating for up to 50 pupils. Lessons can now be taken outdoors at any time of the day during every season. Possibilities for group work and active and lively lessons are now limitless.
Next to the classroom, we formed a creative space with a selection of musical instruments including Freestanding Chimes, a Tongue Drum and three Drum Seats. Budding performers can take to the Performance Stage, building confidence and oracy skills whilst attentive listeners watch on in comfort on one of three Moveable Artificial Grass Topped Seats.
A Wigwam offers a unique structure to inspire playground games which can be used in conjunction with a Giant Playhouse with Walls, a Chalkboard and Benches. The open-ended nature of the playhouse allows pupils to take the lead, building upon their own interests and extending new learning.
Medium and Small Self-self-selecting stores are located near the end of the playground space. They allow pupils to independently access outdoor resources with care and ease.
To further enhance this beautiful site, we created an area of calm and relaxation where children can practise mindfulness. A set of Den Making Posts allows for collaborative engineering and a Freestanding Storytelling Chair is a wonderful location to sit with a good book!
To complete this amazing playground project, we installed a huge 'L-shaped' wrap-around timber canopy directly outside the EYFS classrooms. The watertight timber canopy allows for free flow between the indoor and outdoor classroom allowing practitioners to create a variety of provision areas.
Pupils can marvel at changing weather conditions when gazing up at the multicoloured roof squares. Once again, the area underneath the canopy was fitted with hardwearing Playturf Artificial Grass providing ultimate comfort and safety.
The Results
Playtimes and lessons will never be the same again at Ashdown Infant School! Pupils are much more active during daily playtimes and they demonstrate great listening, awareness and cooperation when using their new equipment.
Learners show independence when choosing which zone to play in, they are self-motivated and resilience is improving as children strive to meet new goals. We hope the new playground development will be a fantastic addition for many years to come at Amazing Awesome Ashdown!
Would like to re-develop your playground just like Ashdown Infant School? Get in contact with one of our friendly outdoor learning consultants today to start your journey with Pentagon Play.