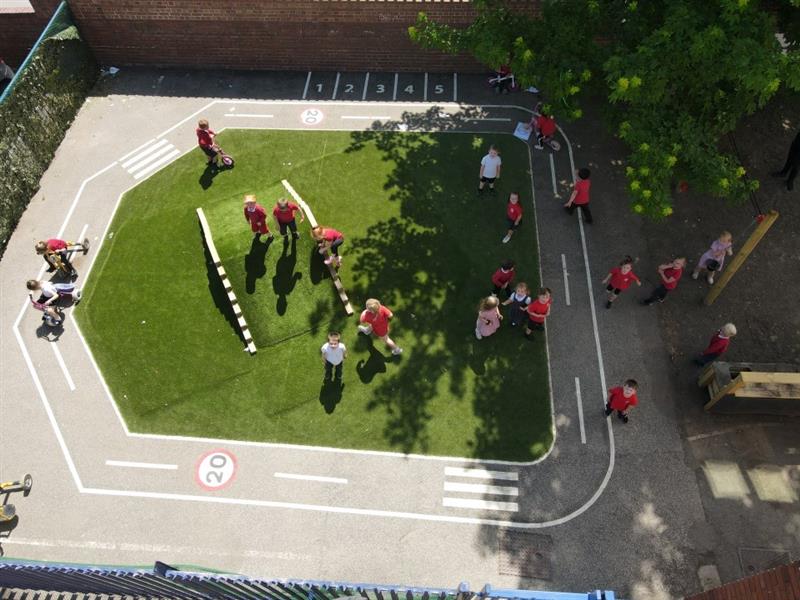 Crazy Times at Carcroft Primary School
Looking to take their previously concrete area and create a safe and enjoyable environment for their Early Years pupils, Carcroft Primary School contacted Pentagon full of ideas and enthusiasm!
Our team was happy to have a learning consultation with them and Outdoor Learning Consultant, Daniel Young, was thrilled to work with them on creating their dream space!
This EYFS transformation featured surfacing, active play and some support in their messy play zone!
Scrapping the concrete…
What was previously a dull, concrete zone that didn't offer much support or safety for the pupils is now an exciting and encouraging play space where children can experiment with their climbing abilities.
First priority was some of Pentagon Play's Deluxe Artificial Grass Playturf, designed to not only look good but also to provide some support for children as they begin their active play!
This luscious green playturf has revitalized the space, giving it a healthy and vibrant appearance, ideal for encouraging play.
But, this is not the only surfacing job completed here at Carcroft Primary!
The pupils also have access to an amazing Thermoplastic Roadway where they can build their driving and riding skills, motoring around on their scooters and bicycles.
They'll be competing in the Grand Prix in no time!
Creating a fun messy play zone…
Carcroft Primary School were lucky enough to already have an amazing messy play provision zone for their pupils, yet they wanted to add a little bit more to make the ultimate messy space!
Carcoft worked with Dan to identify the areas of messy play that they weren't meeting, and browsed our brochure to find out which of our products could support them with this!
The Mud Kitchen was a great choice for the pupils as was the Mud Box as the children can get involved, explore the sensory aspects of mud through the textures, smells and colors as well as building their own messy play stories and plots.
Children will also be able to build their physical strength using the Rope and Pulley Materials Mover to transport their mud from box to kitchen in the easiest way possible-after all, we wouldn't want to lose any of the precious ingredients!
Climbing to success…
Active Play was a major priority for Carcroft Primary!
They were looking to create a space where children could let their imaginations go wild and build their climbing confidence across a range of equipment.
Starting with a Harter Fell Climber, children will be able to carefully become more accustomed to climbing and the heights that they can reach when playing!

Children will also be able to build their spatial awareness, coordination and problem-solving skills as they navigate their way across the Horizontal Climbing Wall Traverse, Stepping Logs and Log Balance Weaver! There's so much to choose from!
Carcroft are also very lucky to have added in the ultimate active play space in the form of our Kenilworth Tower!
This has been modified to suit the needs of their pupils and has created an exciting and engaging play space for the children to enjoy during their break time!
This is one of our most exciting products and is ideal for encouraging both imagination and physical activity!
We have loved working closely with the school to create this amazing Early Years zone for their pupils and we can't wait to support them in any future developments that they may have…
If you would like to create an incredibly engaging play space for your Early Years pupils like Carcroft
did, then Contact Our Team today for a consultation!
The quicker you contact us, the quicker we can get a member of our team out to your site!
We look forward to hearing from you!