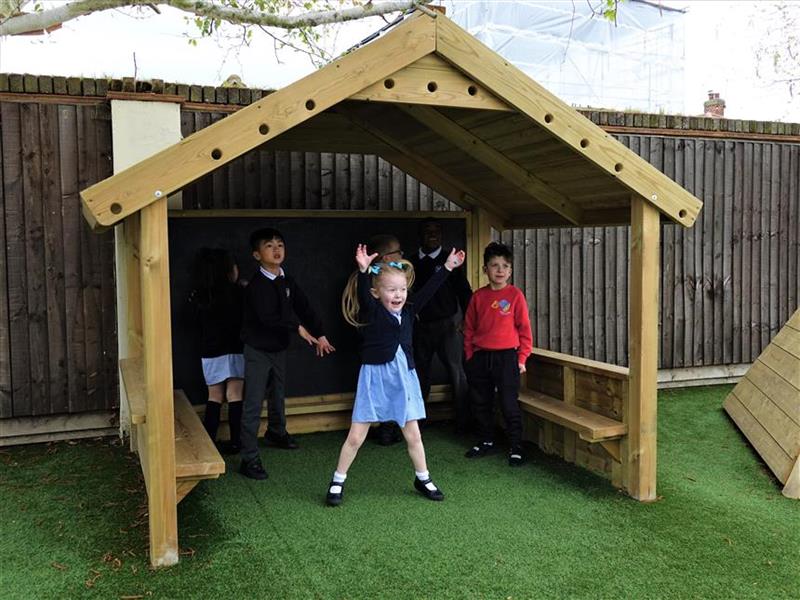 Headteacher, Jo Trusty, from Days Lane Primary School in Kent, wanted to completely transform the school's KS1 playground space to enable students to become physically confident during active playtimes.
Pentagon Playground Consultant, Rachel Westbury, carefully planned this two-phase development, providing specific zones for pupils to develop physical skills, imaginative play and positive health and well-being.
---
Welcome to the Wigwam Village
The once grey, tarmac playground has been revitalised using our Artificial Grass Playturf Surfacing. Our natural feel play turf provides pupils with a soft, comfortable yet hard-wearing place to play. Two Wigwams create outdoor secret dens, ideal for socialising and devising games.
The Wigwams are a wonderful spot for children to practise mindfulness within nature, perhaps pupils wish to read, colour or play a board game during their recreation time.
Underneath their beautiful trees pupils now have a Giant Outdoor Playhouse which can be transformed into a host of different role-play areas to support children's learning and interests. Benches provide ideal seating perhaps for a doctor's surgery and a large chalkboard allows children to practise mark making which is useful for devising shopping lists and menus!
Den Making holes allow practitioners to attach fabric, photographs, bunting or windchimes to the playhouse adding further exciting, sensory elements to children's dens.
---
Take Your Seats for an Outdoor Performance
Providing children with their own large space to dance, sing, play instruments and perform poetry and plays really helps to boost confidence when speaking in front of an audience. Classes at Days Lane can't wait to incorporate 'the stage' as part of their lessons during role-play, and group work and to practise careful listening.
Five Drum Seats provide an excellent spot for audience members who can also create their own sound effects and tunes to bring any show to life!
Situated next to the stage are two Climb Through Tunnel Hills. The hills add a different level to the playspace and invite pupils to experiment with a range of physical skills. Climbing, crawling and rolling have all been practised with pupils particularly enjoying sliding!
Pupils can safely develop essential gross motor skills thanks to a safer-impact shock pad layer installed underneath our all-weather artificial grass surfacing.
---
Enter the New Physically Challenging Zone
Our vision was to create a separate area of the playspace that would challenge children physically. In order to do this, we erected natural Bow Top Timber Fencing around the perimeter of the space and again used Playturf Artificial Grass Surfacing. Playturf can be installed directly over the tarmac and offers a low maintenance option that can be used by pupils in all weathers.
Our fantastic pyramid-shaped Bowfell Climber allows children to discover their own climbing routes. Confidence is built each day and hanging ropes can support pupils when reaching for the top! The climber is a central point for imaginative games with learners also making full use of the area underneath the frame.
Days Lane Primary selected their favourite obstacles from our range to make their own active trail for their pupils.
Children have mastered climbing holds with a set of Forest Climbing Poles and problem-solving, strength and control have been put to the test on the kinetic Swinging Log Crossing. Budding stunt performers have perfected their balance on the Platform-to-Platform Beam Crossing before making their way over the wonderfully wobbly Clatter Bridge. Stepping Logs help to connect the different elements of the course and require concentration to conquer the different heights.
---
Developing Progression in Skills
In order to develop progression in physical skills Days Lane Primary also selected some key pieces for their outdoor Nursery space. A set of Get Set, Go! Blocks- The Mendips Set have proven to be extremely popular. Days Lane's youngest learners have been stepping, jumping and climbing as they conquer various challenging courses that can be made with the 12 moveable pieces.
Pupils never tire of this set as different courses can be made by both pupils and practitioners. Children can take some safe risks thanks to their new Playturf Artificial Grass Surfacing. Grass-topped blocks are soft to the touch for small hands and also extremely durable to withstand many years of heavy use.
Nursery class now have their own Giant Playhouse where imaginations can soar. The large chalkboard and bench seating make this a great space for small group work when practising mark-making and letter formation.
A handy Self-Selecting Store with in-built shelving has proven to be really useful for organising large outdoor resources and allows pupils to select the equipment they need with ease.
On our return visit to Days Lane Primary School is was wonderful to see how much children were using and enjoying their new equipment. Pupils were building balance, coordination and agility whilst showing respect, compassion and strong school community spirit.
If you would like to redevelop your play space just like Days Lane Primary School then please don't hesitate to get in contact with one of our friendly team members here!