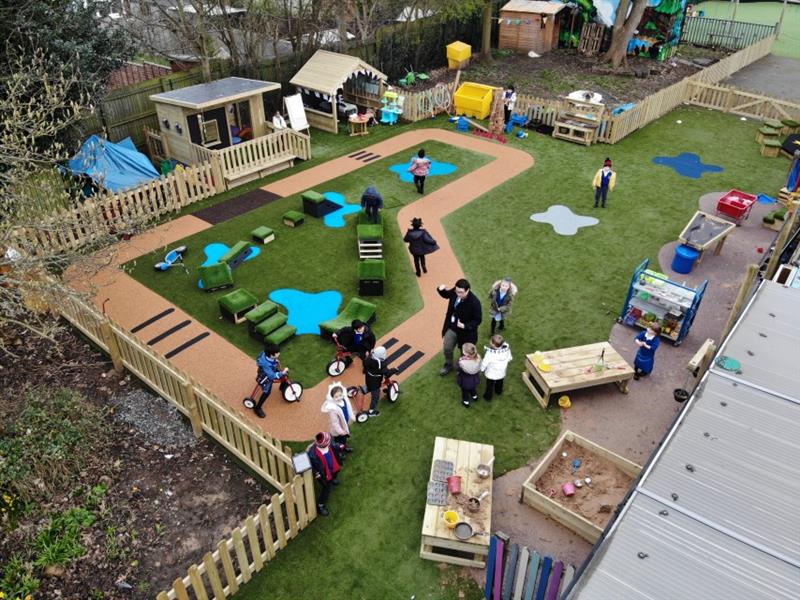 An Extraordinary Space for Unlimited Exploration, Investigation and Outdoor Learning
We were excited to have the opportunity to work with the inspirational Early Years team and School Business Manager, Jemma Linnell, at St Mary's Fields Primary School in Leicester.
Playground Consultant, Greg Rossiter, met with Jemma to discuss their fantastic plans for developing the outdoor space for EYFS pupils. They wanted a complete playground redesign - one that would enable them to step outdoors all year round to teach the 7 areas of learning across the EYFS curriculum.
With a near blank canvas to work with, we were able to design a playground that would completely transform the existing concrete space - we turned it into a vibrant outdoor learning environment with different zones to engage and inspire St Mary's Fields' youngest pupils, and provide them with a wonderful, all-encompassing educational platform for beginning their learning journeys.
Beautiful Boundaries
We began by removing and disposing of the old shrubs, fencing and loose equipment that were no longer of good use, and preparing the ground ready for the new installations.
We installed a new fence all the way around the space for development. The type of fencing used can really influence the feel of a playground - our Bow Top Fencing made from natural, sustainably sourced timber is sturdy but really lovely to look at. It helps to create a warm and welcoming space that keeps the children safe, secure and happy as they play with their peers.
It's also handy for hanging up accessible resources like hula hoops for the children to select themselves, as the staff at St Mary's Fields have done - or personalising and dressing with outdoor bunting, number lines or other visual resources!
We added 3 matching Bow Top Fence Gates for access at appropriate intervals around the playground, to connect with other parts of the school as needed.
Journey Zone and Physical Development
We replaced the old, unforgiving concrete surfacing with a selection of Playground Surfacing types to support the different activity zones.
Our popular Playturf Artificial Grass, with our signature Dynamic Play Baseworks underneath, was the ideal match for the new physical activity zone at St Mary's Fields. It's porous and free draining, meaning the playground can be used all throughout the year with no need for the changing weather conditions to interrupt play.
The soft, tactile nature of our artificial grass is extremely forgiving in an Early Years environment, where little legs are learning to run, and there is inevitably water, sand and all-sorts finding its way into every possible corner!
Children can run around happily without the risk of slipping and hurting little hands and knees, and it's soft enough to sit for a rest, or to enjoy floor-based activities such as small world-play, reading a book, or trying yoga or aerobics.
Into the artificial grass we laid a bespoke Wetpour roadway track, complete with speed marks and pedestrian crossings. With cones and signs added, this is a fabulous 'real world' learning experience for the children to race around on their trikes and scooters.
A set of our favourite Get Set, Go Blocks! inside the track forms a brilliantly flexible and open-ended obstacle course for developing those motor skills, physical strength, fitness, balance and coordination.
We added some fun colourful blue Saferturf 'splashes' in this area to jump around - the children love tackling the obstacle course and trying to avoid falling into the 'puddles' - or freely jumping straight into them!
Role Play and Imagination
We've created an open-ended Role Play and Imagination zone with one of our unique Lookout Cabins that the children absolutely love to explore. Accessible via a staircase with handrail, this is a fun place to play at different heights and on different levels.
It can be a comfy, cosy and calm corner for reading books, and a space for imaginary games and PSED conversations. It's a great place to keep building blocks for construction or to dress with visual displays for learning phonics. There's even an open hatch climb-through window with a chalkboard surround for mark-making.
The children are having fun peeking out over the playground through the various different-shaped windows to see what's going on - and with our soft artificial grass on the deck it's a lovely place to sit with friends. St Mary's Fields have hung windchimes on theirs to create relaxing vibes and sensory appeal!
Their Giant Playhouse with Walls and Chalkboard looks hugely inviting set up as a busy cafe - complete with all the best open-ended props and visual displays for the children to make their own activities and role play games, it's a popular place to stop for tea!
Time to Get Messy!
Our Mud, Sand and Water Play resources are the best out there for hands-on, investigative and explorative outdoor play. They're ideal for sparking interest in discovery and for helping children to develop an understanding of the world - and the children at St Mary's Fields are clearly enjoying learning through messy play with their new equipment!
A Water Wall with Damming Package has given them an open-ended space to splash and have fun solving problems. Able to design and build water-flow courses for themselves, the children are discovering new science concepts and learning new language skills through open and relevant discussion.
At St Mary's Fields they're enjoying using soapy liquid to make foam and bubbles and experiment with different textures on their Water Wall package.
The children are getting hands-on with their new Mud Kitchen and Covered Sand Box - they've been making sand pies with lots of different containers and utensils to create different effects - pots and pans, muffin tins, wooden spoons, buckets and spades, frying pans, potato mashers, you name it!
A set of large interactive Weighing Scales and a manually operated Rope and Pulley Materials Mover to complement this area is doing wonders for learning outcomes in maths and science. Sequencing, working with containers of different shapes and size, experimenting with wet and dry to name but a few, there's plenty to investigate!
We resurfaced with a Wetpour blend here - it's porous, impact absorbing and provides protection from falls so it's a perfect partner in an area where there is going to be plenty of mess. It also provides a super all-weather space for large-scale construction activities.
With a variety of different activities to choose from, the children are playing together cohesively and learning important social skills such as turn-taking, kindness and fairness.
Creative Arts and Performance Area
A Performance Stage with Chalkboard (complete with bright stars for superstars!) is a new favourite spot to sing, dance, and gather together to learn with phonics and alphabet songs and anything in between.
A set of Small Moveable Artificial Grass-Topped Seats provides flexible seating (or standing!) that can be used as needed to suit the activity.
The children can mark-make and use their artistic skills to set their own scene on the chalkboard, and the teaching staff are able to alternate lots of different materials, dressing up clothes and props, to suit the different interests that they want to promote each week.
This is a great child-led, imaginative space for the infants at St Mary's Fields - who will they be today?!
Is your EYFS outdoor learning environment ready for a change? We can help! We are the UK's Number 1 School Playground Specialist and you can find out more about what we do, and view our full range of products, Here.
You can also explore all of the playground projects we have completed for primary schools and nurseries in Leicestershire on our Leicestershire Playground Projects Page Here.
Please do Contact Us Here for a free consultation with one of our outdoor education experts.