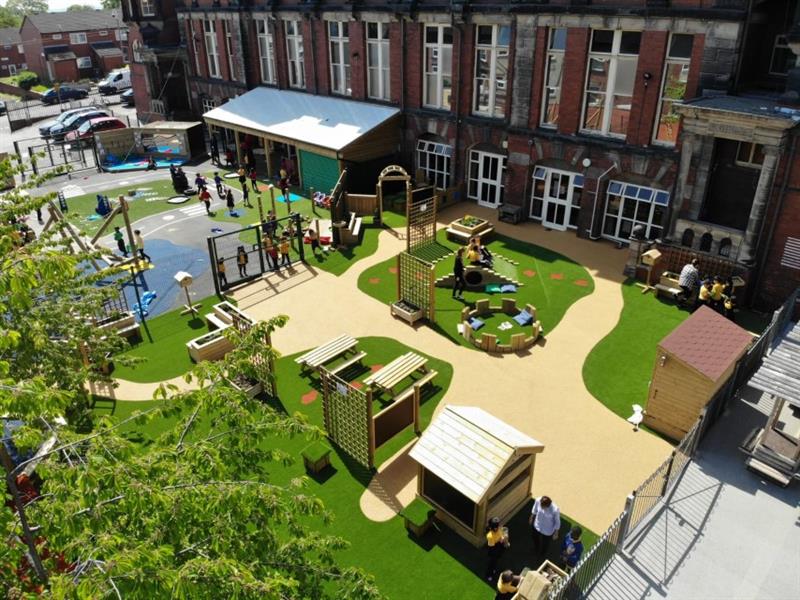 A Natural Play Area For KS1 at Hillcrest Academy
We were excited to be back working with the wonderful people at Hillcrest Academy for Phase 2 of their outdoor redevelopment project, following our work on Phase 1 earlier this year.
This time, it was the KS1 pupils who were in for a treat! Over the school's Easter holidays, we were on site installing a magical "Secret Garden", which would be ready to welcome them back after the break.
Having worked with the Principal at Hillcrest Academy, Sam Done, on the successful completion of their new EYFS Outdoor Area, our playground consultant, Meg Booth, was delighted to be invited back with a new brief - to create an inspiring, natural, sensory area for social development for KS1 classes.
"This delightful space will also enhance the morning and afternoon arrival at school for both pupils and parents, with a journey through the garden which stimulates both senses and imagination and provides a chance to sit a while, relax and enjoy the garden!"
- Sam Done, Headteacher
Enter the playground through a stunning arbour entrance, crafted out of curved wood, with a "Welcome" sign etched onto it and trellis for climbing plants to grow up and over. This sets the scene beautifully for what is to follow, drawing children and parents alike into a secret garden that Mary Lennox herself would be proud of!
Getting rid of the old concrete surfacing was essential if we were going to create a true natural garden atmosphere. We installed an all-weather combination of our deep-green Playturf Deluxe Artificial Grass and our Resin Bound Gravel in Autumn Gold to create a series of walkways surrounding the softer green play-spaces all throughout the area.
The garden is now a self-draining, mud-free space that can be enjoyed all year round.
Playground Performance Stage and Seating
Two magnificent mature trees at one end of the garden presented the perfect opportunity to create a raised Performance Stage zone in-between them. We made a feature of the trees by surrounding each of them at the base with timber decking to create raised bench seats.
We built a stage platform to connect the two and covered this with our artificial grass to connect it to the garden. It's a beautiful, naturally shaded platform for enjoying role-play activities and performances, but also for sitting quietly with friends or a good book and looking out over the rest of the garden.
Outdoor Classroom
Next to the stage in one corner of the garden, we built a bespoke Playground Canopy Shelter surrounded by our Bow-Top Timber Fencing.
It's the perfect spot for sheltering from inclement weather conditions, meaning that the KS1 pupils at Hillcrest can still enjoy playing in their garden even in the worst of downpours.
It makes an ideal outdoor classroom for targeted work with smaller groups too, tucked out of the way from other activities and offering a calming, tranquil environment when a bit of peace and quiet is needed.
We installed a range of Mark Making Panels (Chalkboard, Whiteboard and Paint Panel) here and throughout the rest of the garden to offer children plenty of opportunity for mark making, practising their writing and fine motor skills and expressing themselves as their draw inspiration from their garden.
Sensory Zone
In the opposite corner of the garden, nestled against the traditional brick building, we created a cosy Reflection Area for reading, quiet reflection and discussion.
Children enter the area through another beautiful, timber arbour entrance, with climbing plants and an etched sign clearly inviting them in to read. They are greeting by a magnificent Storytelling Chair, which has a handy built-in storage shelf for keeping books outside, so there is always something exciting for them to find and immerse themselves in.
A set of Small Moveable Artificial Grass-Topped Seats allows small groups to read and build their love of literature together.
We used a selection of Playground Fencing (Trellis Screen and Bow Top Fencing) to separate the area from the rest of the garden - the children know that this is a place where they can come to relax. A selection of our beautiful Sensory Panels for children to touch and explore make this a therapeutic space, with a Giant Mirror gently reflecting the light and creating depth.
Small World Area
In the centre of the garden, we installed a gorgeous timber Seating Circle. It's an informal, castellated wall structure, which rises out of the ground and encourages children to step inside and sit together in groups in an inclusive and welcoming environment.
It's perfect for small world play and the children at Hillcrest have been taking cushions inside and turning it into their own reading den - as well as exploring PSED through adult and child led interactions within the circle.
A set of classic Picnic Tables offers alternative seating for group work as well as being a wonderfully scenic place to enjoy a snack at break time.
We've added a really fun element to this area of the garden with one of our brilliant Climb Through Tunnel Hills.
It's a space for children to stretch out, climb and be active when they feel the need to move, but it brings a spot of magic too - the children can set their imaginations alight and act out scenes from the books they are reading - whether it's a portal into another world, or they're the White Rabbit disappearing down a hole into Wonderland - it's a firm favourite for adventure in Hillcrest's secret garden!
We built a lockable Self Selecting Store at the edge of the garden to make sure there is always a ready supply of props, play resources and gardening tools to hand.
It means that the children can choose resources for themselves and the staff have peace of mind that they can be accessed safely, they're easy to set up and pack away and they can be kept secure when the garden is not in use.
Natural Play Equipment
Of course, a garden wouldn't be a garden without a host of bugs, birds and bees going about their business! A brand new Bug Hotel in Hillcrest's secret garden, along with bird boxes and feeding tables, are there to make sure all winged and creepy-crawly visitors have an inviting place to stay and call home.
The children have been equally busy themselves, filling the removable pods in the Bug Hotel with all sorts of lovely natural materials, twigs, grasses and leaves to make comfortable beds for their minibeast guests.
We've installed a large, educational Bug Identification Panel to help children identify and learn about some of the different species that will appear in their garden over the course of the year.
Throughout the entire garden, we have used a combination of Trellis, Straight and Corner Planters and Planter Benches.
They are fantastic for breaking up large spaces and designating zones, creating screens where needed, adding a new depth and new dimensions to the garden and outlining delightful natural walkways to lead the children around the area.
The children have been taking great care to fill their planters with a range of beautiful plants and flowers to bring their garden to life. They have been watering them, tending them and learning about plant cycles and what they need to grow and thrive.
Their secret garden can only get better over the years as the plants mature and bring glorious seasonal colour and variety. They have also been learning how important their natural garden is for providing a ready food supply for visitors to their Bug Hotel!
This garden is a wonderful way of teaching children, through first hand experience, about the natural world they live in, ecosystems and the environment.
At Pentagon Play, we offer a free, expert, no-obligation consultation service for any school or nursery wishing to develop their playground into a curriculum-focused outdoor learning environment - please do Contact Us here to find out how we can help you.
Alternatively, you can view our full, spectacular range of outdoor learning, play and sports products by clicking here.