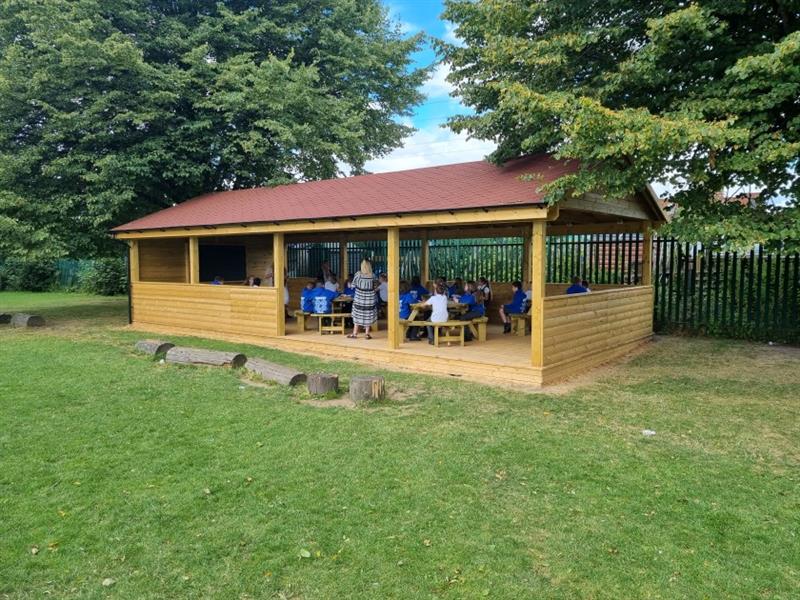 Marvelous Mayhem for Mills Hill!
Mills Hill had a sloped grass area in their playground, which was the only grassed space for the children to enjoy.
They wanted to add to the space to make the most of the area and make it an enjoyable space for their pupils.
Working with Outdoor Learning Consultant, Meg Ragdale, Mills Hill were open to ideas for the space but had some requirements that Meg was happy to accommodate.
An Active Play Space for Early Years
One of Mills Hill's requirements was that they had a space that supported the development of gross motor skills.
To this effect, Meg added a Pinnacle Hill Climber to the space. Our lowest log climber, this is the most user-friendly space for those still learning to climb and building their confidence. The ropes can be used by pupils to support themselves as they improve their balance and coordination through play.
Mills Hill also now has a customized trim trail in their space, consisting of several individual trim trail items.
With the Log Balance Weaver with Horizontal Beam, pupils will be able to test their agility as well as challenging themselves to improve their balance.
This will also be a challenge for the pupils on the Tightrope Bridge with Rope Handrails. Using the handrails, pupils can pull themselves along and try to keep their feet solidly on the rope below them!
Finally, the addition of the Step Rope Traverse will allow pupils to engage their problem-solving skills as they navigate their way between the various ropes and make it to the other side of the traverse!
The pupils will be able to use this area as a play space, or even incorporate it into their P.E lessons, developing muscular strength and coordination through play.
A Fantastic Outdoor Learning Space
Another requirement for Mills Hill was an outdoor learning space, where they would be able to take their pupils to break up the day and stimulate their brains with a change of environment.
Mills Hill were quite open to outdoor classroom solutions, with their only requirement being that they could fit 30 pupils inside comfortably. This would allow whole classes to share the environment at one time.
This Gable-End Classroom is now the perfect space for classes to have their lessons when they're needing a change of environment!
The roof is also designed to prevent leakage and make this a space that can be used all-year round, despite the predictable British weather.
Raving Reviews
The pupils at Mills Hill seemed overjoyed with their new space, and were happy to let Meg know that!
They even wrote us some fantastic reviews giving their thoughts and had them ready to share when Meg arrived.
We're pretty sure that this probably made Meg's day!
If you're looking for some great Outdoor Classroom Ideas, then Contact Us Today and speak with one of our In-House Learning and Play Advisors for inspiration!
Or, check out some more Outdoor Classroom Projects now!