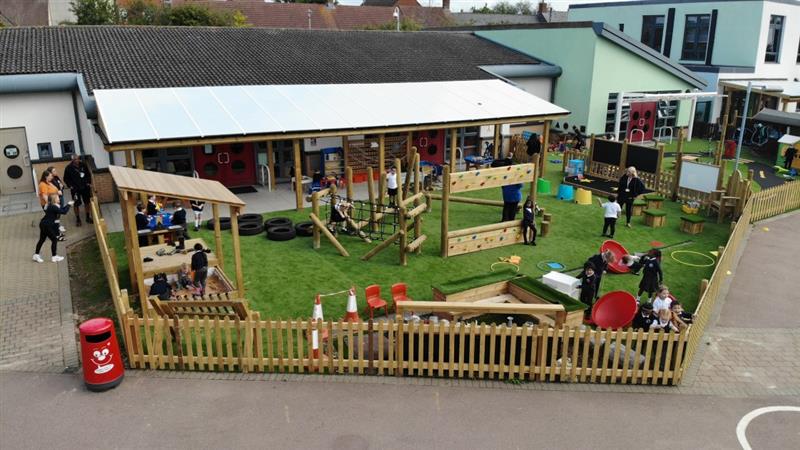 An Outstanding Play Space for Orchid Vale
Orchid Vale Primary School in Swindon contacted Pentagon Play based on a recommendation from another school.
They had three individual spaces/projects that they wanted to look at, in order to transform their outdoor space into an outstanding space!
Working closely with Outdoor Learning Consultant, Nicole Fairman, on this project, creating a multi-use all-weather play space for their pupils!
Awesome Active Play Space
Creating a space where all of the pupils could engage in active play, putting their skills to the test and building climbing confidence was a high priority for Orchid Vale.
To achieve this, they added a Puzzlewood Forest Circuit. This incredible, ninja-warrior style course is ideal for large classes of pupils and offers a range of different play opportunities for the children!
Whether navigating their way across the colorful climbing wall or working their way through the net tunnel, there are always different skills to be learnt on this exciting climber.
Pupils are sure to improve their problem-solving skills, upper arm strength and spatial awareness through play on this multi-challenge circuit!
Nicole also advised on the installation of a Bowfell Climber. This climber is great for pupils with different levels of climbing strength, as pupils use the drop ropes to help themselves along the climber.
Navigating this climber involves muscular coordination as children identify where they would like to go and work out the best place to put their feet.
The addition of a Climb Through Tunnel Hill is also a great feature for the pupils of Orchid Vale, as they build their own stories of play as they run swiftly over the top of the hill, before wiggling through the tunnel to the other side!
An Engaging EYFS Area
Messy Play was a vital part of this play space for Orchid Vale.
To this end, they added a Water Wall with Water Play Package, Sliding Sand Pit with Roof, Weighing Scales and a Mud Kitchen.
There is every element of messy play available now in this zone.
Pupils can explore their sensory development and build their understanding of the world through play in this exciting area.
Pupils also have a brand new performance space, featuring a dedicated Performance Stage with Chalkboard and Freestanding Chimes, where pupils can discover and explore their love for music!
Their peers can even take a seat and watch the performances on their Artificial Grass-Topped Seats.
This area also includes a Bespoke Trim Trail, designed with individual pieces to facilitate active play from an early age.
Pupils can cross the Log Balance Weaver before crawling through the Net Tunnel Bridge. From there, children can navigate their way across the Horizontal Climbing Wall Traverse, and down onto the Stepping Logs.
There are so many amazing learning opportunities here in this EYFS space.
A New Nursery Outdoor Area
With the addition of Get Set, Go! Blocks- The Mendips Set, pupils can get an introduction into safe climbing, building key physical skills needed in later life.
Under the shelter of the Giant Playhouse with Walls, Chalkboard and Benches, children can immerse themselves into a world of imaginative play, turning the playhouse into a supermarket, doctors surgery or home corner!
In addition to messy play in the form of a Covered Sandbox and Messy Play Table on Wheels, pupils also get to play with a Corner Planter, giving them a space to learn all about nature.
What will they choose to plant? The choice is theirs whether they grow plants, fruit or vegetables!
This is a fantastic new space for the nursery pupils of Orchid Vale.
If you would like support in transforming your outdoor space, then you can Contact Our Learning Advisors here for help and guidance!
Or, check out some other EYFS Projects for more inspiration.