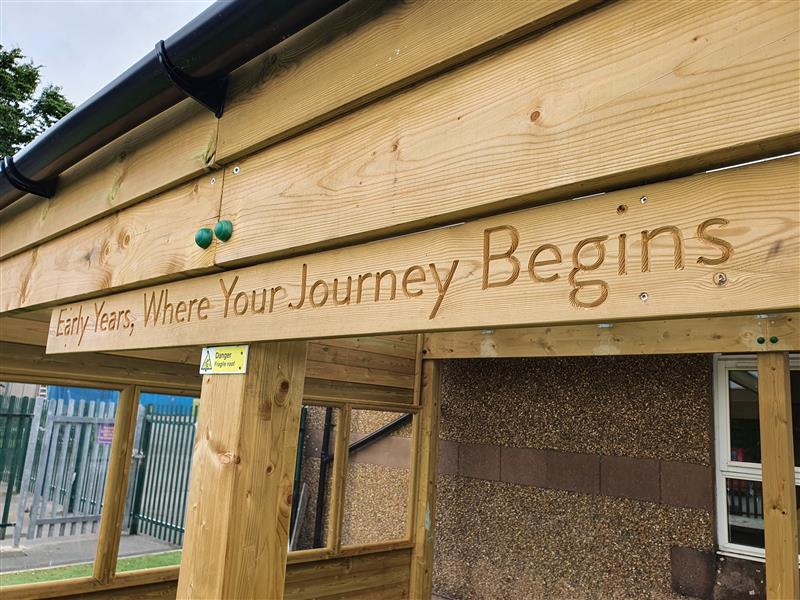 Outdoor Fun for the little adventurers at Richmond Hill Primary School.
Pupils at Aspatria Richmond Hill Primary School in Cumbria have been eager to explore their outstanding outdoor space!
There were three areas that the school wanted to redevelop, the Early Years Area, KS1 and KS2 Playground.
One of our playground consultants Tom Benson was enthusiastic to make sure that the schools visions come to life! Tom worked alongside Louise Irving one of the schools' Higher Level Teaching Assistants to make the dream come true.
Where your Journey Begins…
The schools' visions for the EYFS area were to be able to use this space for the local Rainbows and community toddlers. They wanted to create an area that would allow the pupils to have a sheltered area to play outside throughout the year and to also have a mini area where they can climb, jump, and run around.
Firstly, we installed our Artificial Grass with Red Wetpour Splashes creating a safe surface if any pupil was to take a little tumble. The Red Wetpour Splashes enlighten the area making it more appealing for the EYFS children.
We Installed our Freestanding Timber Canopy which has "Early Years, where your Journey Begins" engraved on the front. This area can be utilised in many ways, from an outdoor classroom to a sheltered activity/play space.
Our Get Set, Go! Blocks The Pennine Set have been placed in this area creating a challenging activity to improve balance, coordination, and gross motor skills in younger children.
The school wanted to make sure that each stage throughout the school had an active play area, to maintain and improve health and fitness within the pupils.
Let's talk about the KS1 area!
Included in the KS1 area we installed a variety of trim trail items offering lots of challenges in the lower and upper body onto their natural grass field in the KS1 area:
Our Trim Trails help develop children's physical health and contribute to mental wellbeing and improve a range of skills.
The budding adventurers at Richmond Hill love this area as it creates a range of different challenges where they can swing, jump, and climb around during their playtime.
The Trim Trail has been installed in a line so the children can make their way through the course and run back to the start to have another go!
The Active KS2 Area...
The school already had a piece of equipment that would be able to fit within the KS2 Trim Trail, so we installed our Net Traverse, Tightrope Bridge and Rope swing Traverse.
We installed our amazing Bowfell Climber as a centrepiece to the trail so children can jump from the outside trim trail to the astonishing climber.
Our Bowfell Climber is the perfect addition to a playground to encourage children to take part in physical activity during their break times. Whilst our climber improves children's muscular strength and balance it also encourage children to work together and become friends.
Lastly, we installed our 4-way Ball Shoot in the playground, this stunning red piece brings a playground to life at a small cost. Bringing children together and encouraging friendships within the school, any age pupil will want to take part.
If you are looking to transform areas throughout your school too, please contact us here to start your journey with Pentagon Play.
However, if you are looking for some inspiration around your area, please take a look at our dedicated project pages here! Or if you would like to look at more projects that we have completed in the Cumbria area please do not hesitate to look at our Cumbria dedicated projects page here.