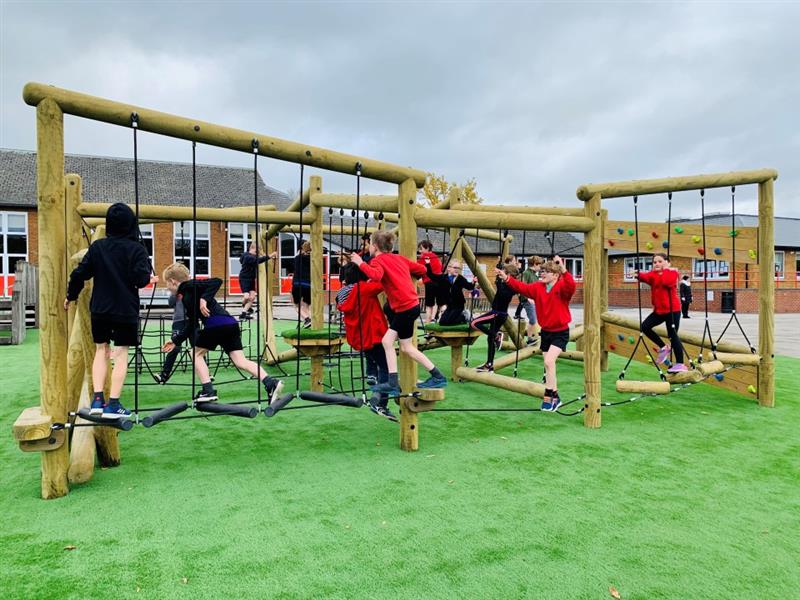 When at Wendover...
This school in Buckinghamshire wanted to do something completely different to transform their PE and outdoor play provision.
With a large area of the playground covered with tired old rubber surfacing, it was a space that had so much potential, but it was really underused. The school wanted to address this by redeveloping the area with something to inspire and challenge their students, both physically and mentally - and something that could be used by a whole class group at once to take advantage of all the space.
Our Director,
Sam Flatman
, was delighted to work with Chair of Governors Joanne Garlick, and Headteacher Gareth Kynaston, to make this happen.
Based on a treetop adventure theme, the Grizedale Forest Circuit is a magnificent beast! One of our most elaborate and adventurous climbing frame designs - the immense multi-feature frame is unique in its ability to accommodate a whole class together for some high-performance climbing challenges.
It's inspired by the beautiful Grizedale Forest in the Lake District, and brings a sense of exhilarating outdoor adventure straight to the school playground. This made it the perfect choice for Wendover's playground - and what a transformation!
After excavating and responsibly disposing of the old rubber surfacing and resources at a specialist site, we prepared the grounds with our super-standard baseworks ready for the new installation.
The entire area surrounding the new Grizedale Circuit was to be relaid with our beautiful
Playturf Artificial Grass
. It's an extremely durable, rigorously tested, soft, tactile and natural-looking grass that instantly brightened up the playground - and because we laid it onto our top-notch baseworks, Wendover now have an extremely welcome self-draining, all-weather surface that means they can use their new facility all year round.
We added a shock pad layer underneath to provide additional impact-absorbing support for the children, as they run around and jump off their new Grizedale.
So let's take a closer look at Wendover's new Grizedale
Forest Circuit!
Built from high-pressure treated, sustainably sourced timber logs and reinforced rope, and with a series of pathways, platforms and climbing walls for children to navigate at different levels, there are endless climbing combinations to try, including:
A Scramble Beam Crossing
A Crisscross Scramble Net
All bases covered!
Children can step, climb and jump, balance, reach and stretch, grip and grasp, pull and push, hang and swing - using their whole body to develop both fine and gross motor skills, improving their physical fitness, proprioception, strength and core stability. And best of all - it's immensely fun!
The Grizedale is outstanding for achieving multiple learning outcomes in PE lessons - with something to captivate and challenge each child according to their needs, it offers remarkable opportunities for getting all children engaged and active outdoors during PE and playtimes alike.
It's completely non-prescriptive, flexible and open-ended - the children at Wendover can get on and off their Grizedale Forest Circuit anywhere they like. This allows them to climb in any way they choose to their own limits, building their confidence naturally, safely testing their own boundaries and learning to manage risk for themselves.
'Hanging tough'
We designed the Grizedale for small hands to be able to get a good grasp as they climb, without slipping. This type of activity is brilliant for the essential fine motor development needed for handwriting and everyday life skills.
All the different climbing combinations have really given the children something to think about as they play - they're getting even better at problem solving, using their logic as they find new ways to tackle the course and climb from A to B.
The sheer size of the Grizedale Forest Circuit means that no matter what activity they want to use it for, there is plenty of space for a whole class of children to join in together - so everyone can make the most of their outdoor time.
It was fantastic to see the children at Wendover Church of England School getting stuck in straight away - making the most of their new outdoor facility for PE and playing together brilliantly, enjoying some wonderfully interactive and imaginative free play games too!
Would you like us to install a climbing feature as exciting as Wendover's in your school playground? Pentagon Play have been creating incredible playgrounds for schools and nurseries for over 20 years - you can see more of our projects and view our full range of products HERE.
If you would like to arrange a free playground consultation with one of our education experts, please do Contact Us Here.