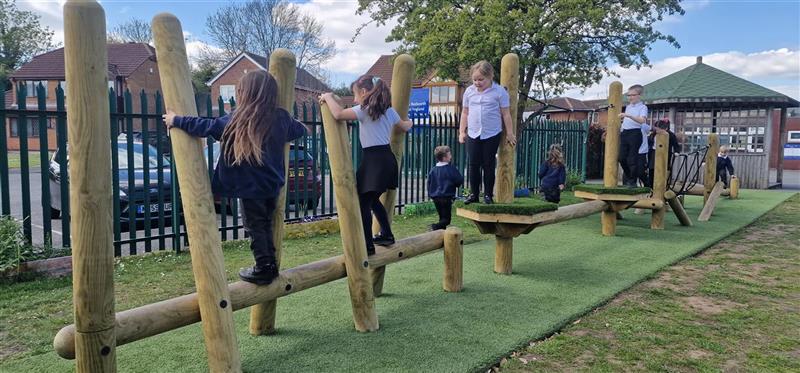 Amazing Transformations at All Saints CE Infants and Junior School
All Saints Bedworth CE Infants and Junior School, a member of the Diocese of Coventry Multi-Academy Trust, contacted Pentagon Play when they were looking to transform their outdoor area.
They wanted to revitalise their Infant and Junior play environments and make it into bright, fun, and creative space that all of their pupils could enjoy.
All Saint's vision for their school is "learning and growing together to be the best that we can be" and that is the vision that Outdoor Learning Consultants Greg Rossiter and Sam Jones kept in mind when designing this fantastic space.

Phase 1- Nursery Re-development
For the nursery space, the team created a space that offered an abundance of different play opportunities, ranging from active play to sensory, to messy play!
This revitalised space now includes a Kenilworth Modular Play Tower and Get Set, Go! Blocks- The Pennine Set, is designed to support children as they begin to climb.
These low-level environments encourage risk-taking in a safe environment, providing pupils with a safe space to build their gross motor skills.
The nursery space also features two 5m Gazebos, offering a sheltered outdoor space for learning in the fresh air. Using these two spaces, pupils now have the ideal space to change up their learning environment, refocusing their attention and improving the quality of their learning time.
The nursery pupils at All Saints also have a fantastic space for Imaginative and Creative play now.
There is a Giant Chalkboard and Giant Whiteboard for pupils to choose from when looking to discover their artistic skills, build fine motor skills and learn how to draw different items!
Pupils can also play in the Covered Sandbox and Water Wall with Water Play Package. These items are great for sensory play, giving pupils a chance to build their understanding of the world by interacting with different materials and seeing how they feel, move, smell and sound.
Phase 2- Reception Re-development
The reception area is also full of play and learning opportunities for the pupils of All Saints!
Pupils can build their gross motor skills through play, pulling themselves up the Harter Fell Climber and then sliding down the in-built slide. Pupils can also build their hand-eye coordination and balance using the Get Set, Go! Blocks- The Mendips Set!
This reception space also offers a communication and storytelling space for pupils to explore with the Playhouse with Walls and Chalkboard and the Performance Stage. These spaces are ideal for building confidence!
Another great area in this space is the den-making area, which includes 8 Den-Making Posts in a total of varying heights. Den-making is great for supporting pupils problem-solving and teamwork skills, as pupils come together to work out creative ways to build and create den spaces.
There are so many exciting learning opportunities for the pupils in this brand new learning through play space.
Phase 3- Key Stage One Space
For the KS1 space, it was important for All Saints to provide a space for engaged active play, providing pupils with a space for physical development through play.
The space now includes a bespoke trim trail arrangement, featuring a range of climbing challenges, designed to support hand-eye coordination, risk-taking and muscular strength.
The trail includes both an Incline Beam Crossing and a Platform to Platform Beam Crossing, where pupils can work on their balance, and challenge themselves and their classmates to successfully make it to the other side.
The Log Balance Weaver, Disc Poles and Forest Rope Bridge also provide physical challenges for the pupils to explore, building gross motor skills and their climbing confidence as they go!
Phase 4- A Welcome Well-Being Space
The well-being area was an essential element of this development, offering pupils a safe space to retreat to for some quiet well-being time in the busy, active playground.
In this zone, pupils can retreat into the Bespoke Timber Canopy with Rainbow Roof and allow pupils to sit and enjoy the colourful rays created when the sun shines through the roof.
It also provides a great sheltered space for outdoor learning when a change of learning environment is needed!
The well-being space also includes a Pair of Sensory Spinners, a Giant Chalkboard, a Giant Whiteboard and a Wall-Mounted Ball Run.
These products allow pupils to engage their attention in soothing, repetitive, or creative activities that will help them to relax.
We hope the pupils love this new well-being space in their playground!
Phase 5- Key Stage Two Playground
The final element of this development is the Key Stage Two space!
This area now includes a Bespoke Timber Canopy, providing shelter on rainy days and a comfy space where pupils can enjoy taking lessons on the fresh air, whilst still within a classroom environment.
Another element of this space is the Outdoor Gym Area, providing pupils with a focused space for physical activity. Teachers can incorporate this space into P.E. lessons or it can be used as a free play space for the pupils to explore.
Pupils will also love building their climbing skills on their new Tryfan Climber, a timber log climber, challenging pupils to use their upper body strength to pull themselves up and use their problem-solving skills to navigate their way to the very top!
The Large Performance Stage will also be extremely popular, giving pupils a place to build their communication and language skills as they participate in story-telling, performance arts and other creative activities.
There are so many fantastic learning opportunities available to pupils in these exciting new playground developments and we hope the pupils at All Saints Bedworth Junior and Infant School love their new learning environment.
If you would like to discuss developing your playground like All Saints did, then Contact Us Today.

Or, if you would like to know more about Get Set, Go! Blocks or any of our other freestanding and moveable items, then visit our Online Shop Now!