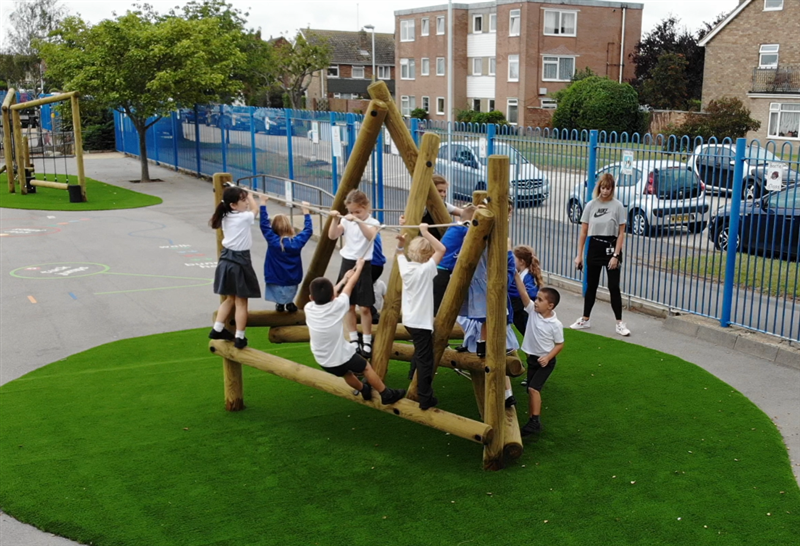 There's no place like the playground!
When we first discovered Thomas A' Becket Infant School's mission statement on outdoor learning, we were really excited to go and visit them.
This wonderful Infant School in the seaside town of Worthing, West Sussex, is clear in its belief that all children should have access to the outdoors on a regular basis. As soon as we arrived, we could instantly see that they shared our passion for outdoor learning through play!
Our Director and outdoor adventurer, Sam Flatman, was greeted by Deputy Head Teacher Colette Wade, dressed up for World Book Day as The Scarecrow from The Wizard of Oz.
Naturally, Sam felt a little underdressed in comparison - but as two people who were both clearly 'outstanding in their field' (sorry) - there was certainly no lack of brainpower between them when it came to formulating a plan to enhance the great outdoor learning practice that the school already has!
Encourage Active and Imaginative Play
Sam set to work designing the new outdoor spaces to reflect the school's priorities for encouraging active and imaginative play. As a school that takes the EYFS ethos of learning through play across all year groups, it was vital that the design would provide a first-class platform for delivering the National Curriculum in all spaces.
One thing that was really needed at Thomas A'Becket was space for the children to climb, exercising all of their fundamental movement skills. Climbing is such a wide-ranging activity that has so many different facets and plays a huge part in children's physical and cognitive development.
Sam recommended one of our Modular Tower Units to be installed on the field just outside of the existing EYFS outdoor space. It's a fantastically fun piece that provides for both physical development in terms of gross motor skills and grip strength practice, and plenty of opportunity for imaginative social play. This makes it an ideal resource for supporting PSED, communication, and language skills alongside active play.
Endless Fun And Challenging Activities!
We added a Fire Person's Pole to the Play Tower, and it's become a particular favourite for the children - it's a great challenge and so much fun when they realise that they CAN do it! Supporting their own body weight as they grip the pole goes a long way to supporting handwriting technique through strengthening fine motor control.
Also on the field and alongside the trees for a magical 'into the woods' feel, we installed a bespoke low-level Trim Trail. Thomas A'Becket Infant School is all about the great outdoors and they make full use of all their outdoor spaces all year round.
The addition of a Trim Trail will allow the children to get active and improve their physical literacy outdoors all through the changing seasons, immersed in their beautiful natural surroundings.
We injected new energy into the main playground by removing all the old, worn-out climbing items, and replacing them with new challenges in the form of our open-ended, pyramid-shaped Harter Fell Climber, and a bespoke Forest Trim Trail featuring the following activity pieces selected by Colette:
We make each of these sturdy and durable logs, rope, and platform climbing pieces from our stunning and sustainably sourced redwood timber. They perfectly complement the natural outdoor learning environment developed by Thomas A'Becket Infant School and are enjoyed as part of their Forest School and ECO School programmes.
The specific climbing pieces were chosen especially to support children in working on their grip strength, balance, proprioception, and core stability - cornerstones to building their physical confidence. At the same time, they're hugely fun to play on and wonderful for encouraging positive social interactions and boosting children's emotional wellbeing outdoors.
Lets Leap Like Frogs
By installing our Playturf Artificial Grass, with shock pads underneath, around the new equipment on the main playground, we were able to create safe spaces to climb that would always offer a soft landing for the children as they leap around.
The school wanted to replace their tired old outdoor stage with something exciting for the children that would inspire imaginative, collaborative play. As they are situated very close to the seaside, our Low-Level Play Ship - worthy of any swashbuckling sailor - was an excellent choice!
We installed it onto our beautiful deep blue Saferturf Surfacing to create a striking, all-weather imaginative play space where role-play and drama can come to life, and groups of children can also sit, read, chat and make friends.
Out With The Old And In With The New!
Finally, we have a new lease of life to the existing gazebo, transforming it into an attractive all-weather garden learning space by laying our soft and tactile Playturf Artificial Grass under and around it.
We added in a few Movable Grass Topped Seats and some Planter Benches, to create a naturally bright and green space for children to relax during break times. It now doubles up as a superb outdoor classroom to encourage a real love of outdoor reading, and a fantastic forum for science and 'understanding the world' learning topics through hands-on gardening activities.
Thomas A'Becket Infant School's new outdoor spaces go hand in hand with their determination to motivate children and foster a love of learning, developing their self-esteem and confidence. It's an outdoor learning environment that will continue to bring learning to life, offering their children plentiful opportunities to take risks safely, make choices and initiate learning for themselves.

Pentagon Play is UK's Number One School Playground Specialist. We design, supply and install a wide range of outdoor play and learning equipment for primary schools and nurseries. Start your journey with Pentagon Play today, contact us here to speak to one of our Playground Consultants!